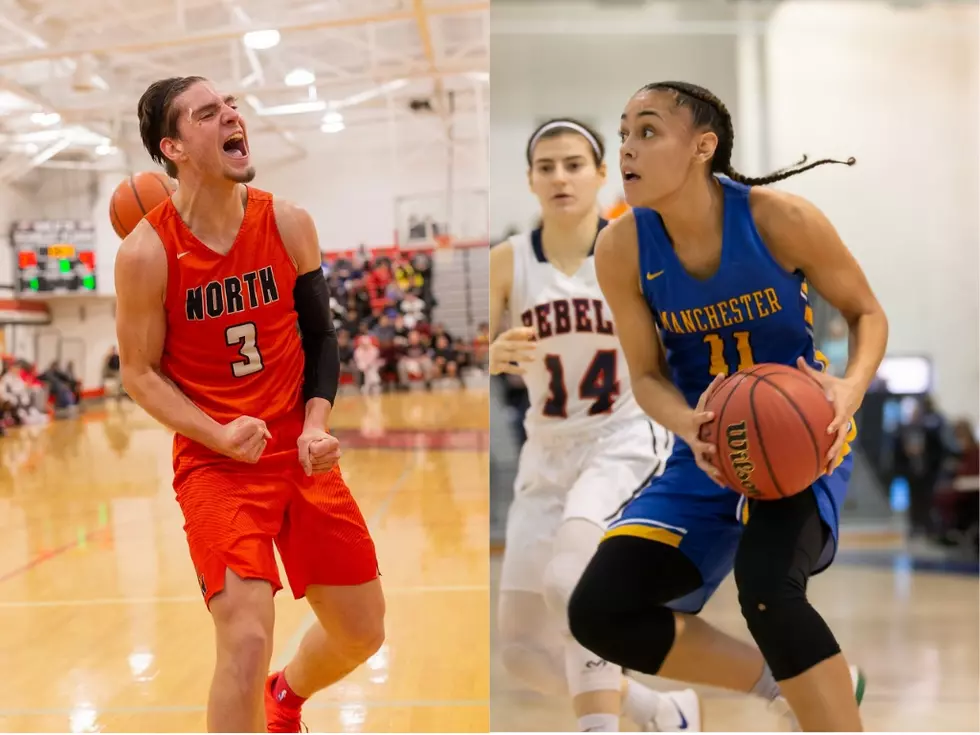 Basketball – Shore Conference Coaches' Boys and Girls All-Star Preview
Middletown North's Rob Higgins and Manchester's Leilani Correa. (Photos by Paula Lopez)
Shore Coaches Association Senior All-Star Games
Thursday, March 21 at RWJ Barnabas Health Arena in Toms River
Tickets: $5 for adults/students, $3 for senior citizens, children admitted free
Thursday in Toms River is the last chance to send off a memorable group of seniors from the Class of 2019 in the Shore Conference. Between the boys and girls rosters, there will be six selections who were members of a team that won the Tournament of Champions, five moving on to play for major Division I, three 2,000-point scorers, and two McDonald's All-Americans.
Scottie Lewis and Bryan Antoine will not play because of the limit on the number of all-star games one player can participate in, but Lewis will be there to defend his championship three-years-running in the I'm Possible Slam Dunk Contest.
On top of the big names, there will be 82 seniors in total in Toms River to play one last game in a Shore Conference setting with some of their closest teammates and fiercest rivals.
Below is a list of those 82, plus the coaches and players who were selected but will be unable to play.
Girls All-Star Game, 6 p.m.
Dakota Adams, Manchester
Jada Baker, Barnegat
Brielle Bisogno, Toms River North
Carleigh Burns, Point Beach
Deyonna Carter, Asbury Park
Leilani Correa, Manchester
Colleen Cusat, Trinity Hall
Allie Delaney, Point Boro
Shannan Devlin, Keyport
Dani Evans, Jackson Memorial
Kerry Harper, Henry Hudson
Adriana Hart, Toms River East
McKayla Hughes, Point Beach
Kamryn Lister, Toms River East
Lauren Lithgow, St. Rose
Sam Mikos, St. Rose
Jenna Paul, Toms River North
Giana Piccini, Keyport
Jac Ward, Southern
Shiloh Williams, Toms River South
Selected but unable to participate: Faith Masonius, Manasquan
Coaches: Kevin Cohen, Toms River East, Vicki Gillen, Toms River North, Jay Lagomarsino, Point Beach
Khoryn Bannis, Matawan
Morgan Bartlett, Ocean
Brelynn Bellamy, St. John Vianney
Sajada Bonner, St. John Vianney
Isla Brennan, Middletown South
Danielle Christ, Brick
Cassidy Deaver, Manalapan
Catherine Gibson, Colts Neck
Eva Gibson, Colts Neck
Melissa Golembieski, Middletown North
Rahmena Henderson, St. John Vianney
Sarah Karpell, St. John Vianney
Meghan Murray, Red Bank
Jessica O'Brien, Howell
Hayley Ocskasy, Lacey
Gisella Romeo, Marlboro
Julia Setaro, Red Bank Catholic
Allie Toth, Lacey
Kristi Truhan, Central
Katrina Wojtowicz, Raritan
Selected by unable to participate: Lola Mullaney, Manasquan
Coaches: Dawn Karpell, St. John Vianney, Tom Brennan, Middletown South, John Truhan, Red Bank
Matt Ganter, Howell
Dwaine Jones, Neptune
Greg Billups, Freehold Twp.
Brad McCabe, Manasquan
Daniel Sofield, Jackson Liberty
Miles Neal, Jackson Liberty
Andrew Schulz, Pinelands
Anthony Diaz, Pinelands
Sean Morris, Barnegat
James Rapley, St. John Vianney
Matt Melon, Donovan Catholic
Trey Dombroski, Wall
Shane Williams, Brick
Jalen Jackson, Brick
Nick Manso, Brick Memorial
Seth Meisner, Freehold Twp.
Micah Wallace, Jackson Memorial
Marc Dennis, Long Branch
Liam Joyce, Red Bank
Cristian Corcione, Freehold Twp.
Selected but unable to participate: Bryan Antoine, Ranney
Coaches: Mike Antenucci, Jackson Liberty; Kevin McQuade, Jackson Memorial
Rob Higgins, Middletown North
Stephen Braunstein, CBA
Josh Cohen, CBA
Ian O'Connor, Rumson-Fair Haven
Dylan Kaufman, Marlboro
Jackson McCarthy, Rumson-Fair Haven
Alex Klatsky, Ranney
Ahmadu Sarnor, Ranney
Liam Kennedy, CBA
Chris Panduri, Shore
Kyle Koob, Shore
Dan Forsman, Monmouth
Quincy Wathington, Matawan
John Duffy, Red Bank Catholic
Tim Hayes, Raritan
Kevin O'Rourke, Lacey
Carl Swensen, Lacey
Jay Anthony, Henry Hudson
Andrew Abujawdeh, Colts Neck
Nick Duncsak, Toms River North
Selected by unable to participate: Scottie Lewis, Ranney
Coaches: Sean McAndrew, Lacey; Rory Caswell, Toms River North