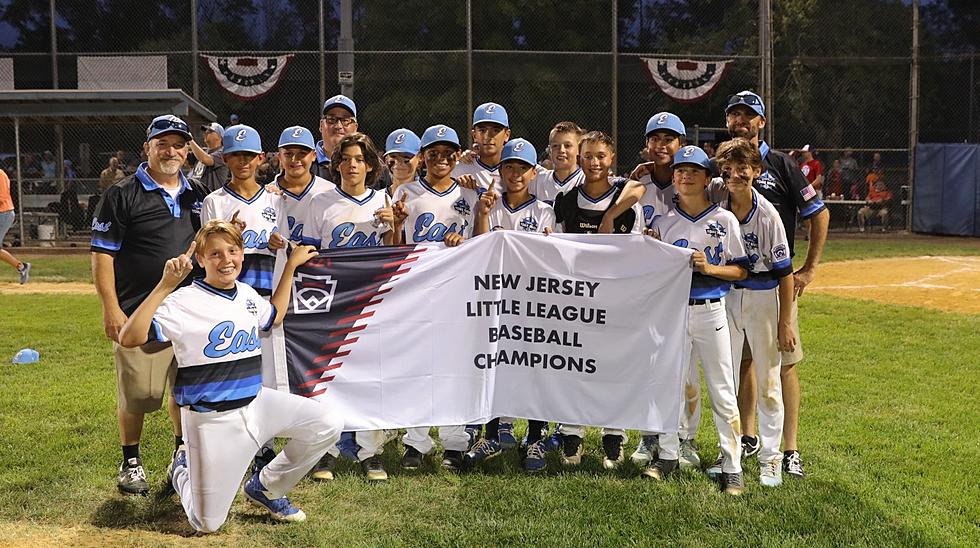 Baseball – Toms River East's First Little League New Jersey State Title in 22 Years Is a Family Affair
Photo by Ray Richardson

CHERRY HILL - It has been 23 years since Todd Frazier led the Toms River East Little League 12-year-old All-Stars to the Little League World Series championship and 22 since the program has won the New Jersey State Little League championship at the 12-year-old level.
For current Toms River East standout Carson Frazier, he wanted to follow in the footsteps of his famous uncle - who has since played 11 seasons in the Major Leagues while making two Major League Baseball All-Star teams - in rallying his team to a state championship and beyond.
He did just that on Sunday night, when he earned the win on the mound and blasted a three-run home run during a six-run second inning by his team in an 8-4 Toms River East win over Hillsdale for the program's first Little League State Championship at the 12-year-old level since 1999 - the year after Todd led the "Beast from the East" to the overall world championship.
"It's an amazing experience," Carson Frazier said. "I want to do the same thing that my uncles did."
PHOTO GALLERY: Toms River East vs. Hillsdale by Ray Richardson
The Frazier legacy looms large for all of the members of the team, both because Todd has been an active Major Leaguer during their childhood and because Charlie - Carson's father, Todd's older brother and a former Minor League baseball player - works closely with the players as a hitting coach and co-owner of Frazier Baseball in Toms River. To be linked to the Frazier family is to associate with the inner-circle of baseball in the state's most baseball-crazed town.
For Steven Malato, Sunday night's state championship final was also a chance to play for family, but he was not playing to impress Todd Frazier, nor was 1998 the year that stood out in his mind when he stepped to the plate to lead off the bottom of the first inning.
In Malato's mind, 2014 will always be a significant year in his life and that's the one he thought about when he took the field for the biggest moment of his baseball life. It was that year that his mother, Nicole, died of Breast Cancer at the young age of 37. Steven was five years old at the time.
Nicole Briamonte-Malato authored a published book titled When Life Hands You PINK Lemons: Making the Best of Early Stage Breast Cancer and, according to Steven, was a volleyball player during her college years at the College of New Jersey.
"I still haven't read (the book) yet but I definitely plan to when I get a little older," Malato said. "But she was an author and she was just a really big inspiration for me and always will be."
With his mother on his mind and his family sharing in the moment on the other side of the fence, Malato jumpstarted Toms River East with a double off the top of the high fence in at Cherry Hill American Little League's main field. He would score the first of two first-inning runs by his team to stake Toms River East to a 2-0 advantage.
"My family was just hugging me (after the game) and they were all so emotional," Malato said. "It's just such a great feeling because when we were 10 (years old) we just lost it by one run and we're finally here and we get to go to Connecticut."
The following inning, Malato came up in a different situation and delivered the same result. The third baseman and leadoff hitter clocked an RBI even higher off the fence in left-centerfield to make the score 3-0.
"I just had to kickstart the offense and get the team all hyped and happy," Malato said. "Whenever we get electric, we do good things. You see it on the scoreboard: we scored eight runs in the first to innings and that was enough to get us the win."
Two batters later, Frazier crushed the first pitch he saw into the trees beyond the left-field fence and Toms River East was on its way with a 6-0 lead. East added two more runs in the inning on back-to-back RBI singles by right fielder Chris Tennaro and first baseman Dominic Roma that pushed the lead to 8-0.
"It felt good," Frazier said of his home run. "I had a lead going but I knew we needed to put some more runs on the board. We were already in the groove and after that, it just felt like we were even more into it."
In the bottom of the first inning, Malato doubled and reached third on a wild pitch before Hillsdale starting pitcher Drew Kirkby could record an out. Kirkby then retired two of East's most dangerous hitters - shortstop Joey DiMeo and Frazier - to come within an out of escaping the jam and then jumped ahead of catcher Jason Verderrosa 0-2 in the count.
Verderrosa worked the count to 3-2 before punching an RBI single through the middle to open the scoring. After a walk by centerfielder Cole Garrison, Tennaro smacked a double just inside the third-base bag and down the right-field line to chase home Verderrosa with the second Toms River East run.
Eleven of Toms River East's 12 hits came in the first two innings and every East starter had at least one hit.
| | |
| --- | --- |
| TR East Lineup | Sunday Stats |
| Steven Malato | 2-4, 2 2B, 2 R, RBI |
| Joey DiMeo | 1-3, R |
| Carson Frazier | 1-3, HR, 3 RBI |
| Jason Verderrosa | 2-2, 2 R, RBI |
| Cole Garrison | 1-2, BB, R |
| Chris Tennaro | 2-2, 2B, 2 RBI |
| Dominic Roma | 1-3, RBI |
| Max Mika | 1-2, R |
| Calien Cimorelli | 1-2 |
Yet again, Toms River East's defense was spotless and the zero errors committed behind Frazier and Roma only told part of the story. Roma came on to record the final two outs of the game with the tying run in the on-deck circle, including a strikeout of the game's final batter.
That strikeout was significant because it was the only one of the game by Toms River East pitching. The other 17 outs were recorded by the defense, led by second baseman Max Mika, who handled five balls in play hit in his direction. Malato at third, Frazier on the mound, and DiMeo at shortstop also took care of three plays in the field each, while Garrison squeezed two in centerfield.
"We have preached from the time they were eight years old: defense, defense, defense," Toms River East manager Paul Mika said. "Most coaches think it's hitting, but we preach defense. Coach Paddy Matera is one of the best Little League coaches in the state of New Jersey and that's all he preaches is defense, and it was evident tonight. It was evident the whole tournament."
"The last game we played against Hillsdale was a 1-0 and that was all defense as well," Malato said. "That's the main thing you practice at practice. There's early hitting, where coach Charlie Frazier throws batting practice for about 20 minutes, then we so infield-outfield practice, and then it's just fielding drills."
PHOTO GALLERY: Toms River East vs. Hillsdale by Ray Richardson
Hillsdale racked up 11 hits in the game, including at least one in each inning, and mounted a legitimate threat in the final inning. Frazier entered the top of the sixth 16 shy of the soft single-game pitch limit of 85 and holding an 8-1 lead before Hillsdale peppered him for three runs on five hits to push him to 86 pitches and off the mound.
"I really had confidence in my defense," Carson Frazier said. "They make all these plays and they do it every game. It's awesome."
Roma came on with runners on first and second and one out and Mike picked him up with an over-the-shoulder catch on a shallow fly to right field for the second out. Roma then broke off a 2-2 curveball to set off the celebration.
Sunday's win completes a 12-0 run through the New Jersey portion of the tournament for Toms River East, which beat Hillsdale, 1-0, on Thursday behind a three-hit shutout by Garrison and solo home run by DiMeo, then clocked Teaneck Southern Friday, 10-2, to earn a spot in Sunday's game.
Unlike Hillsdale, which had to beat Teaneck on Saturday to make it to Sunday, Toms River East got a chance to practice on Saturday while also saving Frazier to pitch the clincher while its eventual opponent burned through pitching. With that practice, East further sharpened its defense and took batting-practice swings against Charlie Frazier, who was Todd Frazier's batting-practice pitcher when he won the MLB Home Run Derby in 2015.
"It was nice to have that extra day," Carson Frazier said. "We could get in a practice and I could just kind of relax before I had to pitch. I could loosen up my arm, go in the bath tub to get it feeling good. It definitely helped."
As much as Carson Frazier and his team are evoking memories of 1998 and Todd Frazier's introduction to the national baseball stage, it was the memory of his late mother that inspired Malato to spark Toms River East's offense the way he did on Sunday. Malato did not get nearly enough time to spend with his mother, but he spent enough to know she would have been beaming with pride while watching Steven do his thing with his teammates - which they will keep doing when they take on Canal Little League from Delaware in the Mid-Atlantic Region opener Sunday in Bristol, Conn.
"It's an honor and just really great to be part of this team," Malato said. "You get to feel the same things (the 1998 team) felt and represent not only your town and your family, but then the district, then your section and now the entire state. You get to represent them all and it just feels so good to have that opportunity."
More From Shore Sports Network