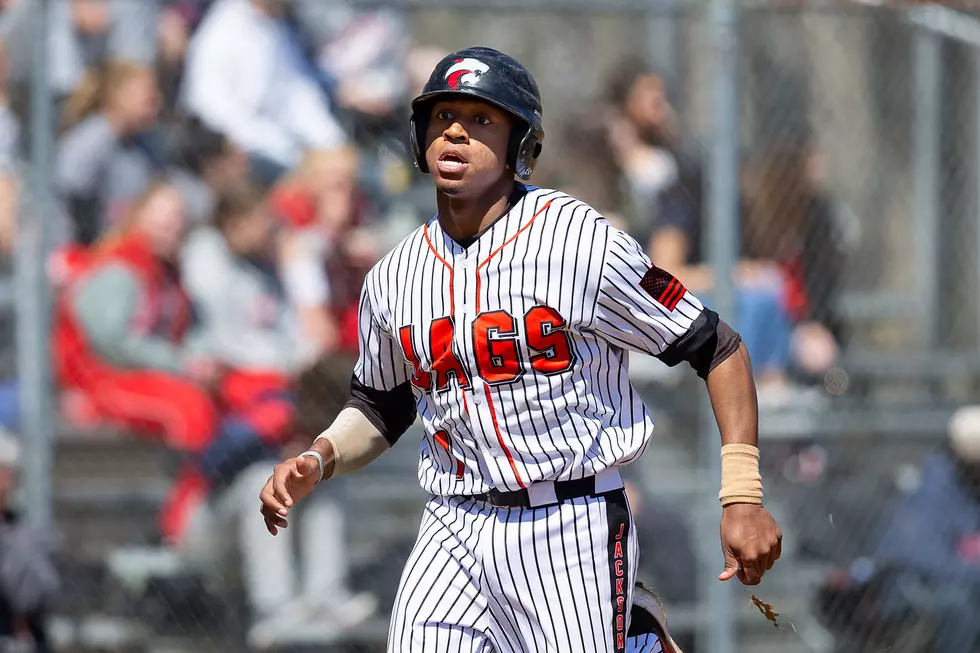 Baseball – SSN Top 10, April 22
Jackson Memorial senior Ahmir Cournier. (Photo by Paula Lopez)
The last full week of April is upon us and we are down to one unbeaten team in the Shore Conference. The season began with five favorites to win five of the six Shore Conference divisions and finish in the top five and yet, the final team left with an unblemished record is not from that preseason group of five. Manalapan began the season ranked No. 9 and has shown a will to win thanks to a pitching staff that has been even better than expected.
Last week brought some more surprises that have altered this week's Top 10, which contains most of the usual teams but with a shakeup in the order. One spot that remains unchanged: No. 1. The Shore's most dominant team remains at the top and its upcoming schedule over the next two weeks is such that No. 1 is not likely to change until mid-May, at the earliest.
1. Jackson Memorial (9-1, 7-1) Last Week: 1
It is still hard to believe Jackson Memorial's lone loss was a shutout given the Jaguars are the best offensive team at the Shore even while playing a challenging schedule. This stretch of Jackson Memorial's schedule is the more forgiving portion and barring a letdown, the Jaguars appear poised to coast to the No. 1 seed in the Ocean County Tournament.
2. Manalapan (9-0, 8-0) Last Week: 6
There is a new No. 2 this week after a dramatic win by the Braves to cap their first nine games before a trip south to North Carolina over break. Manalapan entered the season with a balanced roster and its pitching depth has really emerged. Ben Levine has held up his end as a returning ace, Aaron Ayers has emerged as a lockdown No. 2 and Chris Nicol (six scoreless innings, two hits, no walks, 11 strikeouts) has been dominant in relief. Throw red-hot hitters Michael Kuver and Nick DiPietrantonio and the Braves are looking hard to top.
3. Wall (7-1, 6-1) Last Week: 2
Wall suffered its first loss and fittingly enough, it was against Colts Neck. While that was not the first team to beat Wall last year, it was the one that knocked the Crimson Knights from the Monmouth County Tournament in Wall's first tournament game and the Cougars did it to the Knights again in comeback fashion to end las week. Wall will try to exact its revenge by throwing Trey Dombroski at Colts Neck to open this week and get back on track heading into the weekend's Monmouth County Tournament rounds.
4. Red Bank Catholic (7-2, 7-0) Last Week: 3
It wasn't easy, but Red Bank Catholic beat previously-unbeaten Manasquan to take a significant step toward winning the Class A Central title. The Caseys will go for the sweep to open this coming week, would put RBC in prime position to run away with the division title. In order to keep its grasp on a spot in the top five, Red Bank Catholic will have to keep rolling through the division and make it out of the first weekend of the Monmouth County Tournament this coming weekend.
5. Toms River North (7-2, 6-1) Last Week: 7
From not ranked in the preseason to the top five, Toms River North has been one of the more impressive teams of 2019 considering what the Mariners had to overcome in graduation losses. Despite those losses, Toms River North has defeated Jackson Memorial, a talented Kings Christian squad and its only losses are to said Jackson Memorial and to powerhouse St. Augustine. There is still a long way to go but Toms River North is right where it wants to be as it pursues a second straight Class A South co-title.
6. Jackson Liberty (8-1, 8-0) Last Week: 4
The Lions dropped a couple spots despite picking up two very big wins over Pinelands and the two Wildcats aces, Joey Ventresca and Noah Dean. It appears Jackson Liberty and Point Boro are on a collision course for a division-deciding two-game set, which begins a week from Monday. For now, there is an interesting debate for the No. 2 spot in the OCT between Jackson Liberty and Toms River North and both teams will have limited chances to add to their resumes prior to that.
7. Manasquan (6-1, 6-1) Last Week: 5
Although Manasquan suffered its first loss of the season last week at Red Bank Catholic, it was encouraging on some fronts. Senior pitcher Mike Anthony was nearly spotless outside of a solo home run allowed in the 1-0 loss and the lineup was without senior Spencer Bauer, who is out with a hamstring strain. If the Warriors can get healthy for by the weekend or get through Sunday's MCT quarterfinal round, they could emerge as a dark-horse postseason candidate.
8. Middletown South (6-3, 5-2) Last Week: 8
The Eagles hold at No. 8 after a pair of losses to high-caliber teams this week. Middletown South lost to the Hun School and at Manalapan in eight innings on back-to-back days after paying back Freehold Township for handing the Eagles their first loss. After Freehold Township beat Middletown South, 6-3, on April 11, Middletown South hit back with a 16-3 win over the Patriots on Tuesday.
9. Christian Brothers Academy (5-3, 3-3) Last Week: 9
The Colts have handled their business since back-to-back loss to Middletown South dropped them to 2-3. With some quality pitching lining up and an offense that is starting to take shape, CBA could be a very dangerous No. 8 seed in the Monmouth County Tournament, posing a threat to teams like No. 1 Wall, No. 4 Red Bank Catholic or No. 5 Manasquan.
10. Colts Neck (5-2, 5-2) Last Week: Not ranked
The Cougars debut in the Top 10 thanks to a come-from-behind, 7-6 win over Wall to close out last week – the second straight win by Colts Neck over Wall dating back to last year when Wall was more-or-less the same team. If Colts Neck can sweep the series on Monday by beating Trey Dombroski, the No. 10 spot won't hold them. With two losses to Ocean, it could also be difficult to hold onto this spot if the Cougars can't keep the wins coming at a steady pace, but the results are there at the moment.
Howell (6-3, 5-3) Last Week: 10 – A lopsided loss to Freehold Township ended a six-game winning streak and bumped the Rebels from the top 10. With Bryan Bernard and Ryan Bearse at the top of the rotation, Howell will be a hard team to keep down.
Toms River South (6-2, 5-2) – Since losing two games vs. Jackson Memorial to open the season, the Indians have won six in a row and are back on the cusp of a top-10 spot.
Ocean (8-2, 5-2) – Two wins over Colts Neck give Ocean a strong claim to a top 10 spot and if the Spartans keep knocking off divisional opponents, they could inch their way back in.
Point Pleasant Boro (9-1, 7-1) – Point Boro's pitching is starting to look as dominant as it was at the end of last season and the schedule will soon put that pitching to the test.
Freehold Township (4-5, 3-4) – Wins over Middletown South and Howell put Freehold Township on the radar despite a record below .500.
More From Shore Sports Network