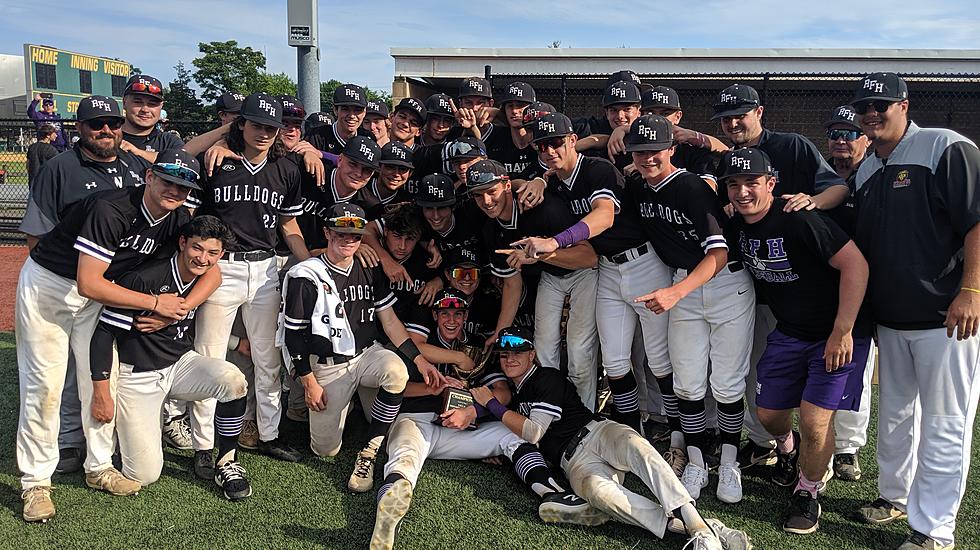 Baseball – Seven-Run First Inning Keys Rumson-Fair Haven to First Ever Monmouth County Tournament Title
Photo by Matt Manley

RED BANK - One week prior to Friday's Monmouth County Tournament championship game on Friday at Count Basie Park, the Rumson-Fair Haven baseball team was taking the field to play Ranney in the MCT round of 16 just two days after a gut-wrenching home loss to Voorhees in the NJSIAA Central Jersey Group III Playoffs.
Senior standouts Andrew Schmid and Thomas Elgrim would not end their careers with a sectional championship, but the two resolved to give whatever they had left of themselves to make sure their team ended the 2021 season with a celebratory dogpile.
"We knew we wanted the dogpile," Schmid said. "We were all dreaming for that moment, so if it's not states or it's not Shore (Conference Tournament), third time's a charm."
One week later, Schmid handled the final ground ball of the season, fired it to junior first baseman Matt Rigby, and the Bulldogs piled up in the middle of the Count Basie infield to celebrate.
Rumson erupted for seven first-inning runs and junior left-hander Michael Amendola pitched six solid innings as the Bulldogs - seeded No. 4 in the Monmouth County Tournament - rolled to a 9-3 win over the second-seeded Caseys to capture the program's first ever county tournament championship.
"It means everything to win with this group of guys," Schmid said. "We have a hard-working group of guys and we're just a close-knit group. Losing two semifinal games (in the Shore Conference and Central Group II Tournaments), we really came in hungry. We really wanted to win this tournament and bring something home and having something to show for this season."
Caught in a bases-loaded jam in the first inning, sophomore pitcher Dominic Mallamaci and his Red Bank Catholic teammates were just hoping to minimize the damage done and let the Caseys hot bats swing their way to another championship in 2021.
Rumson-Fair Haven, though, has not been too keen on small innings. When the Bulldogs have smelled the potential for a big inning, they have eaten them up and Friday's first inning fireworks display was no different.
"Getting to bat first, we knew we had to jump on them," junior second baseman Charlie Tallman, who batted twice in the first, said. "Our motto is always to win the first inning, so we got up, won the first inning and we knew Mike was going to shove the rest of the game."
Mallamaci walked three batters around a strikeout of Elgrim and Bulldogs sophomore catcher Owen Kenney broke the ice with a line-drive, RBI single to left. Rigby then drew an RBI walk and junior Johnny Bruno was hit by a pitch to force in a third run and RBC went to its bullpen and freshman Declan Leary.
Leary traded an out for a run when Rumson junior Liam Murphy lifted a sacrifice fly to center that made the score 4-0 and put runners on the corners. Sophomore Reece Moroney kept the inning going with another line-drive to left that scored a run, making it 5-0.
Tallman, who led off the game with a walk, capped the inning with a line drive to right that eluded the dive of RBC freshman Sean Griggs and rolled all the way to the fence. Two runs scored and Tallman made a bid for an inside-the-park home run, but the Caseys relay cut him down at the plate.
"Coach (Owen Stewart) just said to go play and have fun," Elgrim said. "It's the last chance for the seniors to go out and play for something and we just wanted to keep playing. I think that was the key: everyone was relaxed during this whole tournament and the bats were really hot."
Although the seven-run inning was an ideal start for the road team, Rumson had to contend with a Red Bank Catholic lineup that scored 21 combined runs in its first two MCT wins this week. Amendola, however, not only shut them down during the early innings, but cruised through the first two innings on only 14 total pitches.
"We played the whole game like it was 0-0," Elgrim said. "We had a big inning early against Manalapan (on Wednesday) and we let them back in it, so we really tried to play this game like it was 0-0 the whole time and I think that was a big factor."
RBC eventually made Amendola work harder for his outs and got to him when sophomore Alex Stanyek crushed a three-run home run in the bottom of the fifth inning, but the early success set the tone for a six-inning outing in which the Amendola allowed just four hits and walked two while striking out three and throwing 86 pitches.
In his start prior to Friday's outing, Amendola pitched a two-hitter to beat Freehold Township in the MCT quarterfinals last Saturday.
"He has been pitching for us since he was a freshman, so he has had these opportunities to get on the mound against good teams," Elgrim said. "Against Freehold Township, he pitched a complete game with one run and then today, he just gave up the home run. Other than that one pitch, I think he pitched his best game of the year in front of everyone here."
Stanyek's home run in the fifth came after Rumson had built its lead to 9-0, with Tallman adding a sacrifice fly for his third RBI and Rigby crushing a ground-rule double to center in the fifth that scored classmate Brian Doherty, who had singled and stole second base. Murphy doubled to lead off the fourth and scored on the Tallman sac fly after a balk moved him to third base.
Three outs away from Rumson's first tournament championship, Stewart turned to senior Brad Sakele to close out the win. After missing most of the season due to injury, Sakele has been a go-to reliever during the tournament season and ended his injury-shortened year by retiring the side in the seventh on eight pitches - all strikes - to close out the Rumson victory.
Friday marked the second time Rumson has beaten RBC at Count Basie Park in 2021, with the first coming in a 10-inning, 3-1 win that was started by both aces: Shane Panzini of Red Bank Catholic and Charlie Jones of Rumson-Fair Haven.
With neither ace eligible to pitch on Friday, that opened the door for a new pitching hero and Amendola and Sakele delivered, while Leary was solid after escaping the first inning: three earned runs on six hits and two walks while striking out one.
While Amendola and Sakele came through, the seven-run first inning from a lineup that has been prone to big innings this year was the difference. Rumson made it to the championship game by scoring six runs in the second and eight in the fourth during a 14-10 win over Manalapan on Wednesday. The Bulldogs also had a five-run inning to break open their 10-0 win over Ranney, scored four in the bottom of the seventh to send their 10-7 loss to Voorhees into extra innings, and put up five runs in the fifth inning of their 5-2 win over Jackson Memorial and senior ace Matt Potok.
"The dugout energy is something special in those innings," Schmid said. "We're all pulling for each other and when one guy gets a hit, everyone is fired up and we all want to go up there and get one."
With one last breakthrough inning, Rumson ended its season with a tournament championship. It was already a breakout season for the Bulldogs, who wound up with 22 wins, reached at least the semifinal round of all three postseason tournaments, were the only team to win a game in which Panzini pitched and will bring back seven hitters in the starting lineup along with their top six leaders in innings pitched.
"There are a lot of guys who are going to be back next year and we all wanted to win this one for Elgrim and Schmiddy," Tallman said. "We lost in both the Shore Conference and states after coming pretty close in both and we didn't want them to leave here empty-handed."
"We came into this year knowing people were sleeping on us," Schmid said. "We weren't in the top ten, no one was talking about the Dawgs, but we knew we had something special. We had that chip on our shoulder and if we had last year (2020), I don't know if we would have had that same chip because I think we would have made a run and people would have known about us. Having that chip made us want to go out and make a name for the program."
Box Score
Rumson-Fair Haven 9, Red Bank Catholic 3
| | | | | | | | | | | |
| --- | --- | --- | --- | --- | --- | --- | --- | --- | --- | --- |
| | 1 | 2 | 3 | 4 | 5 | 6 | 7 | R | H | E |
| Rumson-FH (22-6-1) | 7 | 0 | 0 | 1 | 1 | 0 | 0 | 9 | 8 | 2 |
| RBC (24-5-1) | 0 | 0 | 0 | 0 | 3 | 0 | 0 | 3 | 4 | 0 |
Pitching
| | | | | | | | |
| --- | --- | --- | --- | --- | --- | --- | --- |
| Rumson-Fair Haven | IP | H | R | ER | BB | SO | PC |
| Michael Amendola (W, 5-0) | 6 | 4 | 3 | 3 | 2 | 3 | 86 |
| Dylan Sakele | 1 | 0 | 0 | 0 | 0 | 0 | 8 |
| | | | | | | | |
| --- | --- | --- | --- | --- | --- | --- | --- |
| Red Bank Catholic | IP | H | R | ER | BB | SO | PC |
| Dominic Mallamaci (L, 5-1) | 0.1 | 1 | 6 | 6 | 4 | 1 | 35 |
| Declan Leary | 5.2 | 7 | 3 | 3 | 2 | 1 | 70 |
| Alex Stanyek | 1 | 0 | 0 | 0 | 0 | 1 | 8 |
Top Hitters
| | |
| --- | --- |
| Rumson-Fair Haven | Game Stats |
| Charlie Tallman | 1-2, 3B, R, 3 RBI |
| Owen Kenney | 2-4, 2B, R, RBI |
| Matt Rigby | 1-2, 2B, 2 BB, R, 2 RBI |
| Liam Murphy | 1-2, 2B, R, RBI |
| Reece Moroney | 1-3, R, RBI |
| Andrew Schmid | 1-3, R |
| | |
| --- | --- |
| Red Bank Catholic | Game Stats |
| Alex Stanyek | 2-4, 2B, HR, 3 RBI |
| Sean Griggs | 1-2 |
| Shane Andrus | 1-3 |
More From Shore Sports Network