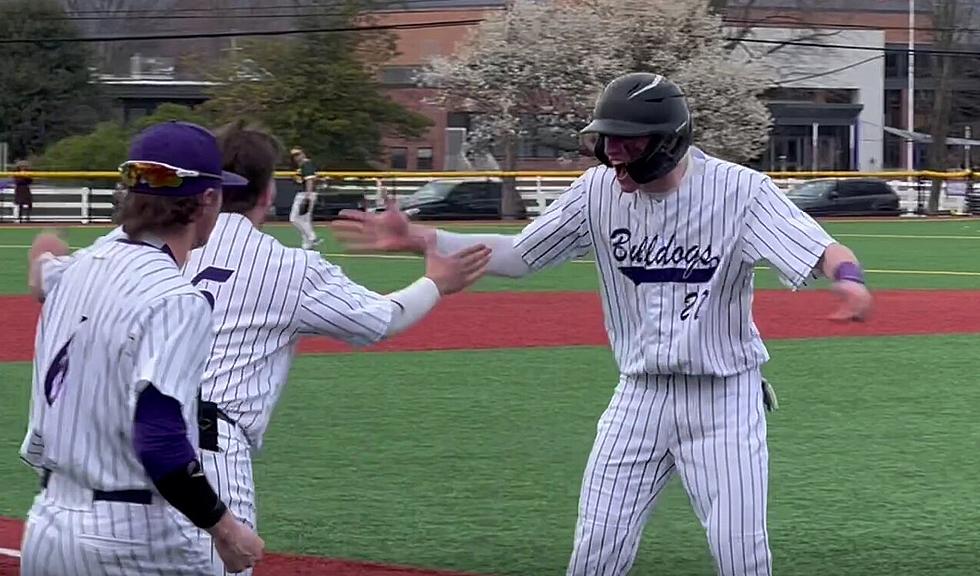 Baseball – Senior Newcomers Deliver Wild Walk-off Win for No. 4 Rumson Over No. 2 Red Bank Catholic
Rumson-Fair Haven junior Aaron Del Tin (27) celebrates scoring the tying run in the seventh inning Monday vs. Red Bank Catholic (Image: Matt Manley/Shore Sports Network on YouTube)

Rumson-Fair Haven seniors Cade LaGrassa and Brayden Dill were not participants in the last home game for the Bulldogs prior to Monday's 2023 season-opener against Red Bank Catholic -- the No. 2 team in the Shore Sports Network Top 10 and the No. 1 team in the state, according to NJ Advance Media.
The last time Rumson played a game at Hal Lorme Field prior to Monday, the Bulldogs pulled off an improbable seventh-inning rally to erase a two-run deficit, beat Wall and win the program's first NJSIAA Central Jersey Group II championship in 18 years.
LaGrassa was a reserve on the bench at the time and Dill was not even in New Jersey, instead living in Connecticut after moving away from Rumson with his family prior to attending high school.
The two seniors might not have had roles in last year's dramatic comeback, but both LaGrassa and Dill stepped to the plate in the seventh inning Monday and followed the script perfectly.
LaGrassa and Dill delivered back-to-back run-scoring hits with none out in the bottom of the seventh inning and the Bulldogs scored three runs in their final at-bat to shock the Caseys for an opening-day, 3-2, walk-off win over the top-ranked team in the state.
The hits were the first at the varsity level for Rumson-Fair Haven, with LaGrassa lacing a game-tying two-run double to right-center with the bases loaded and Dill following with a game-winning single through the middle of a drawn-in infield to win it.
Rumson entered the seventh inning after managing only one hit vs. Red Bank Catholic senior right-hander Alex Stanyek over six innings. Fortunately for Rumson, the Bulldogs worked Stanyek's pitch count up to 100 through six innings, prompting RBC coach Buddy Hausmann to go to his bullpen and junior right-hander Steve Svenson -- a junior right-hander who dominated the Bulldogs (two innings, no hits, one walk, five strikeouts) in his relief appearance at Rumson a year ago.
Senior shortstop Reece Moroney and junior third baseman Aaron Del Tin led off the seventh with back-to-back walks and senior Spencer Hobson -- who broke up Stanyek's perfect game bid with a one-out single on a soft fly ball to shallow center in the bottom of the fifth -- was hit by a pitch from Svenson to load the bases with none out.
Despite Svenson's struggle to find the plate, LaGrassa was ready to swing. The senior jumped on the first pitch he saw and rifled it to the gap in right-centerfield, chasing home Moroney and Del Tin with the tying runs while Hobson got the stop sign from Bulldogs head coach Owen Stewart at third base.
Svenson then jumped ahead, 1-2, against Dill, but the Rumson-born transfer from Connecticut stayed in on a breaking ball and shot it through the middle of a drawn-in infield to plate Hobson with the winning run and set off a celebration.
Dill was a key player on Rumson's football team that reached the NJSIAA Group II championship game and it has not taken him long to endear himself to his baseball teammates, although according to Stewart, several players who remembered playing with Dill in Little League vouched for him. Stewart was sufficiently sold and gave Dill the starting designated hitter spot on opening day.
Monday's win shared some very similar characteristics with Rumson's last home game of 2022 -- a 4-3 win over in the Central Jersey Group II championship game in which the Bulldogs were down to their final strike three times in the final inning before scoring three times to win the title. Moroney and Del Tin were in the middle of that rally as well and on Monday, Del Tin had another epic at-bat reminiscent of the one he had in the 2022 championship game.
With Stanyek cruising through four innings on 53 pitches, Del Tin led off the fifth with a 12-pitch at-bat that ended in a called third strike, but set the table for Hobson's hit in the next at-bat, as well as a 30-pitch inning for Stanyek that ultimately ensured he would be out after the sixth inning.
Del Tin also had a 13-pitch walk in last year's sectional final to extend Rumson's championship-winning rally. Moroney then followed with a two-strike double that set runners up at second and third base, with Stewart also opting to hold the runner at third base on that hit rather than risk an out at the plate as well.
In addition to his dominant pitching on Monday, Stanyek also jumpstarted Red Bank Catholic's only run-scoring inning, lining a double that one-hopped over the left-field fence for a two-out ground-rule double. Two pitches later, junior third baseman and Alabama commit Sean Griggs crushed a line drive that landed on the berm beyond the fence in right field for a 2-0 Caseys lead. The longball marks the second straight season in which Griggs has homered in RBC's opener.
Through three innings, Rumson-Fair Haven senior starter John Goodes had battled some inconsistency, but responded to the home run by Griggs by retiring the next eight batters he faced before issuing a one-out walk to Griggs in the top of the sixth that ended his day. Senior Matt Bruno replaced him and induced an inning-ending double play on his second pitch of the inning, then struck out back-to-back batters with two runners on to get out of the top of the seventh.
Goodes opened the game with a 3-1 count to the first batter of the game in which he threw two balls to the backstop, but quickly settled in to retire Stanyek on a groundout to shortstop on which Moroney made a dazzling bare-handed play, followed by another ground out and a strikeout.
In the second, Goodes walked RBC catcher Shane Andrus to lead off the second and an errant pickoff throw and wild pitch allowed courtesy runner A.J. Sciametta to advance all the way to third before Goodes could record an out.
The Rutgers-bound Rumson right-hander dug deep for back-to-back strikeouts and escaped the jam with another groundball out to Moroney at short. When Goodes did surrender the two runs in the top of the third, he did so in an inning that saw him strike out the other three batters he faced during the frame.
Rumson mounted no such threats vs. Stanyek, whose only difficulty of any kind came in the fifth, when Del Tin stayed in the box for the 12-pitch strikeout, Hobson reached on a jam-shot single and Stanyek hit Dill on a 2-2 pitch with two out. It was the only inning in which Rumson had a baserunner against Stanyek and the George Washington commit ended it by coaxing a fielder's choice groundout to his shortstop, sophomore Max Dantoni.
The Bulldogs did not have to face Stanyek -- a First-Team All-Shore selection by Shore Sports Network in each of the past two seasons -- in 2022, but still went 1-2 against RBC while struggling to hit right-hander Declan Leary in the two losses. Leary looms for Wednesday's rematch at Count Basie Park in Red Bank, where Rumson will counter with senior right-hander and University of Richmond commit Jackson Hinchcliffe.
Box Score
Rumson-Fair Haven 3, Red Bank Catholic 2
| | | | | | | | | | | |
| --- | --- | --- | --- | --- | --- | --- | --- | --- | --- | --- |
| | 1 | 2 | 3 | 4 | 5 | 6 | 7 | R | H | E |
| RBC (0-1, 0-1) | 0 | 0 | 2 | 0 | 0 | 0 | 0 | 2 | 3 | 0 |
| Rumson-FH (1-0, 1-0) | 0 | 0 | 0 | 0 | 0 | 0 | 3 | 3 | 3 | 1 |
Pitching
| | | | | | | | |
| --- | --- | --- | --- | --- | --- | --- | --- |
| Red Bank Catholic | IP | H | R | ER | BB | SO | PC |
| Alex Stanyek | 6 | 1 | 0 | 0 | 0 | 13 | 100 |
| Steve Svenson (L, 0-1) | 0 | 2 | 3 | 3 | 2 | 0 | 22 |
| | | | | | | | |
| --- | --- | --- | --- | --- | --- | --- | --- |
| Rumson-Fair Haven | IP | H | R | ER | BB | SO | PC |
| John Goodes | 5.1 | 2 | 2 | 2 | 2 | 8 | 91 |
| Matt Bruno (W, 1-0) | 1.2 | 1 | 0 | 0 | 1 | 2 | 22 |
Top Hitters
| | |
| --- | --- |
| Red Bank Catholic | Game Stats |
| Sean Griggs | 1-2, HR, BB, 2 RBI |
| Alex Stanyek | 1-3, 2B, R |
| Matt Brunner | 1-3 |
| Shane Andrus | 0-1, 2 BB |
| | |
| --- | --- |
| Rumson-Fair Haven | Game Stats |
| Cade LaGrassa | 1-3, 2B, 2 RBI |
| Brayden Dill | 1-2, HBP, RBI |
| Spencer Hobson | 1-2, HBP, R |
More From Shore Sports Network