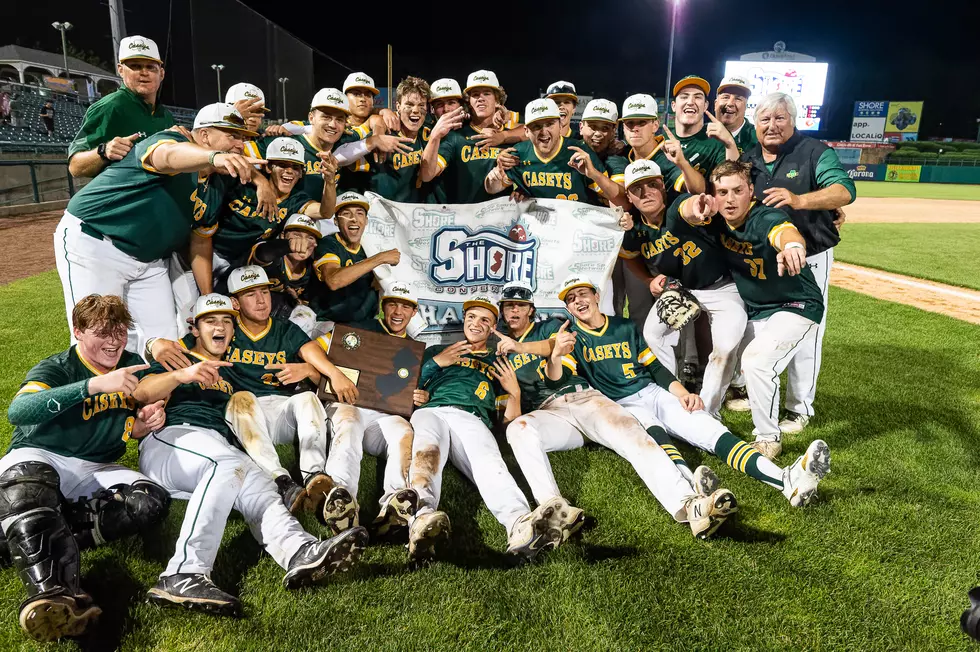 Baseball – Scrivanic's Mammoth Homer Delivers Red Bank Catholic Third Straight Shore Conference Title
Photo: Tom Smith | tspsportsimages.com

LAKEWOOD -- Matt Scrivanic has been waiting all season to finally connect for a home run and when he squared up a 1-0 fastball from Auburn commit and Major League Baseball Draft prospect Zach Crotchfelt Sunday night at ShoreTown Ballpark and realized how far it was going, his reaction described his emotion better than the Monmouth-University-bound senior ever could.
Scrivanic hit a long, tie-breaking, two-run home run down the left-field line in the bottom of the fifth inning and the Caseys -- the No. 4 seed in the Shore Conference Tournament -- held on to beat No. 7 Jackson Memorial, 5-2, to capture their third straight Shore Conference Tournament title.
"That felt amazing. It was unbelievable," Scrivanic said. "I hit it, I knew it was gone, I looked at all our fans and I was like, 'Wow, this is a special moment.'
"To win three in a row is amazing. Not many teams have ever done it, so to be a part of all three championship teams is a special feeling."
Scrivanic entered Sunday batting .274 with three doubles, no home runs and 14 RBI on the season, making him the only player in the Red Bank Catholic starting lineup not hitting above .300. Despite that, RBC coach Buddy Hausmann has stuck with him in the cleanup spot and his teammates have been anticipating a moment like the one Scrivanic provided Sunday night.
"For me, I'm having a little bit of a rough year hitting-wise," Scrivanic said. "I just knew it was a big game and I had to something. It's senior year, a big year for me, I'm going to college next year at Monmouth, so I had to do something. My swings have been good, I've been just missing."
As he has done all season after playing third base as a junior in 2021, Scrivanic played a standout shortstop Sunday night, beginning with a double-play that he fielded before tagging the bag and firing to first for the first two outs of the game.
"He is a senior and a veteran for us," Hausmann said. "He has played a great shortstop for us. I had to throw him over there because we needed somebody to do it. I don't know if that has taken away from his offense at all, which is okay because he has played it really well and that's what we have needed from him."
"You look at the pitchers he is getting hits off of and they are all number-one guys," junior starting pitcher Alex Stanyek said. "He is hitting close to .500 against (Wake Forest commit and Rumson-Fair Haven ace) Charlie Jones, he had great swings tonight. He's also played an unbelievable shortstop all year, so he's obviously a great player, regardless of what the numbers say. It was only a matter of time before he got hot and did what he did tonight."
His first two at-bats against Crotchfelt -- whose fastball regularly sits between 91 and 94 miles-per-hour and has struck out 118 batters in 59 1/3 innings -- ended in strikeouts and in the fifth, Scrivanic came to the plate following a leadoff walk by sophomore Sean Griggs and a strikeout by Crotchfelt for the first out.
"The first at-bat, he got me with a fastball in. It was hard, so good for him," Scrivanic said. "Second at-bat, I struck out and it was a little bit of a sword. Third at-bat, he threw me a slider in the dirt and I just swung at his fastball."
On a 1-0 pitch, Scrivanic jumped on a middle-in fastball and launched it well beyond the wall in left. After contact, Scrivanic walked slowly down the line, bat in hand, and when the ball landed on the berm, he flipped his bat high in the air, toward his dugout and started his home-run trot.
"I wasn't planning on it," Scrivanic said of the bat flip. "It was a big moment. I have been holding that in since March."
"That was probably the best moment of my life," said junior first baseman Frank Scrivanic, who is Matt's younger brother. "To see my brother hit a home run off a potential draft pick and he went about 390, maybe 400 feet. Watching that go over was just the best thing I have ever seen."
His teammates in the dugout appreciated it as well.
"It was chaos," Stanyek said of the reaction in the home dugout. "He hasn't gotten into one like that this year and then he absolutely destroyed one. He was on time with a fastball and he just killed it. It was awesome."
Before Scrivanic's dramatic home run, Jackson Memorial rallied to tie the game with two runs in the top of the fifth. Juniors Mike Arent and Matt Koblos led off the inning with back-to-back single and when Arent went to third on Koblos's single to left-center, the throw from the outfield sailed into the dugout, allowing Arent to score and Koblos to go to third.
Jackson Memorial scored the tying run on a wild pitch and had second and third with one out, but Stanyek wiggled out of trouble. Senior second baseman Nico Gonzalez picked a ground ball by junior J.R. Osmond and threw out senior Tommy Kendrick at the plate for the second out and Stanyek responded by striking out Crotchfelt on a 3-2 fastball that caught the inside corner.
"We put enough work in as a team to look anyone eye-to-eye, so we had a lot of confidence going in" Stanyek said. "I had the same approach I always do. I was feeling good and my fastball was working."
Junior catcher Shane Andrus lofted a long sacrifice fly to leftfield in the bottom of the sixth to extend Red Bank Catholic's lead to 5-2 and sophomore Steve Svenson closed out a dominant, two-inning relief outing with a strikeout to notch the save and set off the celebration for Red Bank Catholic.
Svenson struck out the side in order in the top of the sixth and gave up an infield single to senior Chris Cartnick with two out before capping the win with his fifth strikeout.
Stanyek earned his third win of the season by allowing two runs -- one earned -- on four hits and five walks with nine strikeouts. Stanyek threw 102 pitches and battled through what he described as tightness in his oblique that prompted a visit from Hausmann and the athletic trainer in the top of the third inning.
"I was in a lot of pain there, I pulled my oblique a little bit," Stanyek said. "I couldn't really throw offspeed because I couldn't get over my front side, so I just had to throw fastballs. I just kind of told myself, 'I'm going to throw my best fastball and if they hit it, I'll trust my defense to make the plays."
Stanyek got out of the third by coaxing a groundout out of junior Charlie Meglio and went on to strike out the side around a walk in the fourth -- the second time Stanyek struck out the side on Sunday night.
"I didn't want too give up the ball," Stanyek said. "I didn't even want to come out when I did, but coach was like, 'You've got to come out now, it's time.' I didn't want to come out. That was so much fun."
Red Bank Catholic gave its junior ace a 2-0 lead by getting to Crotchfelt in the bottom of the second inning. Frank Scrivanic continued his torrid hitting in the SCT with a line-drive single to right field and senior Jack Meyers followed with a bloop single to right that came on a 3-2 count after Meyers fell into a 0-2 hole and allowed Scrivanic to go to third.
A wild pitch scored Frank Scrivanic with the game's first run and after Meyers stole second base and went to third on a passed ball, freshman Dylan Passo smoked an RBI single through the middle for a 2-0 lead.
Frank Scrivanic finished Sunday 2-for-2 with two hard-hit singles on fastballs and two hit-by-pitches. For the entirety of the Shore Conference Tournament, he hit 8-for-10 with a triple and five RBI to lead the Caseys lineup during its four-game tear through the conference.
"I like hitting velocity," Frank Scrivanic said. "Velo is my thing. Coming into this game, I knew he was going to try to blow it by me, but I wasn't going to let that happen."
Crotchfelt finished the night with four earned runs allowed on eight hits, four walks and eight strikeouts over 4 1/3 innings and 107 pitches. The loss snaps and eight-game winning streak for the senior left-hander, who suffered a loss to Bishop Eustace on April 2 -- his first start of the season.
"Crotchfelt is a phenomenal player," Matt Scrivanic said. "I have been playing with him for years. I love him, he's been my teammate (in travel baseball) and I have a lot of respect for him."
To get ready to face Jackson Memorial's ace, Red Bank Catholic faced its former ace and current head coach. As he often does when his team prepares to face a hard-throwing pitcher and particularly a left-handed one, Hausmann -- a standout at RBC and Seton Hall and a draft pick of the New York Mets -- threw batting practice from close range in the days leading up to Sunday's game, including on Sunday morning.
The result was a lineup that hung a season-high eight hits on Crotchfelt, but did so while regularly getting to two-strike counts. Stanyek worked a leadoff walk in the first after falling behind, 0-2, which set the stage for six two-strike hits off Crotchfelt, including 0-2 hits by Andrus, Frank Scrivanic, Gonzalez and Meyers.
"Sometimes, when you're in a really big game like this and you are fighting really hard, it doesn't matter who is on the mound," Stanyek said. "You just want it bad. As a whole, nobody is intimidated, we're just focused on each pitch and putting great at-bats together all night."
Matt Scrivanic's practice performance against Hausmann suggested he would be ready for Crotchfelt's fastball, as did a long foul ball in Scrivanic's second at-bat of the game in the third inning, which ended with a swinging strikeout on a 3-2 fastball.
"He was on me pretty well," Hausmann said of Matt Scrivanic's practice performance against him. "I was throwing to them from short distance and pretty hard and he had very good swings on me -- better than he has had. I was thinking, especially after he hit that one ball foul, maybe something was coming."
With its third straight Shore Conference Tournament championship, Red Bank Catholic becomes the third team to ever win three consecutive SCT titles, joining Toms River South from 1997 to 1999 and Christian Brothers Academy from 2014 to 2016.
The Caseys have won their three consecutive titles during a four-year span due to the cancelation of the entire 2020 season due to the COVID-19 pandemic. The last two came on shutouts by current Kansas City Royals farmhand Shane Panzini and Sunday's 5-2 victory snaps a streak of seven straight SCT championship-game shutouts by the victor.
The Scrivanic family has been a big part of the championship run, with the oldest brother, Jack starting on the 2019 team and Matt and Frank playing key roles on each of the last two. The trio missed a chance to play together in 2020, but Matt and Frank are glad to get the time together now while carrying on a championship legacy that Jack helped establish.
"Our whole life, it's been me at Matt," Frank Scrivanic said. "We're usually right next to each other in every lineup and we're always talking, feeling each other out with every at-bat. When I'm hitting behind him, I feel what he is going to do. To have that connection is so awesome."
Box Score
Red Bank Catholic 5, Jackson Memorial 2
| | | | | | | | | | | |
| --- | --- | --- | --- | --- | --- | --- | --- | --- | --- | --- |
| | 1 | 2 | 3 | 4 | 5 | 6 | 7 | R | H | E |
| Jackson Mem (19-8) | 0 | 0 | 0 | 0 | 2 | 0 | 0 | 2 | 5 | 0 |
| RBC (20-8) | 0 | 2 | 0 | 0 | 2 | 1 | X | 5 | 10 | 1 |
Pitching
| | | | | | | | |
| --- | --- | --- | --- | --- | --- | --- | --- |
| Jackson Memorial | IP | H | R | ER | BB | SO | PC |
| Zach Crotchfelt (L, 8-2) | 4.1 | 8 | 4 | 4 | 4 | 8 | 107 |
| Sage Goeke | 1.2 | 2 | 1 | 1 | 1 | 0 | 25 |
| | | | | | | | |
| --- | --- | --- | --- | --- | --- | --- | --- |
| Red Bank Catholic | IP | H | R | ER | BB | SO | PC |
| Alex Stanyek (W, 3-0) | 5 | 4 | 2 | 1 | 5 | 9 | 102 |
| Steve Svenson (SV, 2) | 2 | 1 | 0 | 0 | 0 | 5 | 35 |
Top Hitters
| | |
| --- | --- |
| Jackson Memorial | Game Stats |
| Tommy Kendrick | 1-2, 2 BB, 3 SB |
| Mike Arent | 1-3, R |
| Matt Koblos | 1-3, R |
| Chris Cartnick | 1-3, BB, SB |
| Aidan O'Donnell | 1-3 |
| | |
| --- | --- |
| Red Bank Catholic | Game Stats |
| Matt Scrivanic | 1-4, HR, R, 2 RBI |
| Frank Scrivanic | 2-2, 2 HBP, R |
| Shane Andrus | 1-2, BB, RBI |
| Dylan Passo | 1-3, RBI |
| Jack Meyers | 2-3, R, SB |
| Alex Stanyek | 1-3, BB, R |
| Sean Griggs | 1-3, BB, R, SB |
| Nico Gonzalez | 1-2, BB, SB |
More From Shore Sports Network