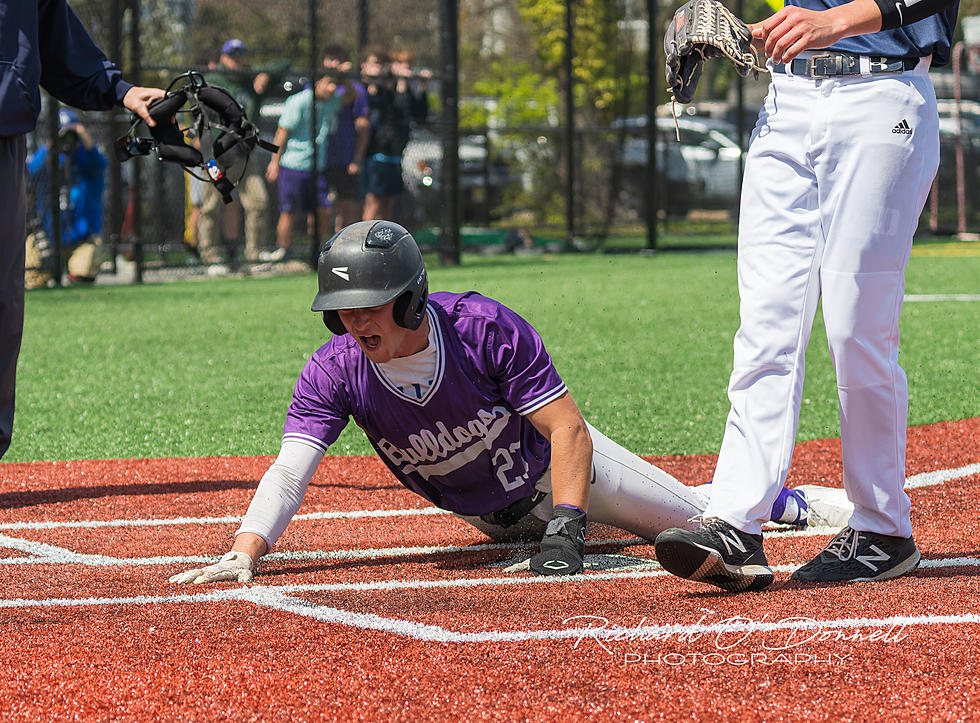 Baseball – Rumson-Fair Haven Solidifies No. 1 Ranking; Two New Teams Join SSN Top 10
Rumson-Fair Haven senior Brian Doherty dives into home plate with the go-ahead run for the Bulldogs in the sixth inning. (Photo: Richard O'Donnell Photography)

Between pitching matchups and the general unpredictability of the season, it is hard to stay at the top of the rankings for consecutive weeks of a baseball season. For Rumson-Fair Haven, doing so no only required avoiding an obvious upset, but also beating a team that also had a claim to the No. 1 spot heading into the week.
With its win over Ranney, Rumson brings some stability to the rankings, which remain steady at the top and relatively similar to last week, save for a few new teams entering the picture.
2022 Shore Conference Baseball Standings
1. Rumson-Fair Haven (8-0, 6-0) Last Week: 1
Prior to Saturday, Rumson had not beaten a team with a winning record, but after edging Ranney this weekend, the Bulldogs' claim to the No. 1 spot is much, much harder to dispute. It's possible they could lose some momentum by not being in the Monmouth County Tournament, but with two games against Red Bank Catholic and a clash with Howell on the schedule prior to the Shore Conference Tournament, the Bulldogs will have ample opportunity to show what they are made of.
2. Howell (7-0, 6-0) Last Week: 2
Along with Rumson, Howell is one of only two unbeaten teams remaining in the Shore Conference and undefeated teams in Class A North deserve elevated status. The Rebels' six division wins have come against two teams (Marlboro and Manalapan) that are a combined 3-10 and another (Middletown North) that is .500, but perhaps those teams have poor records because they have had to play Howell. We will find out more about the Rebels this week, when they take on Freehold Township twice and close out the week at home vs. CBA.
3. Ranney (6-1, 4-0) Last Week: 3
Ranney missed its chance to move into the No. 1 spot in April, but in losing to Rumson, the Panthers showed they will be a contender for the top spot in June. The week got off to an ugly start, with Ranney beating Asbury Park, 46-0, and in a way, the loss to Rumson was a positive way to end a week that started with a lopsided victory.
4. Middletown South (6-3, 5-1) Last Week: 5
Had Middletown South upended Delbarton on Saturday, it would have had a pretty strong case to jump Ranney for the No. 3 spot, but with the Panthers owning a win over the Green Wave, it's hard to make that move now. This is an example of why Ranney has a built-in edge over teams when it comes to record vs. common opponents and quality of wins, because while Ranney can line up its pitching like it did for a Saturday win at Delbarton, Middletown South used ace Ben Schild for a mid-week win over Cranford and has to do so throughout the season with a tough Class A North schedule. At some point, the resumes may be disparate enough that Ranney gets jumped without losing, but for now, the resumes are at least close enough to give the Panthers the nod on common opponents.
5. Christian Brothers Academy (5-2, 2-1) Last Week: 6
CBA returned from a trip to Myrtle Beach and crashed Freehold Township's six-game winning streak with a resounding, 15-3 win over the Patriots. A rough first inning of the season is the only thing standing between the Colts and a 6-1 mark with no in-state losses, but that loss to Marlboro in the opener keeps CBA out of the argument for No. 2 at the moment, although not entirely out of the discussion for No. 3. Two showdowns with Middletown South this week will have major implications for next week's rankings and certainly on the Class A North divisional race.
6. Jackson Memorial (4-3, 4-1) Last Week: 8
Although coming off a 10-1 loss at Malvern Prep of Pennsylvania on Saturday, it was a good week for Jackson Memorial, particularly for their Class A South division-title prospects. The Jaguars handed the ball to Auburn-bound ace Zach Crotchfelt on Thursday and he delivered them a 7-0 win over surging Toms River North, with a major assist to Charlie Meglio (3-for-4 with two homers and five RBI in the win). The next two weeks will, more-or-less, decide the division for the Jaguars, with one more vs. Toms River North on Monday, two against Toms River South to close out this week and two big games vs. Central Regional next week. Mixed in will be an intriguing matchup against Middletown South this Saturday at the Autism Awareness Showcase in North Brunswick.
7. Red Bank Catholic (4-2, 4-2) Last Week: 7
The Caseys have an odd resume thus far, with losses to Monmouth and Shore – teams they beat 16-1 and 23-0 in the other games they played against them. RBC has yet to notch an especially noteworthy win, but it is still early enough in the season that the evident depth of the roster on both the pitching an lineup side still keep the Caseys in the conversation as their schedule ramps up.
8. Colts Neck (4-2, 4-2) Last Week: 9
Despite losing to St. John Vianney on Saturday to close out the week, Colts Neck moves up a spot thanks to a sweep of Manasquan during the middle of the week. Both games went down to the wire, with the Cougars two late to beat the Warriors, 5-3, on the road and scratching two across in the bottom of the seventh on Thursday to pick up a 2-1 win over red-hot Manasquan sophomore ace Cullen Condon. Colts Neck has already played Wall, Manasquan and St. John Vianney twice each, so the schedule favors the Cougars when it comes to handicapping the tight race for the Class B North title.
9. Freehold Township (6-2, 3-2) Last Week: Not ranked
Another team moving up – or in this case, into – the rankings despite a rough final game of the week, Freehold Township ripped off six straight wins between being no-hit by Ben Schild on opening day and getting thumped by CBA on Saturday, 15-3. Wednesday's walk-off win over Millburn – ranked No. 6 in the state by NJ Advance Media – gave the Patriots a major profile boost and coupled with a win over Middletown South, gives them obvious top-10 credentials, even after the rough outing vs. CBA. Not bad for a team that returned no pitching and three starting position players from the 2021 Class A North division championship team.
10. Toms River North (4-2, 3-2) Last Week: Not ranked
The Mariners catapulted themselves into the Class A South race by sweeping defending Ocean County Tournament champion Central last week. Like many of the teams in this week's Top 10, Toms River North closed out the week with a loss, but there is no shame in getting beat by Jackson Memorial ace Zach Crotchfelt. Toms River North will have a chance to salvage a series split with the Jaguars on Monday and if they get it done, the Mariners – with series against Central, Jackson Memorial and Brick Memorial already in the rearview mirror – will be a great position in the Class A South race.
Dropped Out
Central (5-3, 4-2) Last Week: 4 – Central's chase for a Class A South title took a hit when it lost twice to Toms River North, but the Golden Eagles managed to snap out of a three-game losing streak by beating Brick on Saturday.
Manasquan (4-4, 3-3) Last Week: 10 – After a 4-0 start, the Warriors felt the other end of the spectrum by losing all four of their games this past week, three or which were decided by two runs or fewer.
Top 10 Watchlist
Wall (5-2, 4-2) – The Crimson Knights are back on the cusp of a top-10 ranking, as well as first place in the Class B North standings after salvaging a split with Manasquan on their end, while Colts Neck lost to St. John Vianney
St. John Vianney (4-1-1, 4-1-1) – The Lancers could very well be the next team in line for a Top 10 spot after putting up 13 runs in a win over Colts Neck. A big Class B North series vs. Wall this week is a chance to kick down the door.
Monmouth (5-1, 5-1) – A 16-1 loss to Red Bank Catholic was actually competitive heading into the top of the seventh inning and the rest o the resume, including an extra-inning win over the Caseys, is spotless.
Brick Memorial (5-3, 3-3) – The Mustangs got a bounceback win over Southern to end the week and with some competitive early-season games throughout Class A South, they are still in the hunt for the division title.
Toms River South (4-3, 3-3) – After winning four in a row, Toms River South cooled off considerably vs. Brick Memorial to end the week, but will have a chance to reignite their Top 10 flame with two games vs. Jackson Memorial this week.
More From Shore Sports Network