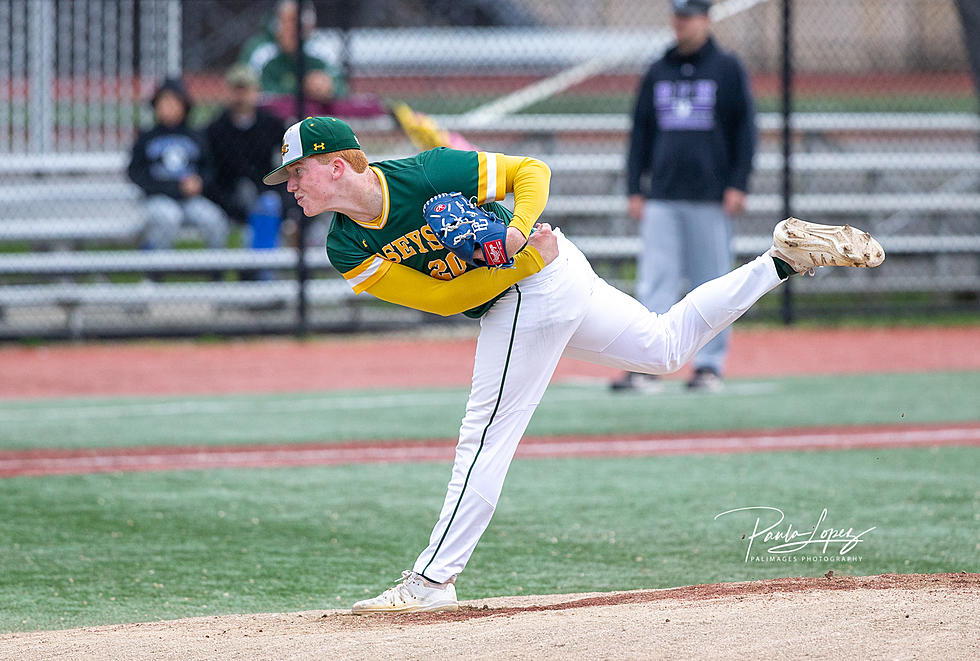 Baseball – Royals Take RBC Ace Shane Panzini in 4th Round of MLB Draft
Red Bank Catholic senior Shane Panzini. (Photo by Paula Lopez)

Shane Panzini became highest Major League Baseball Draft selection to come out of Red Bank Catholic when the Kansas City Royals picked the former RBC right-hander in the fourth round with the No. 108th overall selection.
"I was following (the draft) all day and it was starting to feel like a really long wait," Panzini said. "Then, it finally happened and it was pretty awesome. I heard my name get called and saw it on the screen, so that was a pretty cool feeling."
Prior to Monday, the highest pick to ever come out of Red Bank Catholic was Ryan Kalish in the ninth round of the 2006 draft. Kalish chose to sign instead of attending the University of Virginia and Panzini will now make the same decision, with a chance to pitch at Virginia remaining the alternative to signing with the Royals.
According to a source, the Royals offered Panzini a signing bonus in the neighborhood of $1 million.
"About 10 picks before it happened, the Royals called and gave us a number and we told them that wasn't going to work," Panzini said. "They said they would go back and see if they could rework it. We didn't hear from them and some other teams called and made some offers and then all of a sudden, they were calling my name."
Kansas City made what most of the industry considered a surprise pick with the No. 7 overall selection when the Royals selected high-school pitcher Frank Mozzicato out of East Catholic in Connecticut. Mozzicato is a University of Connecticut commit who was not considered a favorite to be drafted in the first round, but a strong finish to his spring season helped him move up, as did what will likely be a signing bonus well below the recommended slot value of $5.43 million.
That is significant for Panzini because prior to his selection in the fourth round, the Royals had not drafted a player that is a strong candidate to receive a signing bonus offer significantly beyond the recommended slot value. The value of the 108th pick is $538,2000.
"I'm still not exactly sure what I'm going to do," Panzini said. "I'm going to talk with my family and try to come to the best decision for me and my career, but I feel like whatever I decide, it will be a great opportunity."
The appeal of Panzini is his good frame at 6-foot-3, 220 pounds that support a power arsenal. Panzini has been clocked up to 98 miles-per-hour in bullpen sessions, 97 in game action and has typically sat between 91-to-95 with his fastball during his longer starts. Panzini's slider emerged as his second-best pitch during the summer of 2020 and has continued to improve as a legitimate above-average-to-plus offering. Panzini also has change-of-pace curveball and a changeup that has made progress over the last year, although he seldom threw either during the high-school season with RBC.
Panzini was initially scheduled to attend a private workout with the Royals in Kansas City but the Royals instead evaluated Panzini at a USA Baseball showcase for draft prospects in Cary, N.C. in late June.
"I don't know too much about them as an organization," Panzini said about the Royals. "I do remember them winning the World Series because I grew up a Mets fan, so I definitely watched that. That was a little bit of a sour taste after that, but the Royals are my team now so hopefully I can help them win again."
Panzini wrapped up his high-school career at Red Bank Catholic on June 18 and his last game on the mound was a 14-strikeout performance against Christian Brothers Academy on June 16. The Caseys right-hander broke the single-season strikeout record at Red Bank Catholic with 115 punchouts, breaking the previous record of 108, held by his head coach and 1998 graduate Buddy Hausmann.
In addition to the 115 strikeouts, Panzini was 9-0 with a 0.91 ERA and only 26 hits and 22 walks allowed in 61 2/3 innings during his senior season. He was named the 2021 Player of the Year by both Shore Sports Network and the Asbury Park Press, as well as the Pitcher of the Year by Shore Sports Network. NJ Advance Media also tabbed Panzini as a First Team All-State selection and he was named to the Collegiate Baseball Newspaper All-American Team.
Panzini verbally committed to the University of Virginia right after his sophomore season ended in 2019. That was the first of his two Shore Sports Network All-Shore First Team seasons, during which he went 7-2 with a 0.66 ERA with 73 strikeouts and 29 walks over 53 innings. For his career, Panzini went 19-2 with a 1.04 ERA in 141 2/3 innings with 218 strikeouts and 62 walks as a three-season standout for the Caseys. Panzini, along with every other baseball player in New Jersey, did not play in 2020 when the high school season was cancelled due to the COVID-19 pandemic.
Panzini was the third player from a New Jersey high school to be selected in the 2021 Draft, with flame-throwing Mainland pitcher Chase Petty going No. 26 overall to the Minnesota Twins during Sunday's first round and Bishop Eustace left-handed pitcher Anthony Solometo going to the Pittsburgh Pirates with the first pick of the second round on Monday.
Solometo and Panzini appeared to be on a collision course to face one another on June 7 in the NJSIAA South Jersey Non-Public A semifinal round but Solometo was held out due to a minor injury. Panzini, meanwhile, took the ball and turned in the performance of his career. The RBC right-hander pitched a three-hitter while allowing one run, walking one and striking out 12 to beat the 21-0 Crusaders – then the No. 1 team in the state. Panzini also blasted a towering solo home run off of Rutgers University commit Danny Kerr to lead off the top of the third inning of that game.
"I played with most of the guys who were drafted out of high school so I watched the first round just to see where some of those guys went," Panzini said. "With some of them, I thought, 'Yeah, they deserved to go there and with a few, I was a little more surprised, but there's a lot that goes into it.
"It was a pretty stressful experience, but I'm glad it's over and I'm glad I got to experience it. I'm going to enjoy it with my family and friends and pretty soon, I'll be fired up to get back on the mound."
More From Shore Sports Network