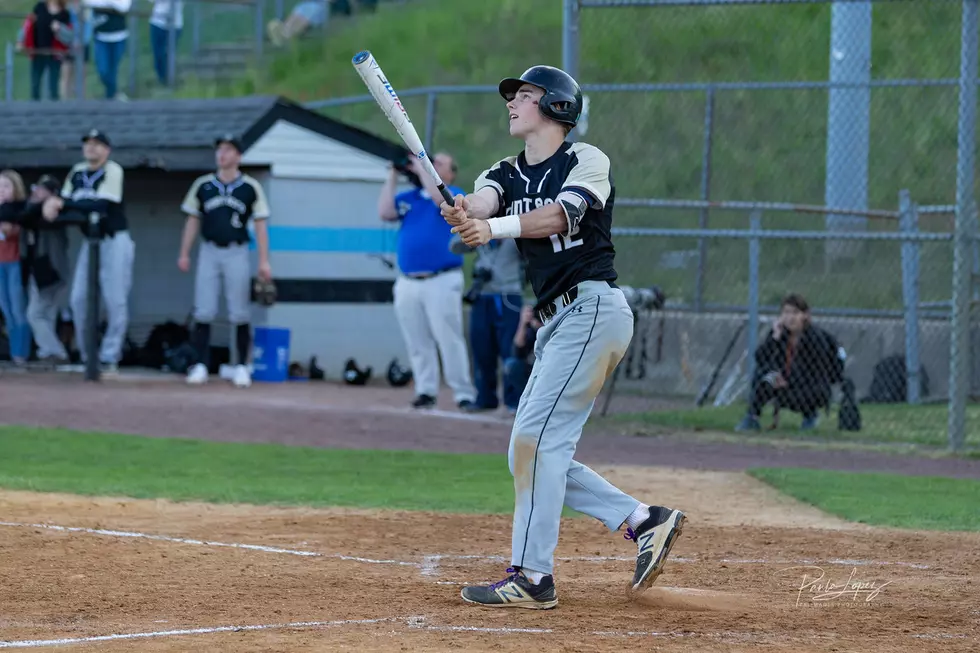 Baseball – Resourceful Barnegat, Resounding Pt. Boro Set Up Showdown
Point Boro senior Sam Young. (Photo by Paula Lopez)

Enter your number to get our free mobile app
The players on the Barnegat baseball team that never was wanted a chance to challenge a decorated Point Pleasant Boro team during the 2020 season that never was.
What those Bengals players will have is a chance to beat that impressive Point Boro team on Wednesday and they earned that chance by keeping themselves sharp in preparation for the RWJBarnabas Health Last Dance World Series, which opened on Tuesday.
Senior pitchers Matt Vernieri and Colin Zarenkiewicz were sharp and the B Baseball squad took advantage of opportunities on the bases and in the field to edge out Southern, 3-2, Tuesday in Barnegat.
"They (Point Boro) have been our rivals since I have been here and that's the game we always seem to get fired up for," Barnegat senior and Wagner-bound centerfielder Lukas Torres said. "We had good energy today and it's going to be 10 times better (Wednesday)."
Vernieri was spotless through the first three innings, striking out seven of the nine batters he faced and throwing 26 of his 36 pitches for strikes in the process. The right-hander finally ran into some adversity in the top of the fourth, when he walked two and gave up a two-out, two-run single to Southern senior Aiden Hosszu.
"I was working hard in the offseason," said Vernieri, who is headed to Bloomsburg University in Pa. "It's disappointing that we had to get shut down because of COVID but I knew I had to keep working. You never stop, you just keep going and working and once you get a shot, you perform on the field.
"We got together and did live at-bats. I lift at my house six days a week. I get in long toss on the football field. For me, I didn't change my preparation when the season got canceled. I just tried to keep getting better as much as I could."
Hosszu, who missed almost his entire junior season due to two separate injuries, lined a shot to right-centerfield - just out of the diving reach Torres - to plate Josh Camburn and Xavier Hendricks and give Southern a 2-1 lead in the top of the fourth.
Barnegat grabbed the lead back in the bottom of the fifth and did it without the benefit of a hit. Catcher Luke Bush worked a leadoff walk and courtesy runner Justin Bye stole second and took third on a passed ball, setting up a run-scoring opportunity despite Southern junior right-hander Taylor Munt striking out the next two batters.
Southern opted to bring in left-hander Owen Durnien to face the left-hander Torres and his first pitch got away and to the backstop to plate Bye with the tying run. Torres then reached on an error for the second time, stole second and third base and scored on another wild pitch to give B Baseball the lead.
"I was a little worried about getting (intentionally) walked there," Torres said. "You hope that doesn't happen in a tournament like this where you have extra hitters and all kinds of substitutions to give guys a chance to play, so I was glad they at least tried to get me out, even if it was bringing in the lefty."
B Baseball took advantage of Southern's starting catcher Mike Gallaro getting that inning off. During the pool play round, teams are free to make unlimited substitutions in order to give more players a chance to play.
"We saw the different gear so we knew it was a different catcher, so we thought we should test him out," Torres said. "I thought (Gallaro) was very strong and coming in cold off the bench played to our advantage and we made the most out of it."
Zarenkiewicz took over in the top of the fifth and took the ball into the top of the seventh before exiting following a leadoff walk. The senior left-hander did not allow a hit but passed the ball to Ryan Kulpa after issuing his third free pass.
Kulpa recorded his only out when Bush threw out a would-be base-stealer at second base and pinch-hitter Steven Stafford made the decision to run hurt when he doubled to deep right field with one out.
Hendricks drew a walk and Barnegat turned to junior Nick Downbrowney to close the game. The right-hander and starting second baseman needed only one pitch to finish the game and it was on a rather unconventional double-play.
Danbrowney snared a comebacker by Kevin Cooney, threw to second base for the first out. Stafford took a wide turn around third base, slipped and Barnegat picked him off going back to the base for the 1-4-5 double-play to end the game.
Danbrowney also helped get the home team going with an RBI ground out to open the scoring in the first inning.
B Baseball recorded only three hits but Barnegat's senior hitters still made their presence felt on Tuesday. Torres reached base twice, stole two bases and scored the winning run; right fielder Matt Scott walked twice and scored the game's first run; third baseman Sean Lucas was 2-for-3 with a stolen base; left fielder Steven Maier was 1-for-2 with a walk; and Bush drew a walk that led to a run and stopped what would have been a key stolen base in the seventh.
"Once we found out the season was canceled, we were all so hurt," Torres said. "This was the last year of us all playing together and that was really tough. Once we heard about this tournament, we kept working and kept grinding and got ready to do the best we could with it."
While Barnegat's team held up its end in earning a shot at Point Boro on Wednesday at 10 a.m. in Barnegat, Point Boro did its part and then some. The Panthers pounded 11 hits and rode big innings in the first and fourth to cruise past rival Point Beach, 12-1, in five innings.
Seniors Luke Severio, Sam Young, Oscar Scott, Kyle Fisher and Ryan Jasaitis had the big run-scoring hits, while freshman shortstop Connor Cilento was in the middle of it all during his 3-for-3 game at the plate with two runs scored.
Fisher - moved to Point Pleasant before the school year after playing at Cherokee - made a good and long-awaited first impression with a game-tying RBI double in the bottom of the first to play Cilento.
"I found out I was moving (to Point Pleasant) and a couple weeks later Nick Guzzi (direct messaged) me and made me feel welcome," Fisher said. "I met him in person in school and he introduced me to the rest of the guys and we just became close real quick. Once the practice started in March, I knew everyone and I knew what the expectations were and I was really excited and grateful to be a part of it."
After Fisher got the scoring started, Point Boro took the lead on a bases-loaded walk by Jasaitis and a passed ball before Severio ripped a two-run single to right-center to make the score 5-1.
Jasaitis added a sacrifice fly in the third to extend the lead to 6-1 and capped the scoring in the fourth with an RBI single.
Prior to Jasaitis collecting his third RBI, Young and Scott delivered big hits in the six-run fourth. Young cleared the bases with a three-run double to the warning track in right field and two batters later, Scott - a transfer from Shore Regional - hit an almost-identical ball to right to plate two more.
"I really felt like if we had a full year this year, we would have won more games with our bats as opposed to our pitching, which pretty much carried us for the past two years," Young said. "We have a lot of guys who can swing the bat and the guys who came back from last year got better."
Three Point Boro pitchers combined on a three-hitter, with senior A.J. Hernandez firing the first three innings. Point Beach scratched a run across in the first inning after loading the bases with one out, with Hunter Alia scoring on a ground out by starting pitcher Matt Van Brunt.
Point Beach catcher David Terra Nova accounted for two of the three hits, one of which was a double to right-centerfield in the third.
Senior Cole Young replaced Hernandez in the fourth and struck out the side around a walk. Matt DeWitte took the ball in the fifth and did the same to close out the win in five innings.
Point Boro is playing without St. John's commit and standout pitcher Nick Guzzi, but coach Dave Drew said that Guzzi will join the team if it advances to next week's round of 16 - which it can do by going 3-0 this week. Point Boro was working to replace two key pitchers from 2019 back in March, but Tuesday was proof its new starters - namely Fisher, Scott, Severio and Cilento - are more than ready to fit in.
"When we saw those all the guys we had at practice, we were excited about what we could do," Young said. "We wanted to prove ourselves even more this year. It was disappointing to lose out on the full year but we're just pumped to be able to play in this tournament and we're going to make the most of it."
More From Shore Sports Network