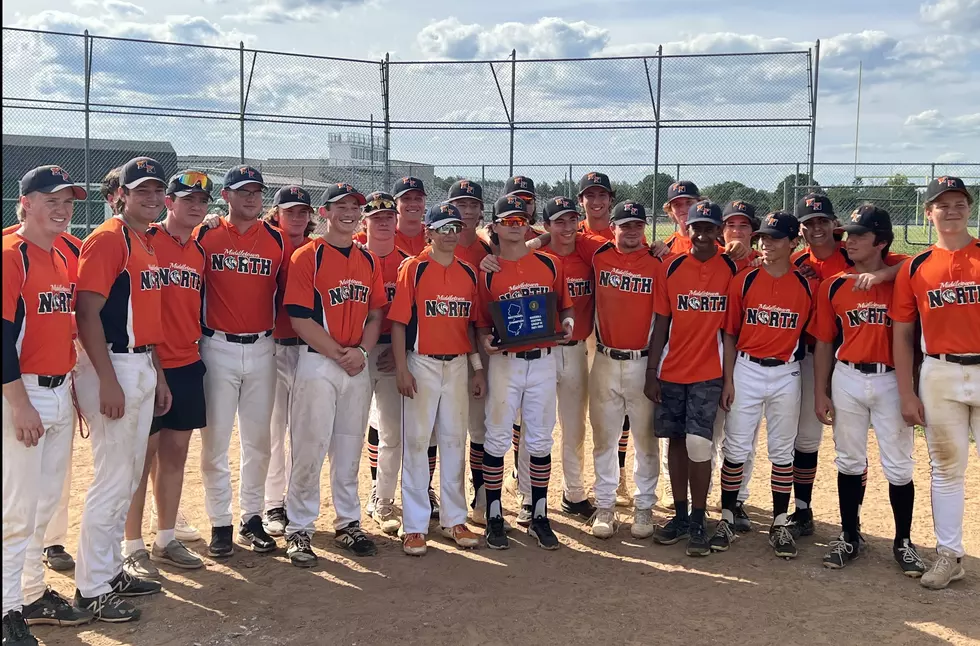 Baseball – Middletown North Slugs Its Way to First Sectional Title in 33 Years
Photo: Matt Manley

COLTS NECK -- The last time the Middletown North baseball team lost a game, it cost the Lions a chance to play in the Shore Conference Tournament.
It was a taste of when the season coming to an end might feel like and for a team of players who felt, at the time, they were not living up to their potential, it was a needed wake-up call.
Now, the Lions are awake, they are dangerous and, most importantly, they are champions.
In Friday's NJSIAA Central Jersey Group III championship game, Middletown North put on another hitting clinic and outlasted defending sectional champion Colts Neck, 14-11, to win the program's first sectional championship since 1989.
"We lost (junior) R.J. Kernan for the season, who is one of our emotional leaders and best hitters, then we missed out on the Shore Conference Tournament," Middletown North coach Ryan McCabe said. "That was the low point of our season, but we just tried to convince the guys it was all part of a bigger process.
Since losing to Red Bank to fall to 9-10 on the day of the Shore Conference Tournament cutoff, Middletown has rattled off 10 straight wins and done so in dominant fashion. The Lions are averaging 11.7 runs per game during the winning streak, have scored eight runs or more in nine of the 10 games and double-digit runs in eight.
"The atmosphere changed," senior Andrew Lombardi said. "We were just lazy. We always had talent from day one, but we just weren't living up to our potential. That last loss was a big one for us because we really wanted to get into that tournament."
"That was a big wake-up call for us because that was a Senior Day for us and we went all out and our energy was just dead. That was a team (Red Bank) we should have beat and we ended up beating them a couple weeks later. We realized it's all just atmosphere and energy. If we don't have that, we're not going to play well. We have the talent, we have the skill, but we need to keep the energy up."
Like its season, Middletown North's Friday did not get off to the ideal start. A five-run bottom of the first gave Colts Neck a 5-1 lead after the Lions jumped in front in the top of the inning on a leadoff double by senior winning pitcher Matt Adamson followed by an RBI single by junior shortstop Ryan Frontera.
In the second inning, Middletown North showcased the kind of hitting that has overwhelmed its opponents during this current winning streak. Adamson -- who started the game in centerfield before coming on to pitch -- hit a double identical to the one that he led off the game with, this time driving in a run to cut the deficit to 5-2.
A wild pitch made it 5-3 and Frontera beat out an infield single that took an unusual hope off the lip of the grass and over the head of Colts Neck junior right-hander Tyler Spencer for an RBI.
Lombardi came up with the bases loaded and Middletown North tied the game on a pickoff attempt from Spencer that got far enough away from first baseman Christian Rice for Frontera to score from third.
With two runners till on, Lombardi drove them all in with a three-run blast that cleared the leftfield fence and gave the Lions an 8-5 lead, one they would not give back.
"I don't even know what pitch it was," Lombardi said. "I just saw the ball and swung. I don't worry about the spin or anything. I just try to kill the baseball every time I'm up."
Lombardi was lock-in at the plate Friday, drawing a walk in each of his three plate appearances following the home run, including one with the bases loaded in the fourth inning to stretch Middletown North's lead to 9-7 and give him his fourth RBI of the game.
The Lions senior nearly drove in two more runs in the top of the first, but a diving catch by Cougars sophomore rightfielder Casey Gardiner on the warning track in right-center robbed Lombardi and kept the Middletown North lead at 1-0.
"I felt good swinging it today, but even if I went 0-for-4 with four strikeouts, I would have been happy because we won the trophy," Lombardi said.
Lombardi's performance Friday was a satisfying one for the senior, who is playing with a torn ulnar collateral ligament (UCL) in his throwing elbow that has prevented him from catching -- his primary defensive position when healthy and his starting position as a freshman at the varsity level in 2019. He also battled a hip flexor injury during his junior season and in recent weeks, has started to catch fire at the plate as the team's designated hitter while senior Aidan Sheehan handles the catching duties.
"It's unfortunate I wasn't able to catch today or catch this whole season, but Aidan has done a great job behind the plate," Lombardi said. "He's been a dog back there. Anything I can do to help the team out is good with me. I love playing, I love being on the field, even if it's just to hit."
Colts Neck fought back in the bottom of the second inning to pull within 8-7 thanks to an RBI triple by junior second baseman Ryan Tan and an RBI single by senior Dave Cohen on consecutive at-bats.
Cohen also drove in the first Colts Neck run with an RBI double to left-centerfield, followed by a two-run double by Gardiner on the next pitch to five the Cougars a 3-1 lead. Colts Neck scored two more in the first on an error.
Middletown North stretched the lead to 11-7 in the top of the fourth with Lombardi's walk and RBI singles by sophomore Jason Quardt and junior Colby McMahon.
Colts Neck chased Middletown North senior starter Mike Weinbel in the bottom of the fourth, with Adamson taking over with one out and a runner on first base. Adamson allowed the inherited runner to score thanks to an error, then allowed an earned run in each of the final three innings, but never let Colts Neck string together the kind of rally necessary to keep up with the Lions' scoring.
"It's been a tough couple of years for Middletown North baseball," Adamson said. "The boys fought hard and I think we deserve this. We started the year off tough, but we brought it back, especially during this win streak. We fight back. Down 5-1, we were never out of it."
Adamson pitched his way out of the regular rotation early in the season but got another shot vs. Neptune on the final Saturday of the regular season. In a game that McCabe initially designed to be split up among several pitchers, Adamson pitched a six-inning, four-hit shutout and established himself as the first pitching McCabe would turn to if he needed to replace a starter during a playoff game.
"Coach told me, 'Mike's on the mound, but you could end up going 90 (pitches) today,'" Adamson said. "I had a good night's sleep and I just got myself ready for anything. Coach told me he had high expectations for me and that made me go to the next level."
Friday was Adamson's second appearance during the state tournament but this latest outing came with far more pressure than the first. Adamson pitched the fifth inning of Middletown North's 12-0 win over John F. Kennedy of Iselin in five innings during the sectional quarterfinal round.
Middletown North made Adamson's job less stressful with three big runs over the final two innings. McMahon delivered a two-run single in the sixth to make the score 13-9 and Frontera blasted a solo home run to left in the seventh to stretch the lead to 14-10.
Cohen belted a solo home run to lead off the bottom of the seventh for Colts Neck and Adamson hit Gardiner one batter later to create some late-game trouble with none out. He then got a pop-up for the first out and induced a chopper to Frontera, who stepped on second base for the second out and fired a low throw to first that freshman Zach Hampton handled to complete the championship-clinching double-play.
Colts Neck beat Middletown North in last year's sectional quarterfinal round with Spencer on the mound and Colin Dowlen on the mound for the Lions.
"They beat us with the same guy on the mound last year when we only had Colin for 65 pitches because he was coming off an injury," McCabe said. "Last year's group was good, but there is something special about these guys. They don't quit, they don't back down. Down 5-1 today, you saw them battle back and they didn't let up."
Middletown North will travel to Delsea Monday for the Group III semifinal and will face a Crusaders team that has won 14 in a row, including the South Jersey Group III championship game over defending Group III champion and section favorite Ocean City.
Middletown North will send senior ace Colin Dowlen (8-2) to the mound in hopes that he can win his sixth straight decision. Since getting knocked out in the second inning of a 13-1 loss to Middletown South on April 26, Dowlen has given up five hits in 34 consecutive innings without giving up an earned run.
"Obviously, we have to win Monday, but he gives us a great shot against anybody," McCabe said. "With him, you know what you're going to get every time out. He is somebody who sets the tone for everybody and he is just so calm, so composed, even though he hears a lot of chirping, especially this year. He's the guy we want out there."
Box Score
Middletown North 14, Colts Neck 11
| | | | | | | | | | | |
| --- | --- | --- | --- | --- | --- | --- | --- | --- | --- | --- |
| | 1 | 2 | 3 | 4 | 5 | 6 | 7 | R | H | E |
| Midd North (19-10) | 1 | 7 | 0 | 3 | 0 | 2 | 1 | 14 | 11 | 4 |
| Colts Neck (17-8-1) | 5 | 2 | 0 | 1 | 1 | 1 | 1 | 11 | 12 | 4 |
Pitching
| | | | | | | | |
| --- | --- | --- | --- | --- | --- | --- | --- |
| Middletown North | IP | H | R | ER | BB | SO | PC |
| Mike Weinbel | 3.1 | 7 | 8 | 5 | 4 | 5 | 95 |
| Matt Adamson (W, 2-2) | 3.2 | 5 | 3 | 3 | 3 | 1 | 82 |
| | | | | | | | |
| --- | --- | --- | --- | --- | --- | --- | --- |
| Colts Neck | IP | H | R | ER | BB | SO | PC |
| Tyler Spencer (L, 5-4) | 3 | 7 | 11 | 5 | 3 | 4 | 92 |
| Vinny Zaffarese | 4 | 4 | 3 | 3 | 3 | 4 | 77 |
Top Hitters
| | |
| --- | --- |
| Middletown North | Game Stats |
| Matt Adamson | 3-5, 2 2B, 3B, 2 R, RBI |
| Ryan Frontera | 3-5, HR, 2 R, 3 RBI |
| Andrew Lombardi | 1-2, HR, 3 BB, 2 R, 4 RBI |
| Colby McMahon | 1-3, 3 RBI |
| Jason Quardt | 1-4, BB, 2 R, RBI |
| Zach Hampton | 1-4, 2B, BB, 2 R |
| | |
| --- | --- |
| Colts Neck | Game Stats |
| Dave Cohen | 3-5, 2B, HR, 2 R, 3 RBI, SB |
| Casey Gardiner | 1-3, 2B, 2 HBP, R, 2 RBI |
| Ryan Tan | 3-4, 3B, BB, 2 R, RBI |
| Brad Salamone | 2-3, BB, HBP, 3 R, RBI, 2 SB |
| Tom Diffley | 1-3, 2B, 2 BB, 2 R |
| Christian Rice | 1-3, BB, RBI, SB |
| Chris Scully | 1-4, BB, R, RBI |
More From Shore Sports Network