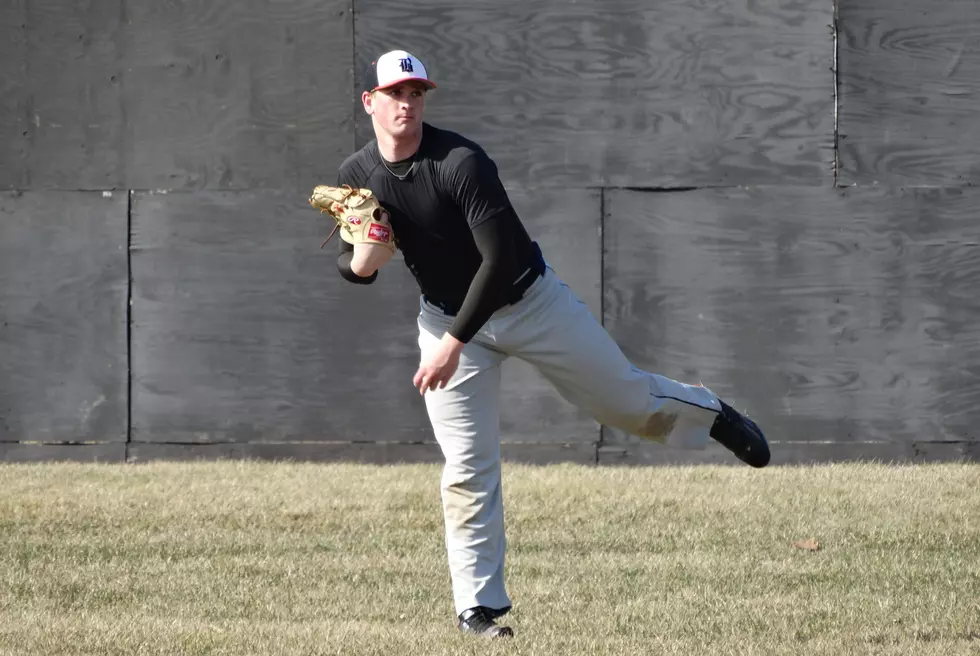 Baseball – Jason Groome Returns Home to Barnegat as the Best Pitcher in the Country
Barnegat senior left-hander Jason Groome. (Photo by Matt Manley)
On a picturesque, sunny, 70-plus degree afternoon in South Jersey during the second week of March, Barnegat High School senior Jared Kacso had every reason to smile. Helmet on head and batting gloves strapped, he slammed the knob of his bat on the ground to dislodge it from the grasp of the donut weight wrapped around the barrel, which in baseball-gesture-speak means "I'm ready to hit."
For Kacso, this was his first live at-bat in what could be a big year for the four-year varsity player on an individual level. He is committed to play Division I baseball next year at the New Jersey Institute of Technology and before that, he gets to be a senior captain for a Bengals baseball team that has competed for division, county, conference and state championships in each of the last two seasons in the Shore Conference.
While players less accomplished than he is have grand visions for the first at-bat of the season – a double to the right-centerfield gap, a line drive past the pitcher's head, or maybe even a no-doubt moonshot over the left-field fence – Kacso stepped to the plate ready to compete but knowing he had little chance at all to even make contact.
And on this team, this season, with this particular pitcher staring him down on the mound, Kacso could hardly complain. After all, when your first live at-bat of the spring is in an intrasquad game against the best high school pitcher in the country and the front-runner to be the No. 1 pick in this June's Major League Baseball Amateur Draft, you know it's only a matter of time before your actual opponents face the same fate.
With a curveball that fell out of the sky for strike two (every at-bat in this intrasquad started with a 2-1 count) and a paint job in the form of a 90-plus-mile-per-hour two-seam fastball on the outer black of the plate for strike three, Kacso was the unofficial first strikeout victim of the season for 6-foot-6 Barnegat left-hander and unanimous preseason All-American Jason Groome. It's a dose of medicine Kacso and his Bengals teammates will gladly swallow for a few intrasquad at-bats since it means Groome will be back on their side and on the Barnegat mound for the first time in two years when the regular season starts this Friday at home against Pinelands.
"I want that ring," Groome said, referring to an NJSIAA Group II championship ring. "I am going to lead this team to victory. They are ready, I'm ready. We look good right now, so we're taking it day-by-day, getting ready for the first game and then after that, just go day-by-day until the championships start coming."
Barnegat was hardly helpless last year and might have entered this season with lofty expectations anyway, but Groome's return to his hometown high school from IMG Academy in Bradenton Fla. – where he spent his junior high school season – transforms Barnegat this spring from a small town with a competitive NJSIAA Group II club to a baseball destination. Traffic to the Jersey Shore will begin to form a month or so early this year as scouts, coaches and fans alike flock to Exit 67 off the Garden State Parkway to get a look at the Bengals' left-hander.
"It was a hard decision (to go to IMG) because my parents were kind of pushing me to stay," Groome said. "But I just felt like I really needed to go down there to get my name out and they did a great job with me, but I made the right decision coming back. One hundred percent."
"We're going to have a lot of eyes on us," said junior shortstop Aaron McLaughlin, who is verbally committed to play at Rutgers University and says he began catching Groome when he was four years-old. "We've always had eyes on us, but not this many eyes and not eyes this big. MLB Scouts, college coaches, media, and just people who want to see Jay pitch. It's more opportunity for everybody and you can tell everyone's excited about it."
If the hype that has built around Groome over the last two years proves to be warranted, Friday's opener will be the last opening day Groome pitches as an amateur. After a dominant 2014 season as a sophomore in which he led the Bengals to the championship game of three different postseason tournaments, Groome made the move to IMG for his junior season and has taken the baseball world by storm since. He entered the summer showcase circuit ranked No. 4 on Perfect Game's list of top players in the Class of 2016 and by the end of his second appearance at the end of June, he catapulted to the top of that national list.
Groome quickly became a must-see attraction for scouts and writers from prospect publications and as more and more scouts convened behind home plate, radar guns pointed in Groome's direction, the faster and more precise the flame-throwing lefty fire his bullets right back.
In his first start since being bumped to No. 1 in the rankings, in a Perfect Game WWBA U-17 Tournament start in North Carolina while pitching for Tri-State Arsenal, Groome hurled six perfect innings in front of scouts from more than 20 Major League clubs. Not only did he retire 18 straight hitters, but he did so with a level of dominance eye-popping even for a pro talent literally playing against a bunch of children. Of those 18 batters, Groome struck out 14 and needed only 66 pitches to tear through the lineup two full times.
That early-July performance was certainly the best pitching line of Groome's career, but he hardly let up as the competition got tougher and the stage grew larger. He pitched against a lineup of college hitters in a Cape Cod League exhibition later in the month for the New York Yankees Area Code team and later showed off his 95-mile-per hour fastball and biting curveball during the East Coast Pro-Day.
Groome wrapped up his summer with a sensational month of August, striking out six in four innings in an outing at the Area Code Games and throwing a scoreless frame as the starter in the Perfect Game All-American Game at Petco Park in San Diego. Following that game, Groome finished the summer in the same spot he landed on the national rankings in late June: No. 1.
Since the All-American game in San Diego, Groome's profile has only expanded. Both Baseball America and MLB.com not only named him the No. 1 high school prospect in the country, but both currently project the Philadelphia Phillies will tab him with the No. 1 overall pick in the MLB Draft on June 9 in Secaucus, N.J.
"It's exciting, knowing that I'm actually that good," Groome said. "It takes a lot of stress off my shoulders because I just go out there and pitch instead of trying to light up the radar gun in front of everyone. I'm trying to show people who I am and let my talent speak for itself. I don't really have to do that much except go out there and pitch to win."
As becoming a top pick becomes more of a reality for Groome, it is becoming less likely that Vanderbilt University will ever see its prized recruit. Groome committed to play for the Commodores in November of 2014 after the team made its run to its first ever College World Series title. According to Groome, Vanderbilt head coach Tim Corbin told him he was the first ever recruit who committed to coach in person, face-to-face.
"It was like I was part of the team and with Corbin, I was just by his side the whole time," said Groome, who said he spent time with current Major League prospects Carson Fullmer, Walker Buehler and 2014 No. 1 pick Dansby Swanson during the team's Black and Gold intrasquad game. "I eventually went to my mom the night we got back to the hotel and I told her, I want to be a Commodore.
"I was the first kid to commit to Coach Corbin face-the-face. That's what he said, anyway. He was extremely happy."
That happiness will likely be short-lived for Corbin as it pertains to Groome as the money associated with the first overall or even a top-10 pick will be a lot to pass up. Corbin will likely have to settle for the No. 1 player in the country singing the praises of his program as he foregoes college baseball for a chance to make it to the Big Leagues.
According to some who have watched Groome pitch, it may not be a long road to the Majors. His high school coach, Dan McCoy, said he sees Groome as capable of reaching the Big Leagues by age 20 and a number of more objective observers agree.
As the draft draws nearer, especially with Groome yet to pitch in actual game action this spring, the hype is only inflating to even more absurd levels. Just last week, CBS Sports and MLB Network Insider Jon Heyman made waves when he cited an unidentified Major League general manager who called Groome the "best high school pitching since Clayton Kershaw," referencing the three-time Cy Young Award winner from the Dodgers.
When Groome and the Phillies began to line up as a potential match, baseball fans in the Shore area had designs of catching Groome pitch for the nearby Lakewood BlueClaws, the Phillies' Class-A affiliate. Now, it's looking more and more like that potential stint in Ocean County may be brief, if it is necessary at all.
"I've blocked everything else out at this point," Groome said of the hype. "Right now, it's just me and the catcher out there. It's my plate, so if you step up there, you're in trouble."
In the middle of his dominant summer, Groome made a decision that shifted focus to the Northeast for this high school baseball season. In late July, Groome made it official: he planned on returning back to his home town to spend his senior year at Barnegat and pitch for the same Bengals team that helped lead to its first ever 20-win season as a sophomore two years earlier.
"I got my money's worth down at IMG and they did a great job with me physically and strength-wise, but the baseball wasn't really that different," Groome said. "I figured, 'Why spend my senior year in Florida when I could just come back to Barnegat?' My dad always said, 'Remember where you came from.' It only felt right to come back here for my senior year and graduate with all my boys."
A group of players who were stunned to hear of his departure a year ago are excited to have him back, both on the field and in school.
"He's a really homegrown kid, so in the back of my mind, I kind of expected him to miss us," Kacso said. "I mean, I hoped he missed us at least a little bit. I really did think he would come back. It's a small town with a small town feel here and it's hard not to miss something like this."
"I stayed in touch with Jay," McLaughlin said. "I talked to him every day, every time he got out of practice, he'd call me. I knew wherever he went, he would perform well – not just well, but dominate. On one hand, there was always that thought that he might come back, but having him actually back here with everything going on around him is a pretty surreal feeling."
Now Barnegat finds itself bracing for a tidal wave of attention that appeared to subside when Groome first left for Florida in January of 2015. Now that they have a Louisville Slugger, Baseball America and Rawlings Perfect Game First-Team All-American heading their rotation, the Bengals have a new swagger with which to pursue their usual goals for the season.
"As far as people looking from outside-in at our program, I think expectations are obviously a lot different because we have Groome," Kacso said. "As far as we're concerned, we always have five goals and that's to win the five championships. That hasn't changed in my time here.
"Everyone's excited, from the freshmen and the new guys to the seniors. It's just a great thing to be a part of. To go out there and know you're going to have a great chance to win every single day is a great feeling. Coming to practice, you could just tell the morale's different."
"When he wasn't here, it was like something was missing, not just with the talent but with our chemistry," McLaughlin said. "He brings a swagger to our team. Having him back is just the last puzzle piece."
While the players are wrapping their heads around the mental challenge of playing in front of larger crowds that include Major League national cross-checkers and perhaps some scouting directors, the Barnegat coaching staff is preparing for the tactical challenges associated with managing a pitcher who is both the team ace and likely the future property of a Major League organization who will command a multi-million-dollar signing bonus if he is taken as early as is being projected.
Groome is currently being advised by Jeff Randazzo and the Ballengee Group – which is also advising Christian Brothers Academy catcher Brandon Martorano and Gloucester Catholic two-way standout Tyler Mondile – and McCoy said he and Groome's representation mapped out a tentative schedule for the ace. Among his projected starts will be in the Strike Out Autism Challenge April 16 at Red Bank Catholic and against Mondile and Gloucester Catholic on May 16 at Campbell Field in Camden.
One dynamic that has worked in Barnegat's favor, according to McCoy, is that the Phillies have indicated they would like to see Groome and any other prospective pitching target on draft day finish games that he starts.
It should also give the Phillies and Groome's representation peace of mind that his head coach knows what he has on his hands. McCoy was a pitcher at Rutgers during his playing days and his son, Mark, is a left-handed hurler in the Kansas City Royals system after being selected out of Rutgers last June. The elder McCoy has established a level of trust with Groome to the point that McCoy can spot slight discrepancies in his pitcher's delivery, bark out a correction and Groome will respond.
On the day of the first intrasquad, McCoy is vigilant about making sure Groome is on top of his change-up, which is currently his third pitch and one that has the potential to push him over the top as a Major League pitcher if he can fully harness the already-promising offering.
"Was that the change-up?," McCoy asks Groome after the lefty tossing one in warm-ups. Groome nods.
"Get it deeper in your hand and get it out in front. You're pulling back on it and it's not getting that (diving) action."
Groome digests the critique and turns loose a circle change-up that tumbles down and away off the plate, reminiscent of the pitch that Groome's mentor, Cole Hamels, mastered during his Major League career with the Phillies before being traded to the Texas Rangers during the 2015 season.
"There it is," McCoy exclaims before the ball can even pop the catcher's mitt.
The work on the changeup highlights that fact that although Groome has the inside track at a major payday come June, he is still refining most, if not all of his game. Groome flocked to IMG to work on his strength and returned to N.J. with 18 added pounds of muscle, mostly in the form of strength in the lower half of his body. Groome credits the spike in velocity from 88-to-93 miles-per-hour as a 15-year-old to 92-to-97 as a 16-year-old to the strength and conditioning program at IMG, as well as studying video of current left-handed aces in the Majors: Madison Bumgarner, fellow Vanderbilt commit David Price and the aforementioned Kershaw and Hamels.
"I was watching Cole Hamels throw and his stride is extremely long, so I tried to take that into consideration," said Groome, who employed short stride as a sophomore to initiate his low-effort delivery. "It's helped me out a lot with keeping the ball low in the zone and I'm getting my whole body into the ball instead of just not incorporating my lower half."
There is one thing that IMG did not prepare Groome to do that he will be trying his hand in this season: hitting. As a sophomore, Groome went 1-for-22 at the plate with an RBI double and did not take a single at-bat with IMG last year. This season, McCoy's plan is to bat Groome in the No. 5 spot in the order, both in games he starts and as the designated hitter in his off days. While there is a very strong chance Groome will have to hit at the next level – the first five picks of the Draft and seven of the first eight all belong to National League clubs – McCoy is not filling out Groome's name in the lineup card simply as job training.
"He puts on a show in (batting practice)," McCoy said, gesturing towards a housing development beyond the right-field wall at Barnegat's home field. "He's hits balls out to where those houses are. Not a lot of people get it out there, but he came back so much stronger than he was when he left and it's showing in everything."
Of all the reasons fueling Groome's return to the Northeast – being closer to family, representing his home town on draft day, and graduating with his childhood friends – near the top of the list to wiping out the last bad baseball memory of Groome's career. In his last game as a Bengal before departing for IMG, Groome walked off his home mound as the losing pitcher in the NJSIAA South Jersey Group II championship game against Buena.
For his part, Groome was as spectacular as ever. He struck out a career-high 17 batters in a complete game and allowed just two hits – both in the first inning. During one stretch, he mowed down 14 consecutive Buena hitters, but his leadoff walk to opposing ace Denny Brady in the top of the seventh inning set the stage for the lone run of the game. With a two-out stolen base and an advance to third on a throwing error by the catcher, followed by a passed ball, the lone run of the game scored in what proved to be Groome's second loss of the season.
"I probably wouldn't even have gone down (to IMG) if we had won states that year," Groome said. "Winning states two years in a row would have been tough to pass up. This year, I'm just hungry for it. It's bound to happen."
With that loss and the Shore Conference Tournament championship loss to Christian Brothers Academy two days later, the Bengals and Groome finished historic seasons on an uncharacteristic sour note. While the program experienced a series of firsts in its 10-year existence – a first 20-win season and first ever appearances in each of the Ocean County, Shore Conference and NJSIAA sectional finals – Groome also enjoyed a breakout season. In 61 1/3 innings, he pitched to a 0.57 earned-run average, allowing just 25 hits and 14 walks while striking out 107. He finished the season with a record of 6-2.
In addition to Groome and fellow Division I commits Kacso and McLaughlin, Barnegat will trot out experience at second base in the form of junior Justin Diefenbach, center field with senior Colin O'Conner and behind the plate with senior Max Ritner. After playing in the outfield last year, Ritner is making the move behind the plate and taking on the responsibility of catching Barnegat's pitching staff, which also includes Kacso and Diefenbach.
Returning the 2014 version of Jason Groome would be a major addition to any roster, but this is an upgraded version of the pitcher that Ocean County teams faces and his teammates played behind when he was 15.
"I have three fastballs instead of two," Groome said. "I have a four-seam, a two-seam and a running fastball. The running fastball is almost like a cutter without a real sharp cut. It's just something I can get in on the righties' hands.
"I throw a lot harder now and my stuff is just a lot different. My control is on the money. I think people who saw me when I was younger will be impressed."
"The first thing you see when you walk in there is that his fastball is mid-90s, so first off, you have to cut down your step right off the bat," Kacso said. "After that, his changeup is disgusting, his curveball is disgusting, so you've got three plus pitches you have to look out for when you're at the plate and you don't see that in high school. That's something that is special about him. He's really young and he already throws three pitchers that are arguably professional-level pitches."
In addition to dominating when it's his turn in the rotation, Groome has embraced his role as captain and as someone whom younger players in the program can learn from and seek out for advice.
"He wouldn't be hanging around with us after practice and keeping our heads in the books if he wasn't 100 percent sure about being here," McLaughlin said. "He'd just be like, 'Screw you guys, I'm here to do me,' and that's not him at all. He's always had a strong family mentality from the time we were little and that's all you can ask for in a teammate."
Although Groome has plenty of people like his parents and representatives looking out for his future and is himself looking forward to the day his name is called in Secaucus, his mind, like that of his teammates, is on winning a first ever state title for the Barnegat program.
"Coach has been saying that we want to be there in Toms River (for the Group II championship) on the last day of the season," Kacso said. "That's going to be Groome's going-away party and we want to send him off with a dogpile on that mound."