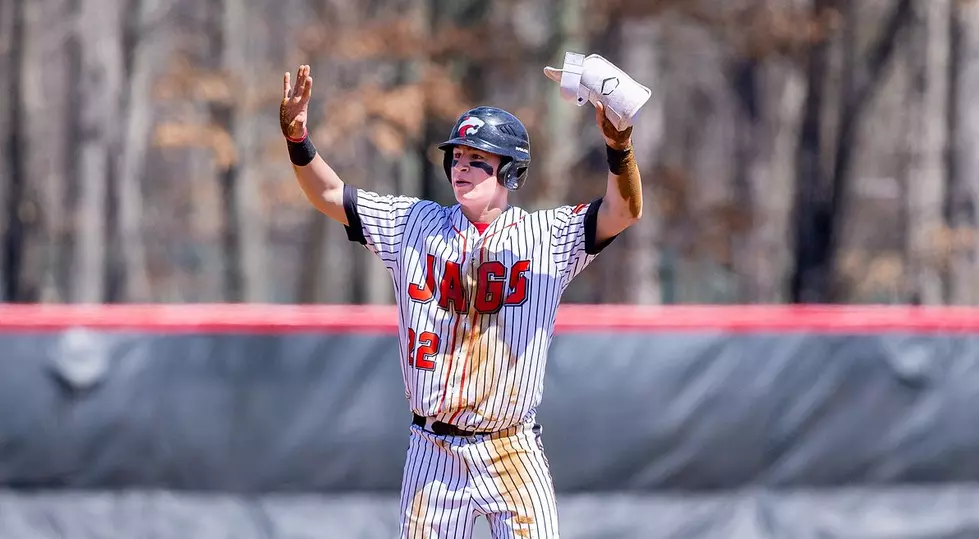 Baseball – Jackson Memorial Alum Alex Iadisernia Ready for Fresh Start With St. Louis After MLB Draft
Jackson Memorial senior Alex Iadisernia picked up his 100th career hit on Saturday. (Photo by Paula Lopez)

Alex Iadisernia's performance in the 2022 college baseball season with Elon University was not the audition he envisioned when it comes to impressing Major League Baseball clubs and it was not the best thing for his draft value.
It may, however, be the best thing for Iadisernia's baseball future in the long run.
Coming off a "down year" at Elon that most baseball players would enthusiastically take, Iadisernia is heading to play for the St. Louis Cardinals organization after the Cardinals drafted him with their seventh-round selection and No. 217 overall in the 2022 Major League Baseball First-Year Player Draft on Monday.
Iadisernia is the first Jackson Memorial alumnus drafted since Matt Thaiss was selected out of the University of Virginia in the first round by the Los Angeles Angels in 2016.
"I had a pretty good idea it was going to happen today, if not early tomorrow," Iadisernia said of being selected on Day 2 of the MLB Draft. "It was kind of a low-key day at the house with some friends, my family, my girlfriend. I was following the Draft Tracker and I knew some teams were interested and knew the Cardinals were one of them. To see my name come up, it was pretty surreal and just really exciting. Hopefully, I'll be able to see a few more people from home this week to celebrate a little more and by the end of the week, it'll be time to get to work."
Heading into his third year at Elon, Iadisernia was coming off a monster 2021 season, both in the spring with the Phoenix and over the summer in the Northwoods Summer League. During the college season, Iadisernia hit .368 with a .448 on-base percentage, a .626 slugging percentage, 13 doubles, 10 home runs 39 runs and 30 RBI. He then followed that up by leading the competitive Northwoods League in both home runs (10) and slugging percentage (.602) during the summer, showing he could thrive while hitting with a wood bat against other draft hopefuls.
"I felt great at the plate all year," Iadisernia said. "It just felt like everything was working and I wasn't really thinking about anything. I just put my work in, went out and played baseball, trying to help my team win."
A strong follow-up to 2021 was on Iadisernia's mind, but by his standards, his redshirt sophomore season was a grind. By most standards, though, his numbers will still good: he hit .276/.386/.463 with 13 doubles, two triples, five homers, 30 runs and 27 RBI while also stealing 10 bases. Since his sophomore year at Jackson Memorial, however, Iadisernia had built a reputation as a dominant offensive player, so putting up numbers that could best be characterized as "solid" doesn't meet his expectations.
"I didn't even feel bad at the plate, but things were just a little off for me," Iadisernia said. "It really taught me how to grind and how to deal with failure a little bit. I don't think it was a terrible year, but it wasn't the level I am used to playing at and it does challenge you when you are trying to win and you're not getting the results you expect. It's definitely taught me a lot about the mental side of the game."
Since the end of the 2022 season at Elon, Iadisernia passed up on playing game competition and has instead gone to work correcting some of the perceived flaws in his approach and swing. He also participated in the 2022 Draft Combine at Petco Park in San Diego in late June, which gave scouts and front office personnel a chance to see Iadisernia up close.
"I was supposed to go play up at the Cape (in the Cape Cod Summer League) but I got invited to the Draft Combine and there were some things I wanted to work on on my own," Iadisernia said. "I just wanted to go back and kind of start from scratch: look at some video, work on some of my swing mechanics, get my weight back up. I feel great right now."
The trip to the combine also gave Iadisernia a chance to catch up with a former teammate: recent Jackson Memorial graduate Zach Crotchfelt. Iadisernia was a senior when Crotchfelt was a freshman at Jackson Memorial and the two former teammates were both considered potential Day 2 picks on Monday. Crotchfelt has yet to be selected through the first two days, with the 6-foot-4 left-hander signed to play at Auburn University.
Iadisernia's pro career could start as early as Friday, when Iadisernia plans on heading to Florida for an orientation with the Cardinals. St. Louis has long been lauded for its player development program, which has produced Major League talent from every stage of the Draft and beyond.
"Obviously, they have a history of developing players that goes back a lot of years," Iadisernia said of the Cardinals. "They have their way of doing things and whatever that is, I'm going to respect it, embrace it and try to use it to get better. It's a great organization to be in so I'm really thankful with how it turned out."
With its seventh-round selection of Iadisernia, the Cardinals have now selected Shore Conference alumni in each of the past two drafts. Last year, St. Louis took former Colts Neck standout Mike Antico out of the University of Texas in the eighth round. Since being drafted, Antico has advanced all the way to Double-A and between two levels of the Minor Leagues this season, he has stolen 50 bases.
During the Draft process, Iadisernia has leaned on people who have either witnessed the process or experienced it themselves. Former Jackson Memorial coach Frank Malta has been a source of comfort and encouragement, as has current Elon head coach Mike Kennedy.
"Coach Malta is probably my favorite coach of all time," Iadisernia said. "He gave me an opportunity as a freshman and he has been someone I talk to three or four times a week even after high school. He has been through this process before with Matt Thaiss and he has just been telling me to trust the process and trust in my ability."
Not long from now, Iadisernia will be a professional baseball player with roots at Jackson Memorial and he will be an important resource for prospective pro players from his alma mater. Crotchfelt will be back in the Draft pool in three years and rising Jaguars senior Charlie Meglio will also be on the Draft radar in 2023 and, possibly, again in 2026 if he honors his commitment to Campbell University.
"For any kid at Jackson who hopes to get drafted or play in college, I would just tell them that you are playing for a great program and not to take it for granted. If you come through Jackson Memorial, you are going to be ready to play college baseball and the things you learn in high school are going to help you get on the field right away. Whatever happens, I'll always consider myself a Jaguar."
RANKED: Here Are the 63 Smartest Dog Breeds
Does your loyal pup's breed make the list? Read on to see if you'll be bragging to the neighbors about your dog's intellectual prowess the next time you take your fur baby out for a walk. Don't worry: Even if your dog's breed doesn't land on the list, that doesn't mean he's not a good boy--some traits simply can't be measured.
More From Shore Sports Network