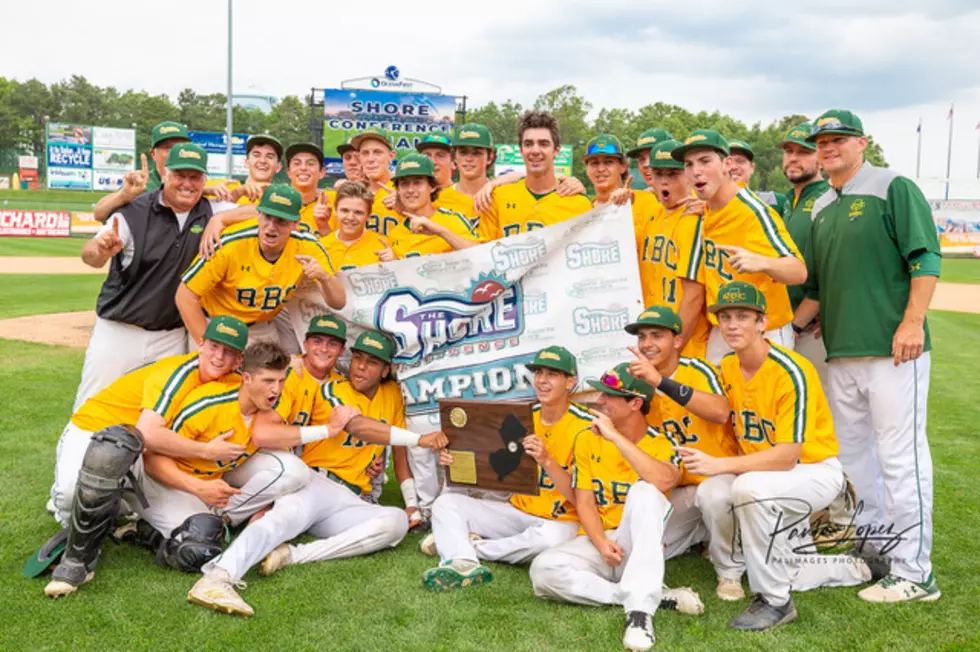 Baseball – Glancy Goes Deep, Panzini Deals as RBC Captures SCT Crown
Photo by Paula Lopez
LAKEWOOD - Red Bank Catholic senior David Glancy knew before opening day of the 2019 season he was not going to have the kind of year he had as a junior. A broken hamate bone in his left hand knocked him out of action for most of April and upon his return, he was not the same power-hitting version of himself that starred for the Caseys in 2018.
At practice on Tuesday, Red Bank Catholic coach Buddy Hausmann saw the old Glancy. The healthy Glancy. The scary Glancy.
On Wednesday, in the Shore Conference Tournament final against Manalapan at FirstEnergy Park, the rest of the Shore got to see that same Glancy.
The Red Bank Catholic center fielder broke a scoreless tie with a rocket that cleared the left-field wall at FirstEnergy Park for a three-run home run - part of a 2-for-3 day at the plate in Red Bank Catholic's 5-0 win over the Braves for their second Shore Conference Tournament title ever and first since 2011.
"We took (batting practice) at Count Basie yesterday and you could see it right away," Hausmann said. "He was back. He wasn't bunting or anything like that. I knew he was locked in and we were going to let him swing."
Glancy did not play in a game until April 18 and did not step in the box for an at-bat until April 24. After plodding through the first two weeks, his bat came alive for the Shore Conference Tournament, in which he went 4-for-11 (.364) with two home runs, a double and five RBI in four RBC wins.
"I just wanted to get back for my team," Glancy said. "I wasn't worried about stats or anything like that. We had a chance to win a championship and I just wanted to get back and be a part of it."
According to the TrackMan software in FirstEnergy Park, Glancy's first-inning single to left field measured 104 miles-per-hour off the bat. He did himself one better in the third inning, crushing a curveball from Manalapan starter Ben Levine 105 miles-per-hour off the bat and well over the left-field wall.
"I was hoping it would get out," said Glancy, who will continue his career at Harford Community College in Maryland next season. "It felt good off the bat but it's a little bit bigger here than it is at Count Basie (Park).
"It's a great feeling to hit one on a Major-League-size field. Hopefully I'll get a chance to do that in a Major League game someday."
Red Bank Catholic added two runs in the fourth by scoring on two wild pitches, with junior third baseman Rob Gonzalez (2-for-2) starting the rally with a single.
The three-run shot by Glancy was all the support sophomore starter Shane Panzini needed. The Caseys right-hander pitched a one-hit shutout with four strikeouts and two walks to cap a dominant sophomore season, which he finished at 7-2 with a 0.66 ERA, 73 strikeouts and 29 walks in 53 innings.
Panzini topped out at 91 miles-per-hour Wednesday and took a no-hitter into the fourth before Manalapan sophomore Tom Guidice ripped a one-out single just out of the reach of senior shortstop Vincent Bianchi.
Bianchi threw 109 pitches in Friday's 5-2 win over Manasquan and was eligible to pitch on Wednesday. According to Hausmann, Bianchi was given the option to start in his final high school game and opted to give his sophomore rotation-mate the ball.
"I knew the decision was up to Vinny, being a senior and this being his last game," Panzini said. "I wanted to pitch but he earned a chance to go out there for his last game. I asked him yesterday and he told me I could have the game. I was just grateful for the opportunity and I wanted to step up for him and all the guys."
Bianchi's standout senior season ended with a quiet 0-for-3 day at the plate but his postgame celebration was anything but understated. After posing for a team championship photo, he got word from the stands that he was selected in the 35th round of the Major League Baseball First-Year Player Draft by the Los Angeles Angels of Anaheim.
Upon hearing the news, his teammates mobbed him on the field at FirstEnergy Park, just as they mobbed Panzini after the final out. In the end, both RBC co-aces got a tasted of the middle of the mob.
"I got a text from a friend of mine saying 'Congratulations,'" Bianchi said. "I said, 'Thank you,' thinking it was for the Shore Conference championship, but then I found out I got drafted. It's pretty cool, but we won the championship and that's all that matters to me right now, so it's really exciting."
Bianchi said he intends to honor his commitment to play at St. John's University.
Manalapan's 24-win season ended with another difficult loss in a week full of them, both on and off the field. On Monday, the Braves lost the Group IV semifinal to Eastern, 1-0, on a controversial call that took the tying run off the board in the top of the seventh inning.
On Tuesday, the team found out sophomore David Korman - a sophomore in the baseball program - passed away overnight Monday into Tuesday.
According to coach Brian Boyce, the team took off from practice on Tuesday and decided to press on and play. The two teams met out and home plate for a moment of silence prior to the game.
"Buddy (Hausmann) was great," Boyce said. "He said whatever we need, he was willing to accommodate us. It was a really tough situation for the kids. There was a lot of emotion yesterday, obviously, and a lot of emotion today.
"It gives us some perspective that this is just a baseball game. This is more about the family. My heart hurts for them today."
Red Bank Catholic 5, Manalapan 0
| | | | | | | | | | | |
| --- | --- | --- | --- | --- | --- | --- | --- | --- | --- | --- |
| | 1 | 2 | 3 | 4 | 5 | 6 | 7 | R | H | E |
| Manalapan (24-9) | 0 | 0 | 0 | 0 | 0 | 0 | 0 | 0 | 1 | 3 |
| RBC (23-6) | 0 | 0 | 3 | 2 | 0 | 0 | X | 5 | 6 | 1 |
| | | | | | | | |
| --- | --- | --- | --- | --- | --- | --- | --- |
| Manalapan | IP | H | R | ER | BB | SO | PC |
| Ben Levine (L, 6-2) | 4 | 5 | 5 | 3 | 0 | 3 | 59 |
| Jake Pellecchia | 2 | 1 | 0 | 0 | 0 | 0 | 25 |
| | | | | | | | |
| --- | --- | --- | --- | --- | --- | --- | --- |
| Red Bank Catholic | IP | H | R | ER | BB | SO | PC |
| Shane Panzini (W, 7-2) | 7 | 1 | 0 | 0 | 2 | 4 | 91 |
| | |
| --- | --- |
| Manalapan | Stats |
| Tom Guidice | 1-3 |
| | |
| --- | --- |
| Red Bank Catholic | Stats |
| David Glancy | 2-3, HR, R, 3 RBI |
| Rob Gonzalez | 2-2, R |
| Anthony Borriello | 1-2, R |
More From Shore Sports Network