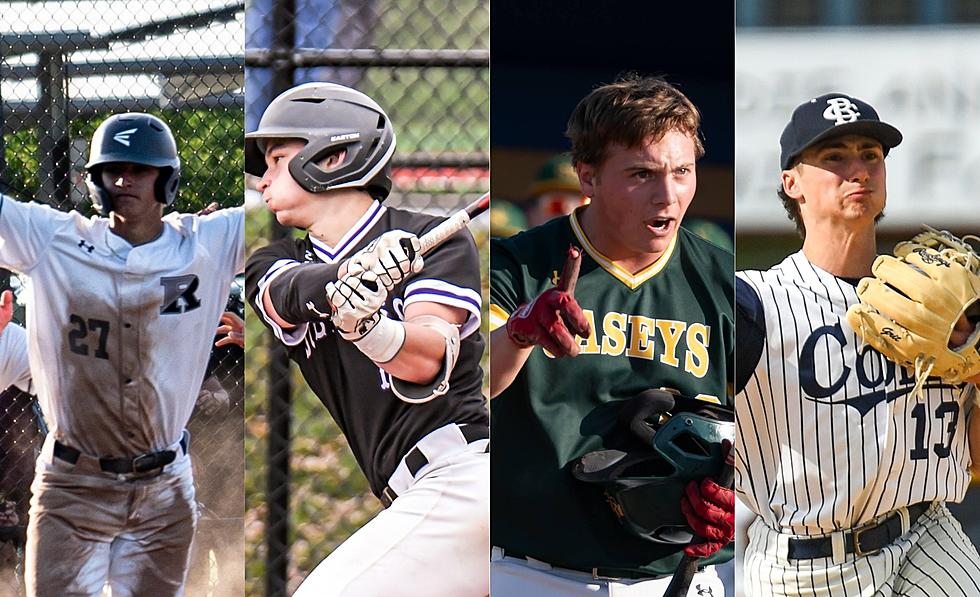 Baseball – Four Tournament-Tested Teams Meet Again in Shore Conference Tournament Semifinals
From left: Ranney senior A.J. Gracia (Photo: Thomas Pantaleo); Rumson senior Reece Moroney (Photo: Tom Smith); Red Bank Catholic senior Frank Scrivanic (Pantaleo) and CBA senior Harrison Campi (Smith).

The last two rounds of the Monmouth County Tournament were so good, we're going to replay them in order to crown a Shore Conference Tournament champion. In what has to be the most chalk-filled Shore Conference Baseball Tournament ever – at least to this point – the four teams that made it to the MCT semifinals have made it just as far in the Shore Conference Tournament and will be playing a rematch of their May 7 games.
During the entire Shore Conference Tournament, only two road teams have won, with No. 20 Shore Regional beating Monmouth Regional in the first round and No. 6 Christian Brothers Academy upending No. 3 Donovan Catholic on Monday in the quarterfinals. Other than that, the home teams have been dominant in the conference tournament and two more rounds of the home team prevailing would mean the SCT final four will be almost a complete rerun of the MCT final four.
The top seed has their top three pitchers available, the No. 2 seed has its top two eligible and the other two will have to pull off upsets while throwing No. 2 starters in order to get their aces on the mound in Sunday's championship game. Here is a closer look at the challenges Rumson-Fair Haven and CBA face on Thursday at Count Basie Park in Red Bank.
Both games will be played at Count Basie Park in Red Bank
No. 1 Ranney vs. No. 4 Rumson-Fair Haven, 3:30 p.m.
The first time Ranney and Rumson met, a matchup between Ranney's Nick Coniglio and Rumson's John Goodes turned into A.J. Gracia vs. the Rumson bullpen. Rumson erased a 3-0 deficit to send the game into extra innings, sparked by a two-homer game by junior leftfielder Jack Riva.
Before he came on to pitch and earn the win, Gracia belted a two-run homer to extend the Panthers' lead to 3-0.
On Thursday, Coniglio is due to take the ball again for Ranney, with both Gracia and Marcello Mastroianni eligible to pitch as well. Coniglio and Mastroianni are both Shore Sports Network Pitcher of the Year candidates for what they have done for their team this season and Gracia is a Player of the Year candidate – giving the Panthers three standouts to handle the pitching the rest of the way in the SCT.
As for Rumson, Goodes threw 94 pitches in Monday's win over Jackson Memorial, so he will be unavailable to pitch in Thursday's semifinal. That makes senior right-hander and University of Richmond commit Jackson Hinchcliffe the leading candidate to tackle the Ranney lineup and he will be making his fourth appearance on the mound since being shut down for 18 days after a 12-strikeout performance vs. Holmdel on April 11. All three appearances were tournament games, including a five-inning, seven-strikeout outing in the round of 16 Saturday against Shore.
Rumson's staff beyond Goodes and Hinchcliffe has been crucial to Rumson's success this season and pitchers like Owen O'Toole, Cal Campeau and Matt Bruno figure to play a key role in Rumson's postseason
At the plate, Ranney has been relentless of late, scoring 50 runs in the four games since beating Red Bank Catholic in the Monmouth County Tournament championship, with at least 11 in every one of them. On top of a deep, dangerous lineup, Ranney runs the bases as aggressively as anyone in the conference, taking advantage of its athleticism.
Rumson is also an athletic team that has flashed its range on defense throughout the SCT. The left side of the infield includes two stellar defenders in shortstop Reece Moroney and third baseman Aaron Del Tin.
Rumson is hoping Hinchcliffe feels the best he has felt this year and his ability keep baserunners in check – Ranney coach Pat Geroni praised Hinchcliffe's ability to hold runners – makes him an interesting weapon to deploy against the state's No. 1 team.
No. 2 Red Bank Catholic vs. No. 6 CBA, 7 p.m.
The other rematch in Thursday's SCT double-header is one that seems to happen every year at one point or another. Last year, Red Bank Catholic beat CBA in the Monmouth County Tournament, then lost a rematch to the Colts in the NJSIAA South Jersey quarterfinal. CBA is hoping for a similar script this year after RBC won the Monmouth County Tournament semifinal between the teams, 3-0.
Declan Leary pitched a shutout against CBA on May 7 and will take the ball again on Thursday as RBC attempts to reach the SCT championship game for the fourth straight season and the sixth time in the last eight tournaments. Leary boasts a 0.97 ERA in 21 2/3 innings this season but has been more walk-prone (13 walks) than he was during his All-Shore sophomore season. He has still been tough to square up at the plate, which was the case when he shut down the Colts in the MCT semifinals.
CBA will counter with senior right-hander Nick Harnisch, who pitched 6 1/3 innings in CBA's 3-2, round-of-16 victory over Toms River East. Harnisch is 5-2 on the season with a 2.24 ERA and since giving up four earned runs in 2 2/3 innings vs. Middletown North on April 25, he has pitched to a 1.98 ERA in 17 2/3 innings.
Early in the season, CBA's offense fed off the power hitting of Hunter Del Guercio, Zaine Toneske and sophomore catcher Danny Tsimbinos, but lately, it has been the speedy, contact-oriented infielders who have delivered at the plate for the Colts. Shortstop Harrison Campi has been a table-setter, with third baseman James Nitti and third baseman Wyatt Hunt coming through with big at-bats. Campi (.902) and Hunt (.833) are CBA's top two leaders in OPS during tournament plat and Nitti picked up two big RBI in Monday's 5-1 win at Donovan Catholic.
Red Bank Catholic has had several hitters catch fire and carry the scoring at different points this season, with sophomore Dylan Passo currently leading the way with six RBI on 4-for-6 hitting in two SCT games, including a triple and a homer. Catcher Shane Andrus has also come up with several huge swings over the last three weeks and first baseman Frank Scrivanic has been a big-game hitter for the Caseys throughout his career.
Alex Stanyek and Sean Griggs – the top two hitters in the order – are the two most menacing bats in the Caseys order and while neither has heated up in the postseason yet, both can change the game with one swing. At the bottom of the order, Brendan Kopec, Christian Condon and Max Dantoni have been tough outs in any situation and Condon and Dantoni have provided outstanding defense up the middle – Condon at second base and Dantoni at shortstop.
RBC's defense has been as solid and dynamic as it has ever been and coupled with a deep, talented pitching staff, the Caseys lead the Shore Conference in runs allowed (50) and runs-allowed-per-game (2.17). All four of RBC's losses are by margins of two runs or fewer and two of them have ended with the opponent scoring the winning run in the bottom of the seventh inning. It takes a high-level performance to beat both RBC and Ranney, so both CBA and Rumson-Fair Haven will have to be on-point and hope the top two seeds in the tournament leave them an opening.
More From Shore Sports Network