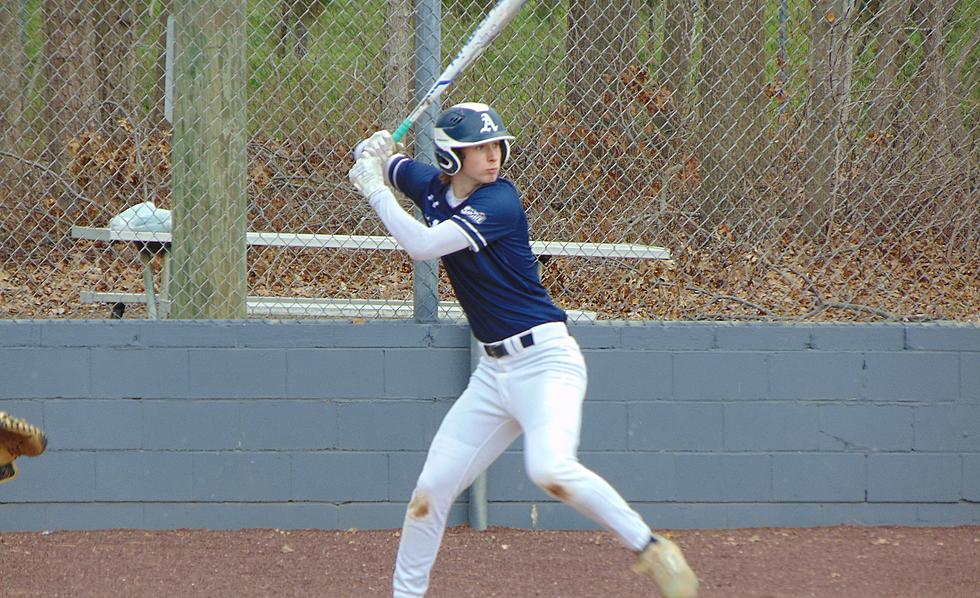 Baseball – Emerging Ranney Takes Big Step in Rout of Point Beach
Ranney sophomore Brett Wehringer. (Photo by Matt Manley)

TINTON FALLS - Brett Wehringer came to the Ranney School in the fall of 2018 as part of the first wave of a two-year talent infusion for the baseball program under newly-hired head coach Pat Geroni, and even as a freshman, he expected his team to win.
That success did not come as quickly as he had hoped.
Two years later, Wehringer and his Panthers teammates are as ambitious as ever and now, they are ready for the next step.
Weheringer and junior teammate Charlie Chropuvka each homered Monday and Wehringer led a pristine defensive performance behind sharp sophomore starter Nick Coniglio as Ranney pounded Point Pleasant Beach, 10-0, to take a major step toward winning the Shore Conference Class B Central championship.
Since joining the Shore Conference in the 2013 season, Ranney has not yet won a division championship in baseball and Monday's win inches the Panthers closer to that accomplishment. Point Beach beat Ranney twice back in 2019 and during the careers of the Ranney players who were on the team in 2018, the Panthers were 0-4 against the Garnet Gulls heading into Monday.
"I was here two years ago when they beat us twice," Wehringer said. "It wasn't fun. It stung, because coming in as a freshman, I wanted to win every game. I knew what was coming in our future and it really stung knowing that this could have been ours, but at the same time I knew what was coming for us and we showed it today."
"I'm 0-4 against them so this felt awesome," Chropuvka said. "I know we have a great squad and we were ready for this, so we going to try to come back Wednesday (at Point Beach) and finish this off."
After Monday's win, Ranney is 4-0 in the division and has outscored their divisional opponents by a whopping 70-0 margin in four games. The only divisional opponent Ranney has yet to play is Mater Dei Prep, which is off to a 0-5 start through Monday.
"We're definitely a confident group," Chropuvka said. "Coach Pat came in and there is definitely now a different attitude about the baseball program. He gave us confidence, we've got a bunch of talent and we're ready to compete."
Monday's convincing win began as a pitcher's duel between Coniglio and Point Beach senior Matt Van Brunt but Ranney turned it into a one-sided affair during the second time through the batting order. Leading 1-0, the Panthers scored five runs in the bottom of the third inning, sparked by a two-run solo homer by Chropuvka to make the score 3-0.
"He (Van Brunt) had a good fastball and his changeup was working pretty good too, but he didn't really have the curveball working," Chropuvka said. "We realized to look for fastballs early in the count, that's what he did and the whole lineup hit well."
Ranney has been homer happy early in the season, with the Panthers combining an improved lineup with a home field that has the shortest distance from home plate to the fence of any field in the Shore Conference. Ranney has hit 13 home runs in six home games, including four by senior outfielder Dev Bhatnagar, who cracked three in an opening-day win over Brick Memorial.
"You're always a little antsy when you see a short porch," said Chropuvka, whose Monday home run was squared up and cleared the right-field fence by a comfortable margin. "I think our guys have learned to stay within ourselves, go the other way and if you get something in and you drive it, it'll go. It's a good homefield advantage."
Bhatnagar and sophomore A.J. Gracia followed Chropuvka's homer with singles and the next two Panthers batters reached on errors, with both sophomores Jack Tallent and Ricky Nagy picking up an RBI despite those errors. Sophomore Diego Tavarez also plated a run with a sacrifice fly to make it 6-0.
Wehringer then led off the bottom of the fourth with his second home run of the year and Chropuvka shot a double into the left-field corner to jumpstart the next Ranney rally. A walk by Gracia and a single by Tallent loaded the bases for Nagy, who ripped a doubled into the right-field corner to chase home two more runs for a 9-0 Ranney lead.
The Panthers were unable to close out the game in the top of the the fifth, but Coniglio threw up his five scoreless frame of the day to set the stage for an early ending. Wehringer reached on an error, stole both second and third and trotted home with the game-ending run on Bhatnagar's sacrifice fly to center.
The 10 runs were enough to end the game in five innings thanks to an efficient performance by Coniglio and a sharp game by the Ranney defense. Coniglio threw 41 of his 56 pitches for strikes, allowed three hits (all singles) did not issue a walk and struck out three in improving to 3-0 on the season. It was a different type of outing for the sophomore right-hander, who struck out 12 in four innings against Keyport in his last start and fanned eight in 5 1/3 innings against Brick Memorial on opening day.
The strikeout was not a necessary weapon for Coniglio because of Ranney's defense, which not only played error-free baseball but turned in a number of dazzling plays as well. Bhatnagar made a leaping grab as he crashed into the left-field fence in the top of the first inning, robbing Point Beach junior Andrew Banick of an extra-base hit and potentially preventing a run with junior Phil Trebour already on first base after having singled with two out.
"It was great, from the catch Devon made in the first inning to the end of the game," Wehringer said. "Our left side of the infield played great and our right side of the infield played great too. That catch in the first inning fired us up and we just went from there."
Later on, Wehringer picked a hard-hit short hop by Banick and fired to first for the first out of the Point Beach fourth. Senior first baseman Alec Glen followed with a single for Point Beach's third hit, but the Ranney defense erased him with a 4-6-3 double play turned by Tavarez and Wehringer up the middle.
"Coming into the year, I thought our defense was our biggest strength," Geroni said. "In the first week (of the season), like a lot of teams in the state, we struggled a little bit - with our footwork and our timing. In the infield, rhythm is a big deal. Rhythm, timing, seeing the ball and picking your hops are all really important and we were just rushing and we did not play well defensively. Today is what we expected defensively."
Wehringer also made two more plays at shortstop in the sixth to complete a perfect day in the field.
"Brett Wehringer is a phenomenal defensive player," Geroni said. "He's like a human highlight reel in practice. We knew he has that in him, it's just a matter of slowing his feet down. Then (second baseman) Diego Tavarez and (third baseman) Jack Tallent are both really good defenders and today I was very happy with (the infield)."
As Ranney hones in on the program's first division championship in baseball, the team is not shy that it feels that would just be one small step toward much larger goals for the program and for this group, in particular.
"This was a great game today, but we have bigger goals than this," Wehringer said. "This is definitely a great start. Down the road, we want to win want to win the Monmouth County Tournament, the Shore Conference Tournament and things like that. Right now, this was definitely our biggest focus so far this year and I think we played together. "
Coniglio and fellow sophomore Marcello Mastroianni are arms with Division I upside, according to Geroni, and another high-ceiling sophomore - Jack Renaud - returned to the mound on Friday after an injury stalled his preseason. Gracia is already committed to Duke University, but he will not pitch until the summer because he is still recovering from elbow surgery that he had in November.
Throw in an offense that has shown it can be explosive and the aforementioned defense, and the stated goals of winning a Monmouth County Tournament and NJSIAA Non-Public B championship sometime in the next two-to-three years might not be so outlandish.
"We have more than you saw today," Wehringer said. "We have guys who have just started playing who have been injured. When we are at full strength, I think we can beat anyone in the state. I really believe that."
More From Shore Sports Network