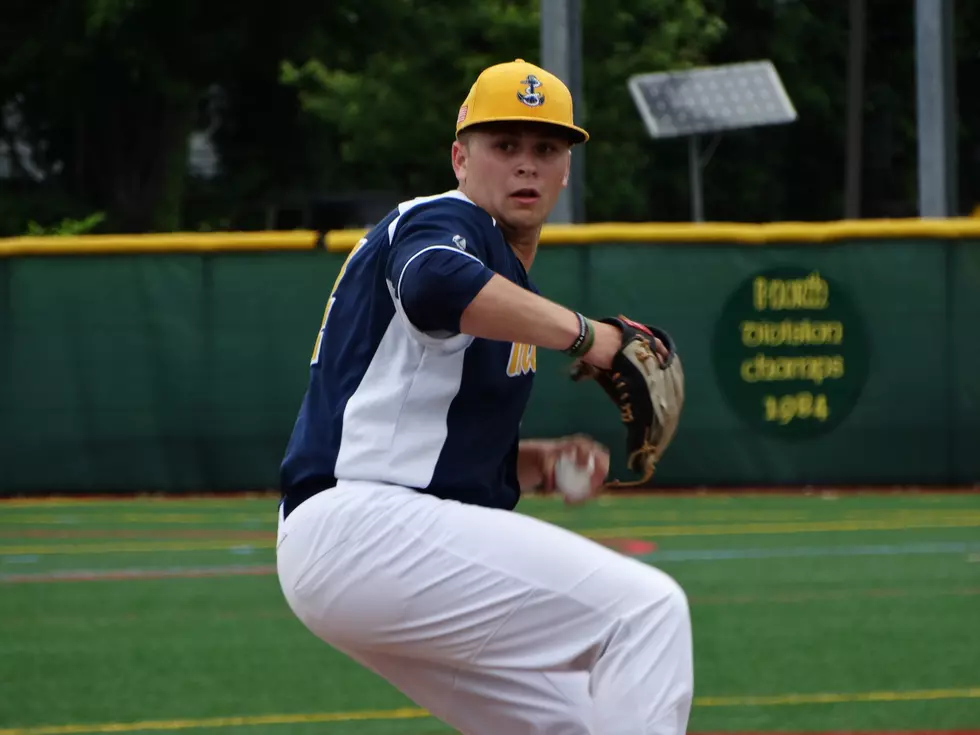 Baseball – Bellissimo and Mullins Pitch TR North Within A Win of 2nd Straight SCT Crown
Toms River North senior Jared Bellissimo. (Photo by Matt Manley)
RED BANK - Senior pitchers Jared Bellissimo and Brendan Mullins complement each other in just about every way on the baseball field, which is probably why the two Toms River North standouts are such good friends away from it.
On Wednesday in the Shore Conference Tournament semifinals against Monmouth Regional, the duo combined on a four-hit shutout that not only put the Mariners in their second straight Shore Conference Tournament final with a 6-0 win but also served as an audition to potentially share one more game in their accomplished careers.
Toms River North will face the winner of the second game of Wednesday's double-header between Wall and Central Regional on Monday night at FirstEnergy Park in Lakewood and with Bellissimo and Mullins both lined up to be on full rest after throwing partial games on Wednesday, it could be that the two could combine for one more performance.
"We work great together," Bellissimo said. "We're best friends on and off the field. The game plan going in was for me to start it and for him to come in and finish it."
Bellissimo started Wednesday's game and fired four innings on 68 pitches after throwing 80 on Saturday in a win over Point Pleasant Boro. The senior left-hander allowed two hits, did not walk a batter and struck out three.
With only two pitches until he hit his five-day limit of 150 pitches, Bellissimo traded positions with Mullins to start the fifth, moving to first base and clearing out the mound for his teammate. After facing Bellissimo's fastball-heavy arsenal from the left side, Mullins brought a three-pitch mix from the right over the final three innings, including a four-seam fastball, a two-seam and a changeup. Mullins allowed just two infield singles, struck out three and did not issue a walk.
"It's a change of pace," Toms River North coach Andy Pagano said. "They are two different kinds of throwers. I think Jared started catching a little rhythm and he could have gone further if he wasn't on a pitch limit. Having Mullins come in and a couple of other guys who can also throw, it's nice. It's good to know we have a bunch of guys who can do the job."
The two senior hurlers are Toms River North's two innings leaders this season, with Bellissimo throwing 52 and Mullins 46 2/3. Bellissimo has posted a 6-1 record with a 1.61 ERA while Mullins is 3-3 with a 1.20 ERA.
Bellissimo pitched with a lead over his last two innings thanks to a three-run fifth for the Mariners offense. All three runs in the inning off Monmouth starter Charlie Kelly were unearned due to three errors in the inning. Mullins led off the inning with a single and sophomore Robert Jeans picking up an RBI single. The other two runs scored on an errant pickoff throw and a squeeze bunt from junior Dylan Feigin.
Toms River North plated three more in the third on an RBI double by Mullins and a two-run single by Sam Angelo.
Pagano will have a decision to make Monday when both of his standouts are available to pitch. It will be the last game they, along with fellow seniors Craig Larsen, Alex Klalo and Justin Schaff, will play with one another after winning each of the last two Ocean County Tournament titles as well as last year's SCT title together.
"They'll both be ready," Pagano said. "A couple of other guys will too and we're just going to have to look at the scouting report and make a decision. Hopefully, I make the right one.
Next year, Mullins and Bellissimo will be Big Ten rivals when Bellissimo suits up for Rutgers University and Mullins heads to Penn State. For one more night, however, they could complement one another once more on the mound as they try to deliver the Mariners a second straight Shore Conference Tournament crown and third in six years.
"It's going to mean everything," Bellissimo said. "We have all been playing together since we were real little so we didn't want it to end yet. We just want to go out on top."
Toms River North 6, Monmouth 0
| | | | | | | | | | | |
| --- | --- | --- | --- | --- | --- | --- | --- | --- | --- | --- |
| | 1 | 2 | 3 | 4 | 5 | 6 | 7 | R | H | E |
| Monmouth (18-10) | 0 | 0 | 0 | 0 | 0 | 0 | 0 | 0 | 4 | 4 |
| TR North (21-8) | 0 | 3 | 3 | 0 | 0 | 0 | X | 6 | 6 | 2 |
| | | | | | | | |
| --- | --- | --- | --- | --- | --- | --- | --- |
| Monmouth | IP | H | R | ER | BB | SO | PC |
| Charlie Kelly (L, 4-5) | 2.1 | 5 | 6 | 3 | 1 | 1 | 40 |
| Alex Alonso | 0.2 | 0 | 0 | 0 | 1 | 1 | 17 |
| Seth Gonzalez | 3 | 1 | 0 | 0 | 0 | 1 | 29 |
| | | | | | | | |
| --- | --- | --- | --- | --- | --- | --- | --- |
| Toms River North | IP | H | R | ER | BB | SO | PC |
| Jared Bellissimo (W, 6-1) | 4 | 2 | 0 | 0 | 0 | 3 | 68 |
| Brendan Mullins | 3 | 2 | 0 | 0 | 0 | 3 | 34 |
| | |
| --- | --- |
| Monmouth | Stats |
| Mike Faletti | 2-3 |
| Ricky Voss | 1-3, 2B |
| | |
| --- | --- |
| Toms River North | Stats |
| Brendan Mullins | 2-3, 2B, 2 R, RBI |
| Sam Angelo | 1-3, R, 2 RBI |
| Robert Jeans | 2-2, R, RBI |
| Jared Bellissimo | 1-3, R |
More From Shore Sports Network