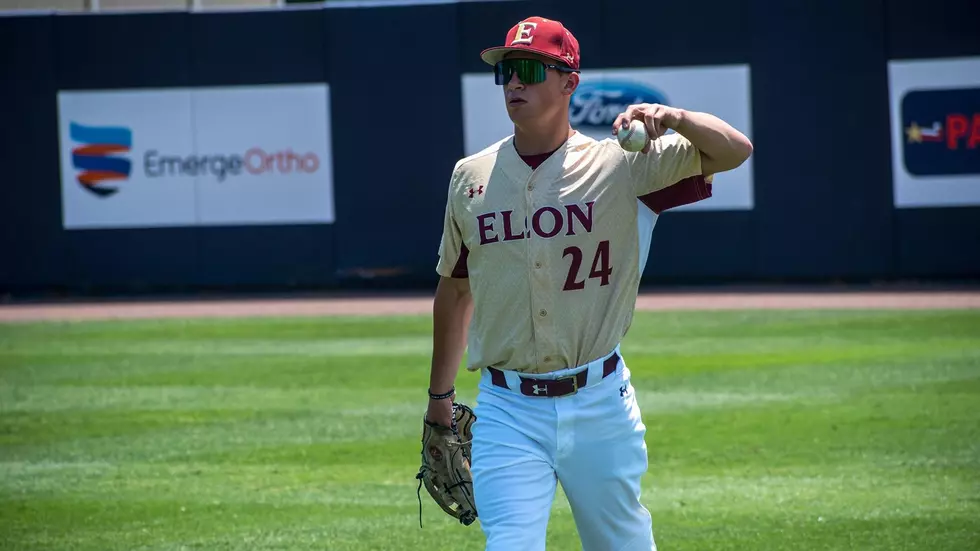 Baseball – 2022 MLB Draft Profile: Alex Iadisernia, Elon (Jackson Memorial)
Jackson Memorial alum and Elon outfielder Alex Iadisernia. (Photo: Elonphoenix.com/Pierce Yarberry)

Shore Conference 2022 MLB Draft Hopeful Profile
Alex Iadisernia, OF, Elon
High School (Graduation Year): Jackson Memorial (2019)
2022 Stats: .276/.383/.463, 14 2B, 3 3B, 6 HR, 34 R, 44 RBI, 14 SB
HS Senior-Year Stats: .528/.594/.917, 11 2B, 1 3B, 5 HR, 32 R, 31 RBI, 14 SB
High-School Resume
From the time he set foot on the field at Jackson Memorial, Iadisernia hit. He was a three-time All-Shore selection by Shore Sports Network and in his last year, he made a strong case as the Shore's best hitter. As a senior in 2019, Iadisernia finished in the top 10 in the conference in batting average (second), hits (tied fifth), doubles (tied fourth), home runs (tied sixth), runs scored (tied sixth), RBI (sixth), on-base percentage (fifth) and slugging percentage (fourth) and also tied for 12th with his 14 stolen bases.
After High School
Coming off a huge 2021 season in which he slashed .368/.448/.626 with 10 home runs, Iadisernia had a toned-down 2022 that was all-in-all solid, but lacked some of the electricity of his redshirt freshman season. Still, by the end of the season, Iadisernia sits with a college career average above .300, an on-base percentage better than .400 and a slugging percentage north of .500. The entire body of work reflects a uniquely gifted hitter, which is no surprise to those who played with, against and watched him while he starred at Jackson Memorial. Iadisernia also performed extremely well in the Northwoods League during the summer of 2021, leading the league in home runs (10) and slugging percentage (.602) while finishing sixth in batting average (.345).
Why Teams Like Him
Iadisernia has a clean, quick swing and he makes consistent, quality contact at the plate. His 2022 season was the most underwhelming statistical season he has had since his freshman year of high school and it was still a solid overall performance. Recent performance typically carries more weight, but scouts and crosscheckers know what Iadisernia has done in past seasons and will factor in that this past season was more of a grind through which Iadisernia battled. His hit tool is an undeniable positive and while his power is considered somewhat of a question, he showed plenty of it while hitting with a wood bat in a very competitive league during the summer of 2021.
All-in-all, Iadisernia's athleticism is a positive as well. It does not jump off the page, but he is a player with very refined talents on the diamond who also doesn't give away anything in the outfield and on the basepaths. Any team that drafts Iadisernia will be getting a complete player at every level he has played at and that's what he'll be angling for as a pro.
Why Teams Might Hesitate
According to the prospect rankings, scouts seem to question whether the power Iadisernia has shown will translate as he advances through professional baseball and whether his above average hit tool will be enough to make up for it. It may be a case of a player who does a lot of things pretty well while not standing out in any one area. Even if that were the case – and that remains to be seen – players with that kind of profile can experience a wide range of outcomes: some get lost in the mix and others consistently perform across the board at each level and continue to advance.
The old adage that "baseball players come in all sorts of shapes and sizes" applies to Iadisernia. Listed at 5-foot-10, he is not the most imposing prospect you will find and his speed and athleticism aren't off the charts, but he has enough size and athleticism that his skill will have a chance to translate. He is one of the best Shore Conference hitters of the last 10 years and he should hear his name called either late on Day 2 or early on Day 3.
Other 2022 MLB Draft Hopefuls from the Shore
Trey Dombroski, Monmouth (Wall)
Noah Dean, Old Dominion (Pinelands)
Liam Simon, Notre Dame (Freehold Twp.)
Zach Crotchfelt, Jackson Memorial
David Glancy, St. John's (Red Bank Catholic)
Chris Sparber, Louisberg College (Red Bank Catholic)
LOOK: Food history from the year you were born
From product innovations to major recalls,
Stacker
researched what happened in food history every year since 1921, according to news and government sources.
More From Shore Sports Network