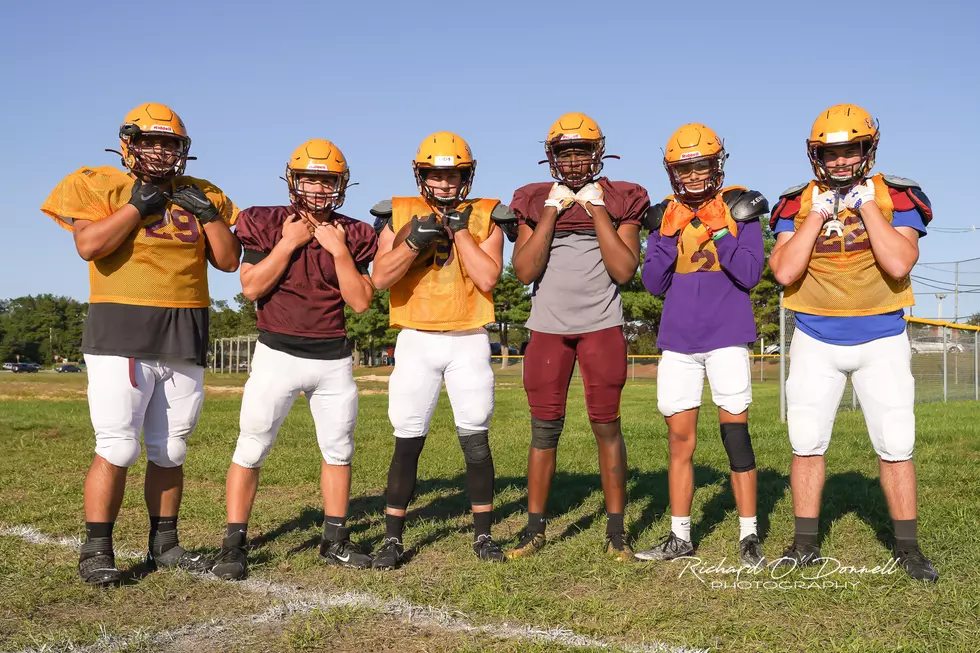 All About the Team: 2020 Central Regional Football Preview
Photo by Richard O'Donnell

Enter your number to get our free mobile app
After posting three straight winning seasons from 2015 to 2017, Central headed in the opposite direction the last two years, winning just three games in each. Jarrett Pidgeon was an assistant throughout those five years but in 2020 makes the leap from defensive coordinator to head coach replacing Justin Fumando, who was not rehired. Being on the staff allowed Pidgeon to bring back most of his assistants and after a one-year hiatus, former standout quarterback Chris James returns as offensive coordinator and he'll get help from another ex-quarterback in Danny Higgins (Southern Regional/Bridgewater State).
Pidgeon might be a first-year head coach but he's been around the game for a long time and is well prepared to take over the Golden Eagles program. Like the other 42 head coaches in the Shore, getting ready for this season is very different when "it's not just about handing out equipment but making sure your players follow all the necessary (COVID-19) protocols. Trying to chase them down for physicals was not easy when you were pretty much limited to Zoom meetings for so long."  However, he is confident that Central will be as ready as possible for its October 3 opener at Lakewood, and part of that is because they return as many as 17 starters, including 10 who started all or part of the season on defense.
Not only did they play a host of underclassmen in 2019 but they were in just about every game with the exception of a 45-14 loss to Donovan Catholic. Central lost three of its last four games, all by a touchdown or less, so the 3-6 record easily could have been 6-3. Now those young players have grown up, gotten bigger and stronger and are ready to turn things around in a hurry.  Leading that group is Imeer Johnson, who is primarily listed as a linebacker but can also play on the defensive line and is a disruptor wherever he lines up. Johnson has added about 15 pounds of muscle from last year on his 6-foot-3 frame and is a Shore Sports Network Preseason All-Shore selection. He will have plenty of help on defense from the likes of Vinnie Dallicardillo, Anthony Musso, CJ Alicia, Gio Libassi, Danny Morris and Nick Sura.
It appears junior Frankie Farmer has won the starting quarterback spot although sophomore JJ Garcia has played well and is a capable backup. Either way, opposing teams should expect to see a more wide-open attack than in the past. Senior Nick Sura leads a stable of running backs and when Farmer/Garcia take to the air they will have solid targets in Michael Prasad, Brandon Montgomery and tight end Danny Taris, a four-year veteran who Pidgeon also praised as one of the area's top punters.  Connor Sheppard and Ryan Bassett return as starters and will need to anchor the offensive line.
Pidgeon is especially excited about his skill players on both offense and defense along with the leadership of a senior class that is not just talented but embracing the TEAM philosophy he and his staff are preaching. He includes #WITHAPURPOSE when he shares anything on Twitter and truly believes "the sky is the limit for this group" if they play as a team.
At a Glance
Projected starters (RS=returning starter, 3RS=3rd year returning starter)
Offense: Multiple Pro
RB: Nick Sura, Sr. RS; John Ferro, Sr.; Chase Gumbrecht, So.
FB: Anthony Musso, Jr. RS
WR: Michael Prasad, Sr. RS; Brandon Montgomery, Sr. 3RS, Shane Sajaweicz, Jr.
TE: Danny Taris, Sr. 3RS and Michael Rappola, Jr.
OL: Connor Sheppard, Sr. RS
OL: Peyton Dasti, Jr. OR Josh Campos, Sr.
OL: Sayquan Mosley, Sr.; Aaron Jossa, Jr. OR Nick Rua, Jr.
OL: Todd Dudley, Jr. OR Jack Vandiver, Jr.
Defense: Multiple 3-4
DE: Anthony Musso, Jr. RS
OLB: Anthony Marrone, Sr.
OLB: Imeer Johnson, Sr. RS
ILB: Vinnie Dallicardillo, Sr. RS
CB: Gio Libassi, Sr. 3RS and Zahkee Spivey, Sr.
FS: Dominic Fraulo, Jr. RS
Special teams
Head Coach: Jarrett Pidgeon, first season
Team record last five years:
Assistant coaches: Chris James (Offensive Coordinator/QB); Danny Higgins (WR); Dennis Pidgeon (RB); Frank Backle (OL); James Plummer (OLB); Terrance Hardy (DB); Will Wowkanyn (DL); Walter Karasiewicz (freshmen); Tommy Koenig (freshmen); Pat Reilly (video operations); Cassie Dennis (athletic trainer).
Player to Watch: Imeer Johnson, Sr., OLB 
Johnson was a defensive force in 2019 and a third-team SSN All-Shore selection. Had 49 tackles, 17 for loss, 8 sacks, 3 fumble recoveries and 2 forced fumbles. Equally devastating at linebacker or if they line him up as a defensive end. At 218 pounds, he will be a problem for opposing teams to handle.
Player Under the Radar: Nick Sura, Sr.,  RB/SS 
This is where Johnson was listed last year and he clearly was not under the radar for long. It's hard to put Sura here as he's a three-year starter but one who has not drawn a whole lot of accolades outside the program. He simply does everything well and is a true "program player."  With the graduation of leading rusher Landon Richardson look for Sura to fill that spot while standing out once again at strong safety.
Impact Newcomers: Brandon Montgomery, Sr. WR and Chase Gumbrecht, So., RB 
Montgomery is actually not a "newcomer" as he was a starter as a sophomore and would have been as a junior before a knee injury forced him to miss all of last season. His return is a big boost. Gumbrecht is a sophomore who should see his fair share of carries.
Top position group: Linebackers/secondary
It's tough to pick between them when just about all the starters return. Imeer Johnson, Vinnie Dallicardillo, Evan Horgan and Anthony Marrone are part of an excellent group of linebackers but the foursome of Gio Libassi, Danny Morris, Nick Sura and Dominic Fraulo along with newcomer Zahkee Spivey make the defensive backs tough to beat.
Big Shoes to Fill: Offensive line 
Seniors Connor Sheppard and Ryan Bassett return as starters but two others graduated and highly-regarded guard Matt Rau (6-foot-5, 295) is now at Delran High School. There are a host of players battling for the open spots with Peyton Dasti, Sayquan Mosley and Todd Dudley among them. How quickly this group comes together will be a key to Central's success.
X-Factor: Frankie Farmer, Jr., QB 
The 6-foot-2, 185-pound junior sat behind Gavin Whelan last year and is poised to take the reins of the offense. He is clearly dedicated, spends considerable time in training and at clinics and is a pro-style quarterback who, if he develops quickly, could be the difference for this team. Central has a solid group of receivers and if Farmer can deliver on target the Golden Eagles passing game could be a major asset.
Season Schedule
Saturday, Oct. 3 – at Lakewood, 1 p.m.
Friday, Oct. 9 – vs. Manchester, 7 p.m.
Friday, Oct. 16 – at Barnegat, 7 p.m.
Friday, Oct. 23 – vs. Lacey, 7 p.m.
Friday, Oct. 30 – at Pinelands, 7 p.m.
Friday, Nov. 6 – at Southern, 7 p.m.
KEEP READING: Here are 50 of the most famous sports goofs
Kevin Williams is the Director of the Shore Sports Network and can be reached at kevin.williams@townsquaremedia.com. Follow him on Twitter @shoresportsman. Like Shore Sports Network on Facebook and subscribe to our YouTube channel for all the latest video highlights.
More From Shore Sports Network