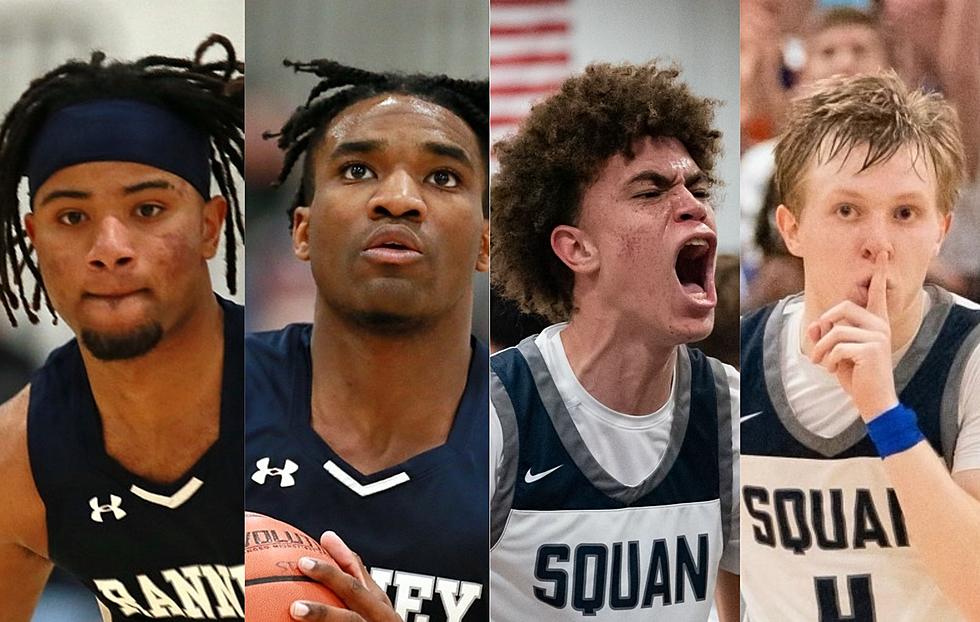 2023 Boys Basketball Shore Conference Tournament Final Preview: Manasquan vs. Ranney
From left: Ranney senior Isaac Hester (Photo: Ray Rich Photography); Ranney senior Jahlil Bethea (Ray Rich Photography); Darius Adams (Thomas Pantaleo); Ryan Frauenheim (Thomas Pantaleo)

2023 Shore Conference Tournament Championship
Sunday, Feb. 19, 2023
At OceanFirst Bank Center, Monmouth University
No. 1 Manasquan vs. No. 11 Ranney, 2 p.m.
Admission: $10; Tickets go on sale at the OceanFirst Bank Center box office at 10:30 a.m. Sunday morning
Manasquan (21-4, 9-1 in Class C North)
Head Coach: Andrew Bilodeau, 15th season
Prior SCT Final Appearances: 20 (2022, 2020, 2019, 2005, 1980, 1972, 1960, 1957, 1955, 1954, 1952, 1945-48, 1939-43)
SCT Championships: 7 (2020, 1957, 1955, 1948, 1947, 1945, 1941)
Road to the Final: Defeated No. 16 Southern, 65-48; No. 9 Rumson-Fair Haven, 57-30; No. 4 Raritan, 68-42
Projected Starters
| | | | | |
| --- | --- | --- | --- | --- |
| Number | Player | Position | Height | Year |
| 4 | Ryan Frauenheim | Guard | 5'9" | Jr. |
| 1 | Darius Adams | Guard | 6'3" | So. |
| 12 | Griffin Linstra | Guard/For | 6'4" | So. |
| 11 | Jack Dettlinger | Forward | 6'4" | Sr. |
| 21 | Quinn Peters | Forward | 6'6" | Sr. |
Off the Bench
| | | | | |
| --- | --- | --- | --- | --- |
| Number | Player | Position | Height | Year |
| 24 | Alex Konov | Forward | 6'7" | Jr. |
| 13 | Mike Flanagan | Forward | 6'1" | Sr. |
Ranney (16-9, 4-6 in Class C North)
Head Coach: Tahj Holden, eighth season
Prior SCT Final Appearances: 2 (2019, 2018)
SCT Championships: 2 (2019, 2018)
Road to the Final: Defeated No. 22 Lacey, 85-59; No. 6 Jackson Memorial, 61-55; No. 3 Toms River North, 75-60; No. 2 St. Rose, 77-73 (OT)
Projected Starters
| | | | | |
| --- | --- | --- | --- | --- |
| Number | Player | Position | Height | Year |
| 3 | Isaac Hester | Guard | 6'0" | Sr. |
| 1 | MeSean William | Guard | 5'5" | So. |
| 14 | Jahlil Bethea | Guard | 6'1" | Sr. |
| 30 | Drew Buck | Guard/For | 6'3" | Jr. |
| 10 | Glen Cantalupo | Forward | 6'0" | Sr. |
Off the Bench
| | | | | |
| --- | --- | --- | --- | --- |
| Number | Player | Position | Height | Year |
| 2 | Shaan Nayar | Guard | 6'0" | Fr. |
| 13 | Josh Engel | Guard | 6'0" | Jr. |
Head-to-Head History
Manasquan and Ranney have run into one another plenty over the past five seasons, including twice during the regular season. Manasquan won both games in Shore Conference Class C North play and by an average of 18.5 points, although the more recent of the two games was a competitive, high-scoring game that Manasquan closed out for an 84-73 win. Ranney standout and Patrick School transfer Jahlil Bethea did not play the first game between the teams while he was sitting 30 days, per NJSIAA transfer rules, and his presence helped Ranney close the gap considerably, but far from all the way.
The two teams have also become familiar with one another in the Shore Conference Tournament, with Sunday's meeting marking the fourth time in the last five years that Manasquan and Ranney will clash in the Shore Conference postseason. Ranney beat Manasquan in the 2019 title game to capture its second straight Shore Conference crown, but Manasquan has since won the last two head-to-head matchups in the SCT. The two teams looked destined to clash three times during the truncated 2021 season, but both scheduled regular-season games were canceled while Manasquan's team was shut down for two weeks with a COVID outbreak and Marlboro spoiled the potential Shore Conference championship showdown by upsetting Ranney in the semifinals of the modified Shore Conference playoffs.
Manasquan owns a four-game winning streak and a 4-1 edge in the all-time series between the teams and every single matchup has been decided by a margin of at least 10 points, with an average margin of 15.4.
Manasquan Strengths
Size
There are a handful of times during their difficult schedule in which the Warriors have to overcome a height disadvantage, but on most days, Manasquan has an enviable amount of height and length across the board. Point guard Ryan Frauenheim is under six feet, but the rest of the starting lineup and sixth man Alex Konov all stand 6-foot-3 or taller and all of them get after it on the boards and on defense. With Ranney playing just one player taller than 6-1, Manasquan's size is the major difference when breaking down the physical comparison on paper.
Cohesion
As talented as the Manasquan roster is, what takes the Warriors over the top is how connected they play. Over the last season-and-a-half, a group of young, relatively raw players have become one of the tougher defensive units to crack while operating within an offense that keeps the ball moving until somebody – which could be anybody – gets a quality shot. That team element allows Manasquan to compete with teams that seemingly boast more individual talent, like when the Warriors outscored Roselle Catholic and its three high-major starters, 38-31, in the first half before ultimately losing, 68-59.
Depth
Although Manasquan is not especially deep, there are six players in the rotation who can pick up the scoring at any given moment and four players within that group of six – Darius Adams, Griffin Linstra, Jack Dettlinger and Alex Konov – who are versatile enough to handle at least three traditional positions. Frauenheim and senior Quinn Peters are the only two players who fit a more specific description, with the 5-9 Frauenheim running the point and defending guards and the 6-6 Peters playing inside and guarding bigs. Manasquan's ability to get production out of every player is unique and when seventh man Mike Flanagan comes in, he provides more than enough defense and toughness to help the Warriors.
Manasquan Vulnerabilities
Recent Schedule
There is not really any science to suggest that playing better competition better prepares teams to win tournament games, but it tends to be conventional thinking. Manasquan's road to the final has, of course, required the Warriors to beat quality teams, but in those three games, Manasquan has made the competition look underwhelming by dominating all three teams: Southern, Rumson-Fair Haven and Raritan. It's possible Ranney is just the next victim-in-waiting in that group, but the Panthers have been hardened by facing three of the top five teams in the most recent Shore Sports Network Top 10 – No. 5 Jackson Memorial, No. 4 Toms River North and No. 2 St. Rose – in their last three SCT games and have closed every single game in impressive fashion.
Close Game Struggles
Make no mistake about it: Manasquan usually closes teams out with authority. Of the Warriors' 21 wins, 18 are by double-digit margins and in one of the Warriors' more impressive wins this season, they outscored Rutgers Prep, 22-10, in the fourth quarter to turn a two-point deficit into a 64-54 victory. There have been times, however, in which Manasquan has struggled to close out games that are close going into the final minutes – not to the point that the Warriors are bad in close games, but it's been more of a 50-50 proposition that they win a game that goes down to the wire. Manasquan is 3-4 in games decided by fewer than 10 points this season, with an overtime loss to Linden and regulation losses to St. Rose, Roselle Catholic and Union Catholic. The wins have come against Neptune, Saddle River Day and St. Rose.
Familiarity
This is another perceived disadvantage that could just as easily swing in Manasquan's favor depending on how both teams attack this game. There is an old, overrated adage that suggests that it is difficult to beat a team three times in one season, and while it may be true that it is difficult, it is not at all uncommon. In this particular instance, it will be Manasquan trying to beat Ranney for a third time this season and the first two were not particularly close, although the more recent meeting was fairly competitive. Ranney will now get a shot at Manasquan when it is seemingly playing its best basketball of the season and with two games of information to try to turn against the Warriors. The team that loses the first two games of a series tends to be the one with incentive to make adjustments, so for Manasquan, the Warriors will have to decide to stick with what has worked or pre-empt Ranney's adjustments.
Ranney Strengths
The Backcourt
It takes a lot of talent to hold an advantage over Manasquan's backcourt of Frauenheim and Adams, but Ranney just might own that edge. The Panthers have three dynamic scoring guards in Isaac Hester, Jahlil Bethea and Drew Buck and with all three in the lineup, Ranney put up 73 points the last time these two teams met. Hester has gone over 25 points in each of the two meetings this season and over the course of this tournament, Buck has been as steady as any player in the Shore Conference, scoring between 16 and 18 points in all four of Ranney's wins. Bethea's scoring has fluctuated during the tournament, but he is coming off a 29-point outburst in Tuesday's win over St. Rose. Altogether, the trio is averaging 59.5 points per game during the tournament.
One-on-one Offense
With three players like Hester, Bethea and Buck, Ranney is going to try to force Manasquan to guard them one-on-one and it will give the Warriors some choices to make. They won't be able to run double-teams at all three players and doing so to any of them could results in an open shooter, which is how sophomore MeSean Williams has found himself so many open looks from the three-point line during this Ranney run. Manasquan is a standout defensive team, but the Warriors will be tested – both as individuals and as a unit – while trying to handle Ranney's weapons.
Momentum
Ranney has won in every possible fashion that a team can during this championship-game run and with its last three wins, the Panthers' come into Sunday with confidence that could not be higher. There are not a lot of instances of a seed as high as the one Ranney has making it all the way to the championship game, but the last time a No. 11 seed made it this far, it turned out pretty well for them. In 2015, Rumson not only won the Shore Conference Tournament as the 11-seed; the Bulldogs routed No. 1 Christian Brothers Academy, 50-24. Between recent trends and SCT history, Ranney has to feel borderline invincible heading into Sunday.
Ranney Vulnerabilities
Frontcourt Rebounding
Ranney goes into just about every game with a height disadvantage and with the understanding that winning the rebounding battle is going to be extremely difficult. The Panthers, however, have done a superb job of minimizing that disadvantage and the rebounding prowess of its guards is a big reason why. Hester, in particular, has been a major factor on the glass, while Bethea, Buck and even Williams have also mixed it up to lend support to the six-foot Cantalupo in the paint. With that being said, Manasquan also has a standout rebounder at a guard position (Adams) and will start three other players in Linstra, Dettlinger and Peters who can rebound with anyone.
Defending Manasquan's Balance
Rebounding is so critical for Ranney because Manasquan's offense is so difficult to stop to begin with. The Warriors possess both a collection of individual talent and a system that victimizes even very good defenses, like Raritan in the SCT semifinals. Ranney's defense has been much better of late, but it is still not the Panthers' calling card and it has had no answer for Manasquan in the two prior meetings, in which the Warriors are averaging 81 points. If Ranney chooses to key on Adams – which most teams start the game doing – there are four other players on the court who can finish the play or find the teammate who can.
Ryan Frauenheim
The good news for Ranney is in the two meetings between the teams, Adams did not lead Manasquan in scoring in either one. The bad news for the Panthers is Frauenheim scored a career-high in both games. The Warriors point guard pumped in a career-best 29 points in his team's 79-53 December win at Ranney, then topped that with 33 in the January win in Manasquan. Throwing more defensive attention at Frauenheim might seem a simple fix and, perhaps, a worthwhile gamble, but the prospect of getting burned by Adams or creating a further disadvantage on the inside leaves a team in Ranney's position in a difficult predicament.
The Verdict
As mentioned near top of this post, Ranney and Manasquan have a recent history of playing one another in high-level games, but we have yet to see a showdown between these two that goes down to the final two minutes with the game hanging in the balance. The 2019 Shore Conference final was a highly-entertaining game that saw Manasquan cut Ranney's lead to four in the middle of the fourth quarter, but the powerhouse Panthers pulled away for a 10-point win.
As Ranney showed in its unthinkable comeback win over St. Rose on Tuesday, even a game that seems decided with two minutes to go could still be in play when the Panthers are involved. It's hard to see lightning striking twice in that manner, but it's not as hard to see Ranney staying close enough to Manasquan to have a chance to win in the final two minutes. Manasquan is the deeper, more balanced of the teams, but Ranney can make a pretty strong case that it has three of the five best players on the floor and, possibly, the two best in the two seniors, Hester and Bethea.
Although Manasquan is the younger team, the Warriors have the battle scars from the 2022 tournament, which ended with Marlboro dealing Manasquan a one-sided loss in the championship game and the hurt that comes with losing in the championship game. Manasquan did the same thing to Marlboro in the 2021 final – albeit in a much closer game – and Marlboro came back to finish the job the year before. That progression is not lost on Frauenheim, who watched Marlboro walk off the floor in tears in 2021 only to come back and celebrate at Manasquan's expense the following year.
Ranney's win over St. Rose was probably something like a 1-in-1,000 results – not that Ranney beat St. Rose, but that the Panthers did it the way they did. It's almost a statistical impossibility that they could pull something like that off twice, but if there is a point in the fourth quarter in which the Panthers get on a run and are within a couple possessions heading into the final four minutes, things could get tight for Manasquan. In order to keep Ranney at bay in the fourth quarter, it will be imperative for the Warriors to maximize their runs when they get them, and they will certainly get them.
Expect a high-scoring, highly-entertaining final, regardless of whether or not it comes down to the final possession. If it does, give the advantage to Ranney. Overall, however, Manasquan has the players and the system to finish what St. Rose could not on Tuesday night.
The Pick: Manasquan, 77-71
SCT Semifinal Picks Record: 1-1
2023 SCT Picks Record: 18-6
More From Shore Sports Network