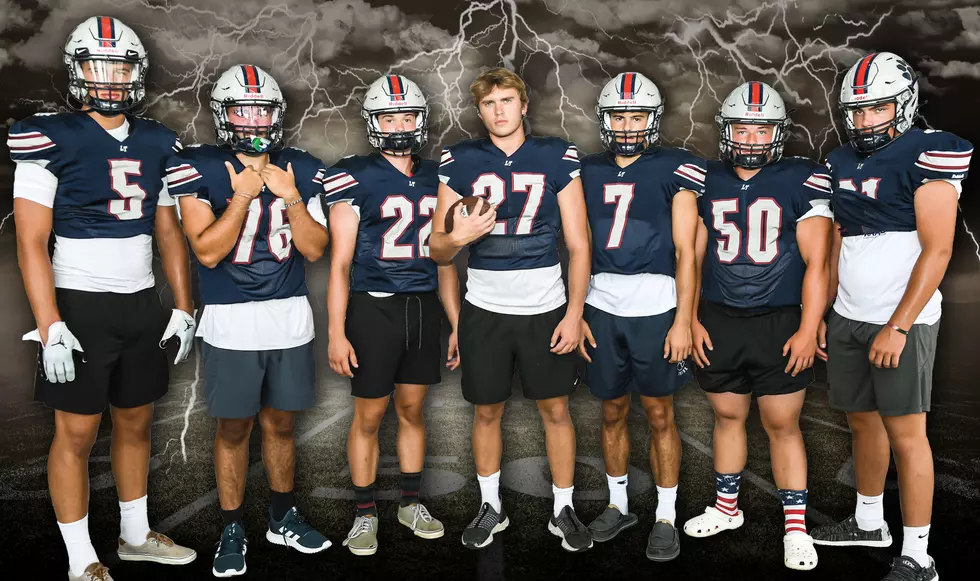 New-Look Lions Ready To Pounce: 2022 Lacey High School Football Preview
Left to right: Matt Coon (5), Patrick Luca (76), Zachary Brewer (22), Nicholas Stanziani (27), Dominick Perrone (7), Brendan Supsie (50), Keith Sullivan (61).

It'll be a different-looking team this year in Lacey Township with only three returning starters on offense and five on defense, meaning the torch has been passed and the time is now to see what these young Lions can do on the football field.
Noah Brunatti, Scott Stevens, John Dodaro, Damian O'Loughlin, and Gaetano Dimiele are among the talented group of players who graduated following last season, leaving some vacancies that need to be filled. Only time will tell what the succession is going to look like in 2022.
This year's squad will also look to build on back-to-back 5-4 seasons and take things a little farther this fall.
"We have to regroup, obviously, we lost 19 guys," Coach Lou Vircillo tells Shore Sports Network. "We have a young team and I'm estimating that five to seven sophomores are starting, so we're going to be inexperienced and young, and we're trying really hard to get to where we need to be in terms of the season."
It'll be a team largely comprised of players who showcased what they could do at the JV level last season.
"They did fair, they did okay, there's just a lot of work to do to get them up to being varsity players, plus our schedule is very demanding," Vircillo said.
The Lions will be taking the field at home this season under the lights at the newly-named 'Lou Vircillo Stadium' named after the only coach in program history who is also a Shore Football Coaches Foundation Hall of Famer.
The always modest Vircillo is turning his attention towards enjoying another season coaching football.
"I guess, it is what it is. In terms of coaching, that's what I want to do. It's more important to me than anything else to be with kids and get up and have a purpose to my day, and the purpose to my day has always been working with young men and it's been with football," Vircillo said.
At A Glance
Projected starters
Offense: Multiple
QB: Nick Maertens, Jr.
RB: Dominick Perrone, Sr.
RB: Aiden Wallace, So.
RB: Jay Martins, Sr.
RB: Nick Stanziani, Jr.
WR: Trevor Santucci, Jr.
WR: Rocco Armato, Sr.
TE: Matt Coon, Sr.
TE: Dave Wilson, Sr.
LT: James Mott, So.; Dave Vargas, Jr.
LG: Giovanni Maldanis, So.
C: Brendan Supsie, Sr.; Pat Luca, Sr.
RG: Keith Sullivan, Sr.
RT: Brody Sager, Jr.
Defense: Multiple
DE: Matt Coon, Sr.
DT: Dave Vargas, Jr.; Keith Sullivan, Sr.
DT: Brendan Supsie, Sr.; Mike Seeley, So.
DE: Pat Luca, Sr.
OLB: Dave Wilson, Sr.; Nick Maertens, Fr.
ILB: Nick Stanziani, Jr.; Cory Smith, So.
OLB: Luciano Ferranti, Sr.; Aiden Wallace, So.
CB: Dominick Perrone, Sr.; Chris Grassadonio, Sr.
CB: Zach Brewer, Sr.
SS: Aarone Tobia, Sr.; Landon Raabe, So.
FS: Nick Locha, Sr.; Diego Wolf, Sr.
Special Teams
K: Diego Wolf, Sr.
P: Diego Wolf, Sr.
STAFF
Head Coach: Lou Vircillo, 42nd season
Career Record: 304-156-3 (270-140-3 at Lacey)
Team Record Last Five Seasons: 
2021: 5-4
2020: 5-4
2019: 7-4
2018: 5-5
2017: 7-3
Assistant coaches: Chris Demarest (DC/TE); Warren Smith (Offensive Pass Coordinator/QB/DB); Mike Stuppiello (DL/OL Assistant); Joe Tobin (WR/LB); Matt Kiefer (OL/OLB); Chris DiMicco (Frosh - Defense); Chris McAndrew (Frosh - Offense); Watson Heilala (Frosh - Line); Mike Taddeo (Film); Dan Cortese (Film); Aimee Delvento (Athletic Director); Lee Emery (athletic trainer).
Players to Watch: Dominick Perrone, RB, Sr.; Chris Supsie, C, Sr.; Keith Sullivan, RG, Sr.
Lacey has long been known for having a strong running game in its arsenal and a big reason why that's remained the status quo is because of the linemen up front. There is a strong offensive line again this season even though it looks pretty different with personnel. It'll be guys like Chris Supsie and Keith Sullivan who are returners to the offense and will help Lacey have a strong running game again this season along with fellow senior Dominic Perrone who will take carries out of the backfield.
"We expect those three seniors to be our leaders, and they're doing a good job of that," Vircillo said.
Players Under the Radar: Matt Coon, TE/DE, Sr. and Dave Wilson, TE/LB, Sr.
One of the other strengths over the years for Lacey, outside of the running game has been a series of strong tight ends. The torch is being passed from two pretty good ones in John Dodaro and Dominic Tarricone, who graduated after last season, to Dave Wilson and Matt Coon, who is also a defensive end.
"He (Coon) was a district champion in wrestling, he's been a three-year player, so, we're expecting a lot from him," Vircillo said.
Impact Newcomers: James Mott, LT, So. and Giovanni Maldanis, LG, So.
There were four seniors on the offensive line last season and the lone junior from that line -- Brendan Supsie -- is now solely playing on defense (DT), so it'll be incumbent on the new line that includes these two sophomores -- Mott and Maldanis -- to learn the varsity game and also exceed in a baptism by fire out of the gate against Donovan Catholic and Long Branch.
Top Position Group: Running Backs
While most of the offense from last year has graduated and moved on, there's a talented stable of running backs that features Dominick Perrone, Aiden Wallace, Jay Martins, and Nick Stanziani.
"That's probably where we have the most people. We returned one running back and we have a couple of good JV guys and a good freshman, so right now it seems like we're developing depth there," Vircillo said.
Rivalry Game: Sept. 23 vs. Central Regional
This is always one of the more anticipated rivalry games in Ocean County and the Shore Conference every season no matter the location. This will be a big game again this season with two really good teams going head-to-head under the lights at the newly named Lou Vircillo Stadium.
Season Schedule
Sept. 2 - @Donovan Catholic, 6:30 pm
Sept. 10 - @Long Branch, 1 pm
Sept.16  - vs. Middletown North, 6:30 pm
Sept. 23 -  vs. Central, 6:30 pm
Sept. 30 - vs. Colts Neck, 6:30 pm
Oct. 7  - @Toms River North, 6 pm
Oct. 14 - vs. Brick, 6:30 pm
Oct. 21 - @Southern, 7 pm
Lacey Football Over The Years
Why I Wish I Played High School Sports
More From Shore Sports Network