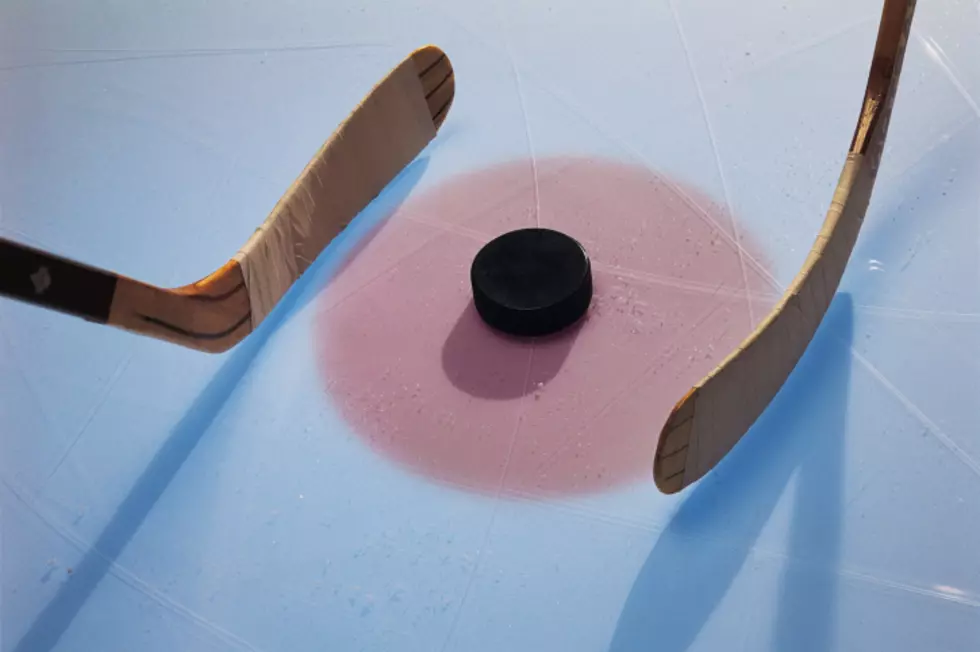 2021 Shore Conference Central Division Ice Hockey Preview
(Getty Stock)

Enter your number to get our free mobile app
CENTRAL DIVISION
Teams listed in alphabetical order
Previews based on information provided by each coach
Freehold/Colts Neck/Raritan
Head coach: Cody Reilly, first season
2020 record: 9-9-1, fifth in Class B North
Home arena: Middletown Ice World
Top returners: Anthony Caruso, Sr., Fwd; DJ Clements, Jr., Fwd; Nick Ochlan, Sr., Def.
Top newcomers: Owen Gulka, Fr., Def; Jack Taddeo, Fr., Fwd.
Although the Colonials graduated their leading scorer from a season ago, three of their top five point producers are back to bolster the offense. Junior forward DJ Clements scored 11 goals and added 24 assists last season, senior forward Anthony Caruso is coming off a nine-goal, 22-assist junior season and senior defenseman Nick Ochlan tallied nine goals and 15 assists in 2020. Finding secondary scoring is crucial for most teams and Freehold is no different in that regard. Another challenge will be on defense where they will be without goalie Joey Colecchia, who was slated to be the returning starter in net but is out with an injury. Junior Anthony Guglieri, who started seven games last season, and senior Ryan O'Neill will try to fill the void.
Freehold Township
Head coach: Michael Celano, 13th season
2020 record: 6-12-2, sixth in Class A South
Home arena: Howell Ice Arena
Top returners: Payton Fobes, Jr., Fwd; Jake Butler, So., Def; Michael Craft, So., Fwd; Dylan Jacobi, Sr., Fwd; Jackson Lehman, Jr., Fwd; Joe Lombardo, So., Fwd; Zach Neron, Jr., Fwd; Josh Scheck, So., Def; Nick Traina, Sr., Fwd; Karina Vang, Sr., Goalie.
Top newcomers: James Caldwell, Fr.; Lucas Palm, Fr.; Tyler Palm, Fr.
Fast and skilled yet a bit undersized and inexperienced, Freehold Township will look to the 2021 season as another building year in which the growth of its underclassmen will be a deciding factor. The Patriots lost leading scorer Jake Liebross to graduation and the only returning starter who reached double-digit points last season was junior forward Payton Fobes (11g, 4a). Although the team is still young, they started a ton of freshman and sophomores last season so the hope is those underclassmen can develop even further. There are plenty of breakout candidates because of such a scenario. Returning as the starting goalie is senior Karina Vang, who backstopped all six of the Patriots wins last season and recorded one shutout.
Howell/Matawan
Head coach: William Daley, 13th season
Career record: 173-110-24
2020 record: 9-8-7, fifth in Class A South
Home arena: Howell Ice Arena
Top returners: Stanley Paluszek, Sr., Fwd; Ben Janos, Sr., Fwd; James Fay, Sr., Fwd; Justin Romaszka, Sr., Fwd; Mikey Langella, Jr., Fwd; Jason Angotti, Jr., Fwd; Ben Postorino, So., Fwd; Anthony Vella, Jr., Def; Zach Gershner, Jr., Def; AJ Waters, Jr., Def; Jake Liberman, So., Def; Vincent Vassallo, Jr., Def; Brandon Breschard, So., Goalie.
Top newcomers: Tommy Vella, So., Fwd; Will Daley, Fr., Def; Nico Callandra, Fr., Fwd; Matt Gresko, Fr., Fwd; Robert Petillo, Fr., Goalie; Morgan Wilkes, Fr., Def.
Captains: Stanley Paluszek, Ben Janos, James Fay, Anthony Vella, Zach Gershner.
The Rebels are mostly young and inexperienced when it comes to varsity playing time, so while the team is a close-knit group, the question remains as to whether that will translate to wins in 2021. Howell lost three of its top five scorers plus three-year starting goalie Dan McEvoy to graduation, so replacing that production is crucial. Senior forward James Fay leads the returning starters after scoring 10 goals and adding eight assists last season. Senior Stanley Paluszek (8g, 4a) and junior Mikey Langella (6g, 5a) are the only other double-digit scoring forwards who are back, so eyes will be on players like Ben Janos, Justin Romaszka and Jason Angotti to pick up the slack. Defensively, senior Zach Gershner (6g, 5a) can provide offense from the blue line and along with junior Anthony Vella will lead the way. Vincent Vassallo and Brandon Breschard are battling it out to take over as the starting goalie.
Jackson Liberty/Jackson Memorial/Point Boro
2020 record: Liberty/Boro – 16-6-1, second in Class B North; Memorial – 6-13-1, fourth in Class A South
Home arena: Howell Ice Arena
Manalapan
Head coach: Matt Inzerillo, fourth season
2020 record: 8-12-3, third in Class B North
Home arena: Howell Ice Arena
Top returners: Dylan Stein, Sr., Fwd; Ryan Bechutsky, Sr., Fwd; Richie Williams, Jr., Def; Dominick Pearsall, Jr., Fwd; Pat McCarty, Sr., Goalie; Nick Wiessman, Sr., Fwd; John Fox, Jr., Goalie.
Top newcomer: Christian Pietromonaco, Jr., Fwd (injured last season)
Captains: Dylan Stein, Ryan Bechutsky, Nick Wiessman
With a solid first two scoring lines, sturdy defensemen and experience in net, Manalapan is looking to push over the .500 mark after hovering near even last season. The Braves are inexperienced among the bottom six forwards so head coach Matt Inzerillo is eager to see if any newcomers can break through and provide offensive depth. Senior captains Dylan Stein (12g, 4a) and Ryan Bechutsky (13g, 10a) will be joined on the top line by fellow senior Nick Wiessman (1g, 5a), who moves back to forward after spending the last two seasons as a defenseman. They are the core of a veteran group that is the team's linchpin. Senior Pat McCarty and junior John Fox will once again split time in goal in front of a defense corps that is led by junior Richie Williams. McCarty is the program's all-time saves leader with 1,287 and needs two more wins to pass 2013 graduate Joe Barone (20) as the school's career wins leader.
Southern
Head coach: Graham Borg, first season
2020 record: 11-10-1, Class A South champion
Home arena: Winding River Ice Rink
Top returners: Christopher Laureigh, Jr., Fwd; Parker Lech, Sr., Fwd; Brooks Hradek, Jr., Fwd; Ryan High, Sr., Def; Josh Irwin, Sr., Def; Yater Henry, Jr., Def; Trey Mattern, Jr., Goalie.
Top newcomers: Corbin Siek, Sr., Fwd (injured last season); Matthew Leonard, Jr., Fwd; Sean Rowland, Jr., Def; Ryan Irwin, So., Fwd; Ben Gauthier, Fr., Fwd.
Graham Borg takes over as the Rams head coach for a program coming off a division championship in 2020. To continue to play as a top 10 team in the Shore, Southern will need to rely on an experienced defense and one of the conference's top scorers. The Rams graduated three of their top four scorers from last season but that one returner is junior forward Christopher Laureigh, who netted 25 goals and 15 assists and earned second-team All-Public B honors. The biggest question for Southern, offensively, is who will provide the secondary scoring. Players like seniors Parker Lech and Corbin Siek and juniors Brooks Hradeck and Matthew Leonard will look to provide that punch. Southern's experienced blue line along with junior goaltender Trey Mattern is a strength. Senior defensemen Ryan High and Josh Irwin and junior defenseman Yater Henry lead the way in the back end.
Toms River North
Head coach: Christian Cranston, 10th season
2020 record: 13-9-1, fourth in Class B North
Home arena: Winding River Ice Rink
Top returners: Cole Schneider, Sr., Fwd; Anthony DeFalco, Sr., Fwd; Justin Ervelli, Sr., Def
Top newcomers: Joseph Frattaroli, Sr., Fwd; Louie Mancuso, Fr., Goalie
Captains: Cole Schneider, Justin Ervelli
The Mariners were fourth in a very competitive Class B North division last season and this year's Central Division looks to be similar in that the race for the title looks to be fairly wide open. For Toms River North to be the team to ascend to the top it will steady contributions from its proven veterans and some production from its younger players. Senior forward Cole Schneider leads the way and is coming off a tremendous season in which he scored 41 goals and added 32 assists. He enters 2021 just nine points shy of hitting the 200-point milestone and would be the first in school history to reach that mark. Senior forward Anthony DeFalco proved to be an adept playmaker last season with 34 assists and added 11 goals. Senior Justin Ervelli leads the defensive unit and can also provide points as evident by his seven goals and 23 assists last season. The Mariners will turn to a freshman between the pipes as ninth-grader Louie Mancuso gets the nod as the starting goalie.
Wall
2020 record: 7-12-3, third in Class A South
Home arena: Jersey Shore Arena
Managing editor Bob Badders can be reached at bob.badders@townsquaremedia.com. Follow him on Twitter @Bob_Badders. Like Shore Sports Network on Facebook and subscribe to our YouTube channel for all the latest video highlights. 
LOOK: Famous Historic Homes in Every State