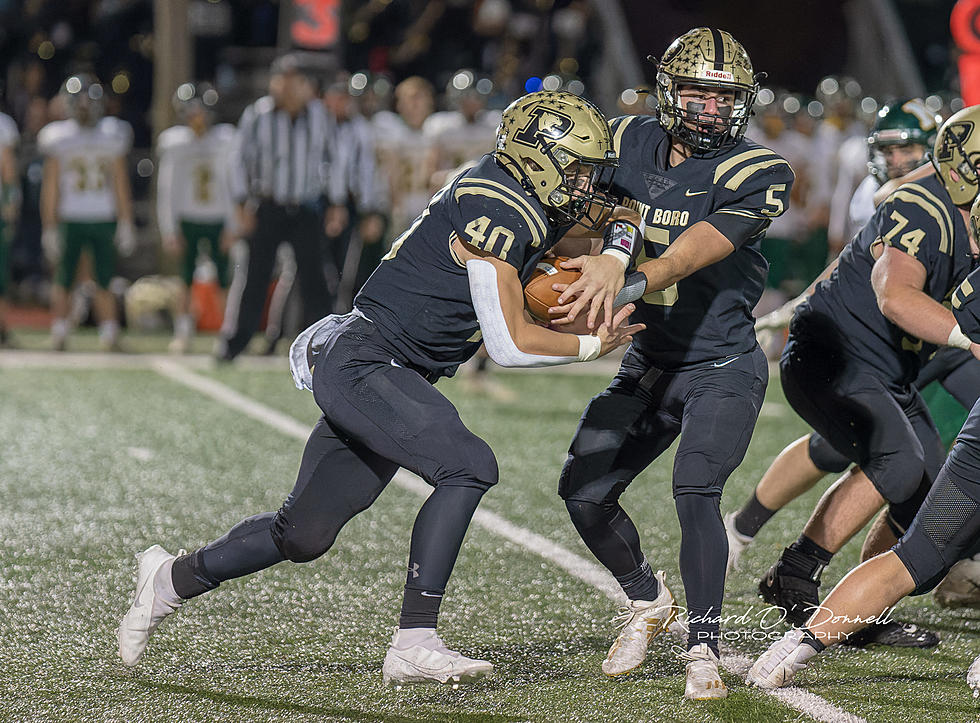 2021 NJSIAA Central/South Group 2 Regional Championship Preview: Point Boro vs. Haddonfield
Richard E. O'Donnell

2021 NJSIAA CENTRAL/SOUTH GROUP 2 CHAMPIONSHIP
WHO: Haddonfield (9-3) vs. 1-Point Boro (10-1)
WHEN: Saturday, Dec. 4, 10 a.m.
WHERE: SHI Stadium at Rutgers University
POINT BORO'S ROAD TO THE REGIONAL CHAMPIONSHIP: Defeated Monmouth Regional, 34-14, in the quarterfinals; defeated New Providence, 28-7, in the semifinals; defeated Willingboro, 32-8, in the South Jersey Group 2 sectional final.
HADDONFIELD'S ROAD TO THE REGIONAL CHAMPIONSHIP: Defeated Middle Township, 34-7, in the quarterfinals; defeated Bernards, 24-14, in the semifinals; defeated Raritan, 28-7, in the Central Jersey Group 2 sectional final.
POINT BORO'S BEST WINS: 34-20 over Shore Regional; 41-0 over Barnegat; 20-12 over Middletown North; 28-7 over New Providence; 32-8 over Willingboro.
HADDONFIELD'S BEST WINS: 28-14 over Delran; 34-7 over Middle Township; 24-14 over Bernards; 28-7 over Raritan.
PLAYOFF HISTORY: Point Boro will be playing in its first regional championship game after securing the program's fourth sectional title and first since 2005. They are 18-14 all-time in 17 playoff appearances...Haddonfield's win over Raritan in the Central Jersey Group 2 final gave them Bulldogs their sixth sectional title. This will be their second appearance in a regional championship game after going 13-0 in 2018. All of Haddonfield's sectional championships have come since 2010.
POINT BORO STAT LEADERS
Jake Croce, So., RB/LB: 144 carries for 1,043 yards and 9 TDs; 9 rec. for 120 yards and 2 TDs; 23 tackles, three TFL, 2 INTs on defense.
Charlie Vitale, Sr., QB/DB: 125 carries for 849 yards and 14 TDs; 445 yards passing, 7 TDs, 1 INT; 49 tackles and 3 INTs on defense.
Connor Cilento, Jr., RB/DB: 46 carries for 573 yards and 7 TDs; two receiving TDs; 2 INTs on defense
Matt Oliphant, So., RB: 68 carries for 477 yards and 11 TDs; 2 kickoff return TDs
Brian Orio, Jr., WR: 5 rec. for 120 yards and 3 TDs
JJ Bennett, Jr., LB: 92 tackles
Tyler Gordon, Jr., LB: 66 tackles, 5 sacks, 2 INT
Connor Reynolds, Jr., LB: 57 tackles, 7 sacks, 5 TFL
Aidan Ward, Jr., LB: 58 tackles, 7 sacks, 5 TFL
HADDONFIELD STAT LEADERS
Carson Wolff, Sr., QB: 1,097 yards passing, 13 TDs, 4 INTs; 133 carries for 671 yards, 6 TDs
Bobby Hahn, Sr., RB/LB: 203 carries for 1,238 yards and 15 TDs; 15 rec. for 206 yards and 3 TDs; 96 tackles, 3 TFL, 1 INT
Dante Del Duca, Sr., WR/DB: 19 rec. for 382 yards and 7 TDs; 27 tackles, 6 INTs on defense
Johnny Mink, Jr., LB: 138 tackles, 1 sack, 3 TFL
Ryan Foley, Jr., DB: 9 INTs, 35 tackles
Justin Walker Rhyne, Sr.: 91 tackles, 4 sacks, 4 TFL
Charlie Klaus, So., WR/DB: 14 rec. for 171 yards and 1 TD; 35 tackles, 4 INTs on defense
Jack Cutter, Sr., K: 30-for-32 XP, 4-for-6 FG
BREAKDOWN
Point Boro's offense vs. Haddonfield's defense
Point Boro's has the No. 1 scoring offense in the Shore Conference at 36.3 points per game and has scored at least 20 points in all 12 of its games. The Panthers run the triple option out of the flexbone but it could really be called a quadruple option considering the balanced contributions from its backs.
Senior quarterback Charlie Vitale, a three-year starter, pilots the offense with precisions and efficiency, sophomore fullback Jake Croce has over 1,000 yards rushing, and slotbacks Connor Cilento and Matt Oliphant are dangerous on the edge. Figuring out where the ball is going and then getting there consistently has been a challenge all season for Point Boro's opponents, which is why the Panthers are 10-1 and section champions.
For a Group 2 school, Point Boro has a very big offensive line with junior Cole Skinner (6-foot-6, 305 pounds), senior Luke Wilson (6-foot-3, 285 pounds), and sophomore Charles Davison (6-foot-1, 270 pounds) leading the way in the size department. Point Boro wears teams down both mentally and physically.
Obviously, the objective for any defense playing a triple-option team is to force them into third-and-long and make the quarterback have to throw the ball. That has been easier said than done against Point Boro. Getting a lead is also key to making the Panthers throw the ball more than usual, but unless it's a huge deficit Point Boro isn't going to abandon its identity.
Haddonfield is extremely well-coached under Frank Delano and plays smart, disciplined defense. In the sectional final vs. Raritan -- a team that also runs the option but does so out of the pistol -- the Bulldawgs made the decision to take away Raritan's slotbacks and eliminate the big plays on counters and pitches. Raritan running back Kieran Falzon ran for 140 yards and a touchdown but that was all the Rockets could get going. Raritan also struggled in the passing game vs. a very good Haddonfield secondary that has intercepted 23 passes this season.
What bodes well for Point Boro is that a team can't key on any one player. There have been games where teams have tried to take away the dive and Cilento or Oliphant have produced big games. The vice versa is also true. Against Willingboro, the Chimeras' speed made it hard to get to the edge so Point Boro ran almost exclusively with Vitale, Croce, and Gordon between the tackles. Vitale is a savvy veteran and will take what the defense gives him, and the Panthers are more than happy to take four yards at a clip and put together 12-, 13-, 14-play drives.
Point Boro's defense vs. Haddonfield's offense
Point Boro's offense has received most of the attention this season but its defense has quietly been excellent. The Panthers are fifth in the Shore in scoring defense at 12.4 points per game.
Haddonfield runs a multi-faceted, pro-style offense that can win on the ground and through the air. Running back Bobby Hahn is a 1,200-yard rusher and quarterback Carson Wolff has thrown for nearly 1,100 yards, so there is plenty of balance in the Bulldawg's attack. Dante Del Duca is Wolff's top target with seven touchdown catches.
Haddonfield isn't overly big up front but the unit executes very well. Point Boro will try to use its size to clog the middle and push the pocket to let its linebackers clean up, which is exactly what they did vs. Willingboro in the sectional final. Third and long is not the place to be vs. Point Boro, as well. Defensive Shane O'Connor will bring pressure from different spots, which has helped the Panthers rack up 24 sacks and 11 interceptions.
Haddonfield doesn't have one player that scares you but the Bulldawgs play tough, sound, winning football. And at the end of the day, that's what matters most. Whichever team can execute the best and avoid the critical mistake will likely be the one hoisting another trophy on Saturday afternoon.
Prediction: Point Boro, 28-17
A list of NJ malls where you can get photos with Santa for the 2022 holiday season
More details and locations will be added as the holiday season progresses, so please check back often for updates. Malls are listed in alphabetical order.
More From Shore Sports Network