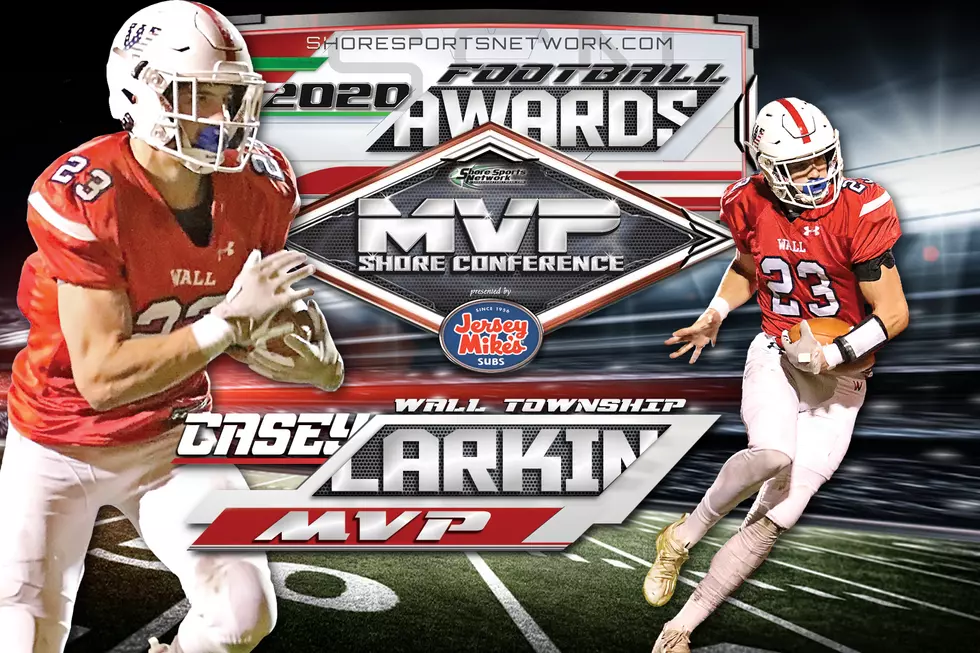 2020 Shore Sports Network Most Valuable Player: Wall's Casey Larkin
Townsquare Media NJ

Enter your number to get our free mobile app
Given all that Wall has accomplished over the last two seasons, magnifying the one blemish on its resume over the last 20 games is admittingly an odd angle to take. But for the sake of quantifying what Casey Larkin means to the Crimson Knights, it must be done.
With an NJSIAA sectional championship, an undefeated season, two Shore Sports Network Team of the Year awards, a Shore Conference championship and now, being crowned the No. 1 team in New Jersey, Wall has literally done it all over the last two years. The Crimson Knights have won 20 straight games against the Shore Conference dating back to 2018 and are 19-1 in their last 20 games. They just completed the program's first undefeated season since 1983.
Wall did not ascend to No. 1 in the state because of one player but it's also no coincidence the only game Wall has lost over the past two seasons is the only one in which Larkin did not play. The 2019 NJSIAA Group 3 Regional Championship game against a Woodrow Wilson team loaded with FBS recruits had Larkin stuck on the sideline because a concussion sustained in a Thanksgiving Day win over Manasquan left him unable to compete. He was understandably devastated for not being able to be on the field and even more so when the Crimson Knights came up just short, 12-7, despite a valiant defensive effort.
That game revealed many things and certainly did not diminish Wall's profile. It showcased how complete of a team the Crimson Knights are and foreshadowed the dominance of its 2020 defense. It also proved just how valuable Larkin is, how the Crimson Knights' rare two-way star holds the key to Wall's toolbox.
With Larkin on the field everything changes, and that was again evident in 2020. Larkin played in all seven games and led Wall to the unofficial Shore Conference championship, a perfect 7-0 season and the consensus No. 1 ranking in New Jersey. As a star running back, Larkin ran for 870 yards and 13 touchdowns on an average of nine yards per carry and also led the team in receiving. As a versatile defensive back, Larkin was both a lockdown cornerback and a playmaking strong safety depending on the gameplan and was a leader of a Wall defense that allowed just 5.4 points per game and recorded four shutouts. Wall could have been great without Larkin, but with him the Crimson Knights were legendary. That is why he has been selected as the 2020 Shore Sports Network Most Valuable Player.
"It's just remarkable the capacity of one player, the impact that one player can make," said Wall head coach Tony Grandinetti. "He came up his freshman year for the playoffs and made an impact on special teams, and since then every opponent who has played us the last three years has had to account for No. 23 on offense and defense. He's a game-changer because everyone has to gameplan for him."
Versatility is Larkin's calling card. He was a priceless chess piece for Wall's offense that Grandinetti, who doubles as offensive coordinator, used to create matchups nightmares for opposing defenses. On defense, Larkin could do it all and that gave defensive coordinator Jeremy Balina the ability to devise any scheme he wanted.
"As far as me and Jeremy putting him in gameplans, it's a coach's dream," Grandinetti said. "We can put him anywhere. If there's a wide receiver we need to lock down: Casey. If we need an extra strong safety in the box: Casey. And offensively, good luck guessing where he's going to be."
"That's kind of the Wall way," Larkin said. "Ever since we were little we just wanted to play football and anywhere the coach told me to play that's where I was."
Larkin's football future is as an FBS defensive back at Army where he was recruited as a strong safety. This season offered two perfect examples of why.
In Week 3, Wall traveled to Jackson Memorial to face a Jaguars team that featured standout senior running back Will Towns, a Wake Forest recruit who finished the season as the Shore Conference's leading rusher. Balina moved Larkin in the box as a strong safety and he recorded nine tackles with two tackles for loss and two passes defensed as Wall held Towns to just 32 yards rushing and shut out Jackson, 22-0. Larkin also ran for 139 yards and two touchdowns.
In the Shore Conference championship game against Donovan Catholic, Wall needed to match up Larkin against the Griffins' all-state wide receiver, dynamic senior Jayon Farrar. Donovan moved Farrar around a lot to try to create better matchups, but when possible Larkin was glued to Farrar. The star wideout caught seven passes but was limited to 38 yards.
Larkin finished the season with 32 tackles, three tackles for loss, five passes defensed and one fumble recovery. Although he played in all seven games, he only appeared briefly against Manasquan due to tweaking his shoulder early in the game and being held out for precautionary reasons.
"If you're talking about a lockdown corner you're talking about someone with very good speed, hips and ball skills," Grandinetti said. "That's what a quality corner is at any level and that's the skill set they have. Casey has that. And then to take a player with that skill set and bring them into the box where you now have a 190-pound kid running a 4.4 and playing in the alley or filling the hole. That's a rare combination. In high school, you usually get one or the other. Casey has that kind of versatility. If we really wanted to or needed to, we could have even put him at inside linebacker."
If not for the injury against Manasquan where he had 50 yards rushing on just two carries, Larkin could have reached the 1,000-yard rushing mark in just seven games. Aside from the Manasquan game, he ran for over 100 yards in five of six games. His only other sub-100-yard game was a seven-carry, 72-yard, three-touchdown performance in a 44-0 blowout of Neptune where the starters were out of the game early. He opened the season with 155 yards and three touchdowns on nine carries in a 55-13 win over Point Boro, had 139 yards and two touchdowns in the win over Jackson and ran for 130 yards and a touchdown in a 31-10 win over Middletown South to close out the regular season.
In the Shore Conference Championship Pod semifinals, Larkin ran for a career-high 193 yards on 20 carries and scored two touchdowns as Wall hammered Mater Dei Prep, 42-0. In the championship game against Donovan, an 18-15 victory in an all-time classic, Larkin ran for 131 yards and two touchdowns on 24 carries.
"My philosophy on offense is that we're going to change formations," Grandinetti said. "One Week Casey could be in the "I", the next week we could be under center and then we could go empty and put him in the slot or could go 10 or 11 personnel and put him at quarterback. The things he did on offense are just so impressive. He carried the ball, he caught the ball and we even had plays where he's kicking out as a fullback."
The three phases of football are offense, defense and special teams. For Larkin, it was offense, defense and intangibles. He grew into a leader over the course of his career and the importance of what he did off the field became just as important as his achievements between the lines.
"It was great to see him mature over the years," Grandinetti said. "At first he was just the phenomenal athlete. He was a lead-by-example guy. His junior year into his senior year he was the first one in the weight room and what I saw was his vocal leadership, not just with the varsity but with the guys coming up about how we do things at Wall. He had the ability to talk to his teammates. If Casey Larkin is saying something guys are listening."
Although he is reluctant to admit it, missing the Woodrow Wilson game at the end of the 2019 season was painful for Larkin and drove him throughout the offseason leading into his senior year.
"He won't come out and say it, but I've known Casey well enough that I know it bothered him," Grandinetti said. "That he wasn't, not only able to play, but he wasn't able to be there for his friends, he felt like he was letting them down, which he was not. But that drove him all offseason. That motivated him. And when your best players on the team are driven and motivated and the first ones in and the last ones to leave, everyone else is going to buy in."
In 2020 where so much is out of everyone's control, Larkin was able to end his career on his own terms and how he envisioned. He stepped on his home field one final time with a group of friends he's known for most of his life and won an epic championship game. It was the storybook ending from one of the best teams Wall has ever fielded led by one of its all-time great players.
"It's something I can't even put into words," Larkin said. "There was a time in the beginning of the season when we didn't know if we were even going to be able to play (because of COVID-19). Coming off last year and that loss at Rutgers, we thought we had something to prove. This season is something I'm never going to forget. Ending the way it did, that's something you dream about playing backyard football with your boys. It's something I'll talk about the rest of my life."
Managing editor Bob Badders can be reached at bob.badders@townsquaremedia.com. Follow him on Twitter @Bob_Badders. Like Shore Sports Network on Facebook and subscribe to our YouTube channel for all the latest video highlights. 
LOOK: 100 years of American military history
More From Shore Sports Network