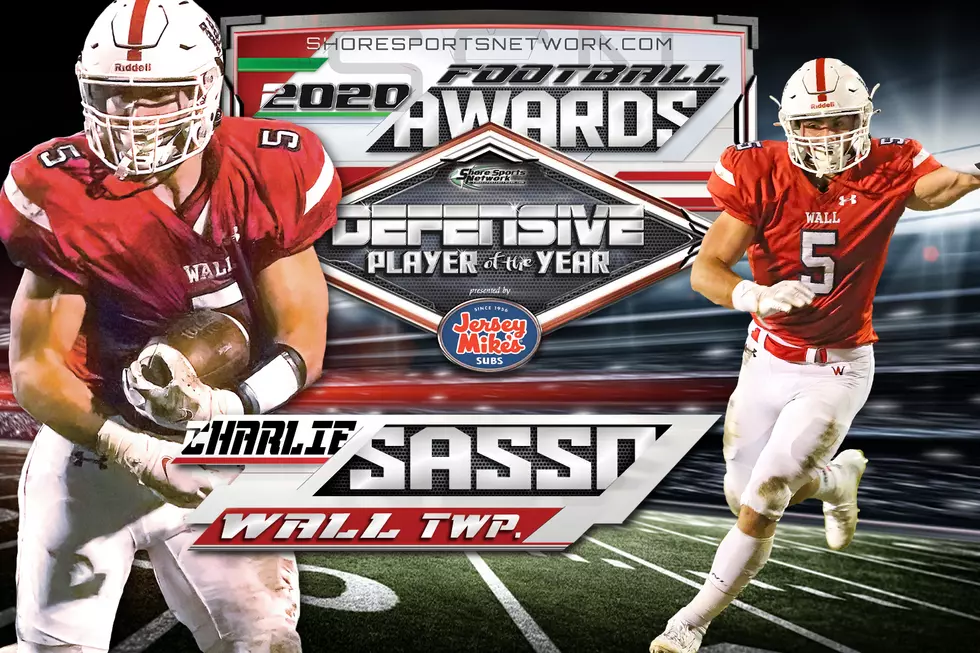 2020 Shore Sports Network Defensive Player of the Year: Wall's Charlie Sasso
Townsquare Media NJ

Enter your number to get our free mobile app
That was the rallying cry in the huddle seconds before Wall made one of the greatest and most memorable plays in the history of its football program, stopping Donovan Catholic on fourth-and-goal from the 2-yard line to cement its 18-15 victory in the Shore Conference championship game.
One of the players involved in that play was junior linebacker Charlie Sasso, who epitomizes the aforementioned motto as much as any player in New Jersey. No matter the situation, Sasso finds a way to get the job done and has been doing so ever since his talent left Wall's coaching staff no choice but to start him as a freshman. As a junior, he was a superstar defender for an all-time defense on a team that finished No. 1 in the state, making it an easy choice to select him as the 2020 Shore Sports Network Defensive Player of the Year.
Shouldered with even more responsibility as a third-year starter at inside linebacker, Sasso responded with 97 tackles, 6 tackles for loss, 3 sacks, 1 interception and 2 fumble recoveries in seven games. He was a dominant force on a defense that will go down as one of the best in Shore Conference history as Wall allowed just 5.4 points per game and posted four shutouts en route to an undefeated season that included a Shore Conference title and the No. 1 ranking in the final state poll.
"We took it up a notch from last year," Sasso said. "We knew we could do great things if we played like we know we can."
Sasso is a talented athlete with an innate ability to make plays, but what sets him apart is the way he prepares.
"To be (Defensive Player of the Year) you have to have the talent and Charlie clearly has that, but what I love about Charlie is his work ethic," said Wall head coach Tony Grandinetti.
He puts in the time in the offseason in the weight room with us and is always working on his speed and agility, and then you look at his leadership skills and his film study. All of the things you need from your better players, Charlie is the guy who leads us. He's in the right spot at the right time and that's a combination of ability and film study."
Wall's roster is chock full of talent, especially in its junior class that features three three-year starters. The Crimson Knights' coaching staff knew what they had in Sasso when he entered the varsity program in 2018 and gave him an early opportunity to show what he could do. He made his presence felt immediately.
"The way I run camp the freshmen practice with the varsity so we're all together, so when we're doing offense the freshmen are running defense and vice versa," Grandinetti said. "We're doing an inside run drill and me and (defensive coordinator Jeremy) Balina looked at each other and said let's bring the kid up and see what he can do. He comes up and puts a junior or senior running back in the dirt with a really physical hit and me and Jeremy look at each other and say, 'Ok, let's groom this kid'. And who better than Jeremy Balina to work with your stud linebackers. Every day he's been molding him."
Now a two-time first-team All-Shore selection, Sasso has been consistently great for the last two years in which Wall has gone 19-1, won an NJSIAA sectional title, finished No. 1 in the Shore twice, captured a Shore Conference title, finished No. 1 in New Jersey and allowed just 8.4 points per game and posted five shutouts. Sasso recorded at least 10 tackles in all seven games this season and made 15 or more stops in each of the final four games of the season. He had 13 tackles and a fumble recovery when Wall shutout Jackson Memorial, 22-0, and held Shore Conference rushing champion and Wake Forest recruit Will Towns to just 32 yards. In a 21-0 win over archrival Manasquan, Sasso had 16 tackles, two sacks and three tackles for loss as the Knights held the Warriors to two yards rushing, 27 total yards of offense and only one first down. Sasso had 15 more tackles in a 31-10 win over Middletown South to end the regular season.
In the Shore Conference championship pod semifinals, Wall bludgeoned Mater Dei Prep, 42-0, in an eye-opening show of dominance and Sasso was at the forefront on defense again with 16 tackles, one sack and one tackle for loss. Then came the highly-anticipated clash of No. 1 vs. No. 2, Wall vs. Donovan Catholic, in the unofficial Shore Conference championship game. Sasso was phenomenal with 17 tackles and a fumble recovery. On the game-winning defensive stop, sophomore defensive lineman Keisun Sanders shed his block and stopped Donovan's Levin Wilkins just as he was set to run through a massive hole before Sasso and senior safety Casey Larkin came in to finish off the stop at the 1-yard line.
That Sasso was great in an all-time classic and involved in a legendary defensive play is not at all surprising, certainly not to Wall's coaches and Sasso's teammates. His greatness has come to be expected and that is mainly because of the way he approaches being a football player.
"As odd as this is going to sound, for a 16-year old kid he carries himself like a professional," Grandinetti said. "He takes it extremely seriously. The demeanor he has after a game is that he's celebrating with the guys on a Friday night, but on Saturday morning it's back to work."
Even with a defense that includes All-State cornerback Casey Larkin and All-Shore safety Logan Peters, Sasso is the man in the middle orchestrating it all. It's like having an extension of Balina and the defensive staff on the field.
"He makes every call," Grandinetti said. "Logan will check some of the coverages but everything with the front seven, every call is Charlie. He calls the strength, the shifts, everything we're doing. And it goes back to his preparation that he recognizes everything. He has the keys to the car."
It is rare for an underclassman to receive the accolades Sasso has already earned, and while he has already enjoyed a career most would dream of, his legacy is far from complete. Despite graduating Peters, Larkin, two-way All-Shore lineman Grant Puharic and offensive lineman Eddie Van Woudenberg, Wall returns eight of 11 starters on defense, including all four of its linebackers and six of its starters in the front seven. Peters and Larkin will leave massive voids on offense, but seven offensive starters return. The challengers won't stop throwing everything they have at Wall but the Crimson Knights don't have any intentions of relinquishing their throne.
"There's a lot of kids who are excited to play at the high school but they all know there's a special culture with our high school program that is unlike a lot of places," Grandinetti said. "To see Charlie embrace that culture and really take it to the next level, it's exciting. He's one of the faces of the program with Casey and Logan and with those guys graduating he's taking the program on his shoulders. There's no one else I'd rather have."
Managing editor Bob Badders can be reached at bob.badders@townsquaremedia.com. Follow him on Twitter @Bob_Badders. Like Shore Sports Network on Facebook and subscribe to our YouTube channel for all the latest video highlights. 
CHECK IT OUT: 100 sports records and the stories behind them
More From Shore Sports Network