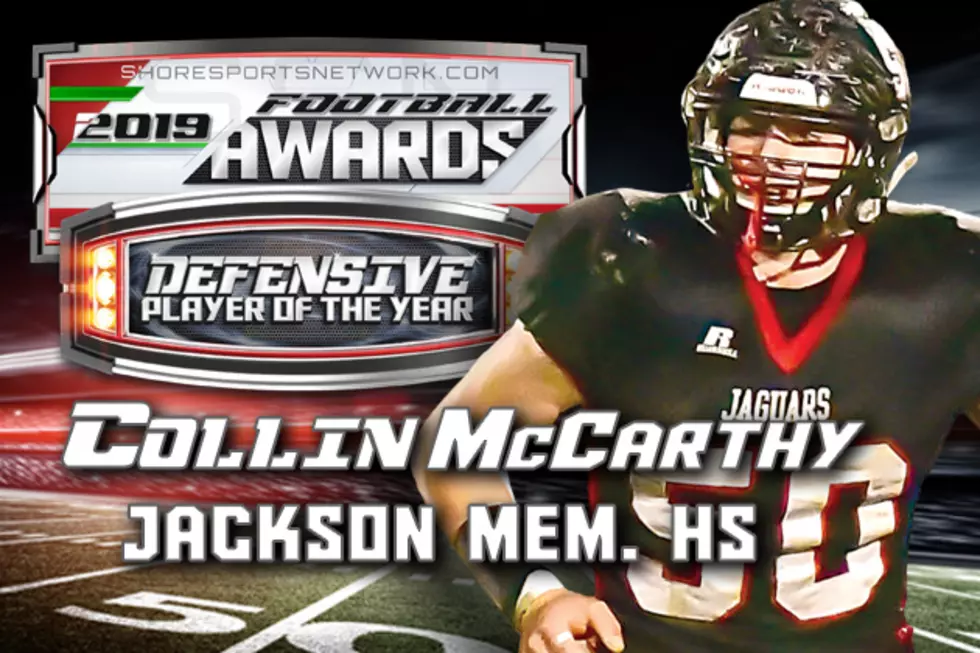 2019 Shore Sports Network Defensive Player of the Year: Jackson Memorial's Collin McCarthy
Jackson Memorial senior defensive end Collin McCarthy is the 2019 Shore Sports Network Defensive Player of the Year. (Photo by Richard O'Donnell/artwork by Steve Meyer).

Enter your number to get our free mobile app
The sight of Collin McCarthy breaking through a block and blowing up a play in the backfield was something opposing teams tried to avoid at all costs, but despite their best efforts McCarthy wrecking multiple plays was inevitable.
The Jackson Memorial senior defensive end was a dominant force off the edge for the Jaguars and made a habit of spending nearly as much time in the backfield as the players who were supposed to be there. McCarthy led the Shore Conference with 18 sacks and produced an incredible 46 tackles for loss among his 85 stops, making him the clear choice as the 2019 Shore Sports Network Defensive Player of the Year.
"If you talk about football ability and what sets him apart it's his length and his ability to play at a lower level than someone his size is usually able to play at," said Jackson Memorial head coach Vinny Mistretta. "His motor doesn't stop and he's very agile, and those are things you don't normally hear about someone who is 6-foot-7."
A two-time First Team All-Shore selection, the 6-foot-7, 240-pound McCarthy was virtually unblockable in every game this season on his way to setting career-highs in sacks and tackles for loss. It got to the point where teams just didn't bother running plays in his direction. One coach of a prominent Shore Conference team said after every running play was called in the huddle it was checked at the line of scrimmage to go in the opposite direction of where McCarthy was lined up.
That did little to sidetrack McCarthy's quest for negative plays. His imposing frame screaming down the line to make plays on the backside was a common sight as he recorded at least two tackles for loss in every game and recorded a sack in seven of 11 games. A constant and relentless effort is a major reason for McCarthy's greatness.
"Throughout the season I kind of got used to chasing down plays from the backside," McCarthy said. "Having that motor to keep going, that's something that was instilled in by (defensive line) coach Chris Rash. Just never stopping and being physical and trying to dominate and get to the ball carrier. We joked around at practice when coaches asked, 'who do you have? The guy with the ball'. I do everything I can to get there."
"It speaks to his motivation to make plays and be a difference-maker," Mistretta said. "He was tripled-teamed or run away from the entire year and he still put up these mind-boggling numbers."
McCarthy also made the players around him better. He had monster stats but played within the system and did what the scheme asked. Most times it resulted in him making the play but when it didn't, the player who made the tackle likely did so because of McCarthy doing the dirty work.
"He is going to do what he's coached to do," Mistretta said. "It's not always the sacks and tackles for loss, it's playing with technique and letting other guys make plays by eating up blockers and making running backs go side to side."
McCarthy began the season with three sacks and five tackles for loss in a Week 0 victory over Brick Memorial and never slowed down. He was monstrous in a win over St. John Vianney with five sacks and eight total tackles for loss, had one sack and four tackles for loss in a victory over Rumson-Fair Haven and destroyed Moorestown in a playoff game by recording four sacks, five tackles for loss, a forced fumble that was returned for a touchdown and a fumble recovery.
McCarthy repeatedly praised the Jackson coaching staff, especially Rash, for his development into a player who will sign with an FBS program, the University of Connecticut, later this month. As Mistretta sees it, it was McCarthy's willingness to be coached that made all the difference for him and the entire team.
"When your best player can also be coached the hardest on the team that sets the tone," Mistretta said. "He's not exactly a vocal leader, but the fact that myself, coach Rash and his father coach McCarthy can get after him if we need says a lot. He loves to play with a chip on his shoulder."
Following the season-opening win over Brick Memorial, Jackson dropped consecutive games to Wall and Mater Dei Prep. The Jags were 1-2 heading into a game against rival Brick and their hopes at winning a division title were gone. It was the turning point in the Jaguars' season.
"After the two losses the team came together," McCarthy said. "We got together and said we're not losing one more game. It started right there with the senior leadership."
The Jaguars nearly made good on that edict, ripping off seven straight wins to reach the NJSIAA Central Jersey Group 4 final. State championship No. 6 was not in the cards, however, as Jackson fell to Hammonton, 28-12. McCarthy closed out his career by making 14 total tackles with three tackles for loss.
McCarthy said he plans to sign with UConn at the start of the early signing period on Dec. 18 even as other programs like Rutgers vie for his services. When he puts pen to paper it will mark the beginning of the next chapter of his life and close the book on a marvelous career in the black and red. In 32 career games, McCarthy recorded 34 sacks, 104 tackles for loss, 250 total tackles, four forced fumbles and three blocked kicks.
"It's been such a blessing and so easy to have him and say, 'we're good on that side'," Mistretta said. "Most likely you're only going to have a guy like Collin once in a career."
Managing editor Bob Badders can be reached at bob.badders@townsquaremedia.com. Follow him on Twitter @Bob_Badders. Like Shore Sports Network on Facebook and subscribe to our YouTube channel for all the latest video highlights.
More From Shore Sports Network