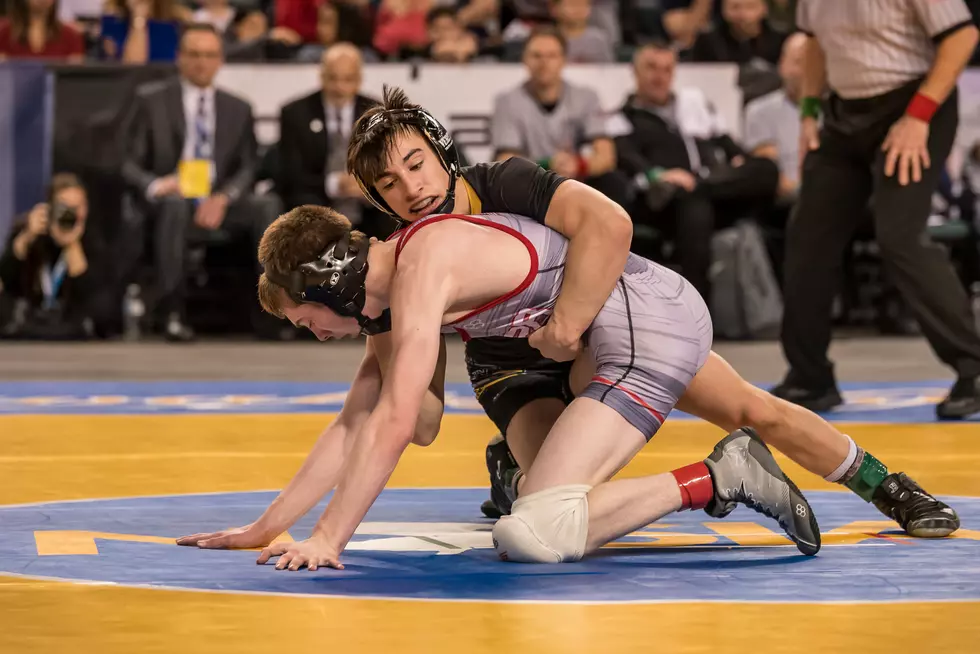 2019-2020 Class A Central Wrestling Preview
Photo by Richard O'Donnell.

Enter your number to get our free mobile app
CLASS A CENTRAL
Teams and coaches
Holmdel: Danny Franke, 9th season
Manasquan: Matt Voskian, 11th season
Monmouth Regional: Robert Micheliche, fourth season
Raritan: Rob Nucci, 19th season
Red Bank Catholic: Joe Gallagher, 13th season
Rumson-Fair Haven: Bryan Heller, 7th season
St. John Vianney: Chris Notte, first season
THE FAVORITE: Raritan 
Raritan has won 13 of the last 15 Class A Central division titles, and although the Rockets were hit hard by graduation and have some teams nipping at their heels, they get the benefit of the doubt heading into the season.
Over the last 15 years, Raritan has been the overwhelming favorite in the division and hasn't faced many challenges, but that's unlikely to be the case this season. The Green Machine has just three returning region qualifiers and six total wrestlers who won 10 or more bouts (two were under .500, however). Six starters who accounted for 178 wins last season graduated, and even though Raritan has a history of plugging in the next crew of starters and churning out very good teams it will be very hard for the Rockets to be what they were last season when they reached the Central Jersey Group 2 final and won the District 21 team title.
Seniors Mike Lonnay, Anthon Bailey and Vin Mangano lead the way along with senior Kevin Lind, sophomore Alex Auletta and senior Jacob Spirko. The middle of the lineup boasts a pair of returning district medalists with Lonnay at 138 and Mangano at 152. Lonnay was 21-11 and a District 21 champ last year while Mangano was 19-16 and third in District 21.
Baily was 25-14 and second in District 21 last season and will be at 170 pounds this season. The only other wrestler with extensive varsity experience in the upper weights is Lind, who was 15-13 last season and will be at 220 pounds.
Auletta (14-16) at 113 and Spirko (10-16) at 132 pounds along with junior Jordan Rafalko anchor the lower portion of the lineup, which will welcome freshmen Braden Kmak and Ryan Mansueto at 106, freshman Matt Erven at 113 and sophomore Connor Newell at 120.
CONTENDERS: Rumson-Fair Haven and St. John Vianney 
Rumson has been a team on the rise for the last couple years and last season continued its ascent with a second-place finish in A Central and a trip to the Central Jersey Group 2 semifinals with the program's second postseason win ever. The Bulldogs graduated arguably the greatest wrestler in program history in current Stanford freshman Nick Addison but return a solid group looking to make 2020 a breakthrough season.
Junior Max Brignola is the hammer in the lineup after a great sophomore season that saw him go 39-6, win a District 18 title and finish one win short of a top-eight finish at the state tournament. Brignola will be at 145 and anchor a middleweight segment that figures to be the strength of the team. Junior Tyler Brignola was 22-14 and a Region 5 qualifier and will be at 152 pounds. Senior Mike Ponenti was 23-9 last year and sophomore Shay Addison was 27-8, and although they were unable to find success in the postseason last year both are integral components of the roster and definite candidates to earn hardware in 2020. Both are listed at 160 pounds so someone will be going up or down to get both in the lineup. There's also freshman Ryan Boyer, a youth state champion, at 160 and freshman Nick Costello at 138.
Up top, Rumson has a pair of district champions in junior Jack Kelly and senior Liam Horan (2018 district champ, 2019 runner-up). Kelly was 27-15 and sixth in Region 5 last season and slots in at 170 pounds but could certainly find himself at 182 often because of the depth in the weights below him. At 195 is Horan, who was 28-10 last year and also sixth at the region tournament.
Senior Tristan Izzo and sophomore Aidan Shaughnessy are the two returning starters in the 106-132 range with Shaughnessy (17-14) at 120 and Izzo (15-15) at 126. Sophomore Alex Smith was 7-4 last season in spot duty thanks to being stuck behind Max Brignola and will be at 132 pounds. Freshmen Murphy McCarthy (113) and Tyler Izzo (132) join the mix, as well.
St. John Vianney knows what it takes to pry the division title away from Raritan having done so just two years ago in 2018. The Lancers have some serious firepower but also a lack of depth under first-year head coach Chris Notte. They will be a dangerous group if they see some across-the-board improvements and get the expected contributions from some promising freshmen.
Junior Dean Peterson is one of the country's best at 120 pounds (ranked No. 2 by InterMat) and is coming off a season where he captured the 113-pound state championship with a perfect 35-0 record. The recent Princeton commit anchors a lower third of the lineup that looks to be a brutal stretch for opponents. Sophomore Nico Diaz had a sensational and inspirational postseason run last season and finished one win shy of a state medal. Now he's a known commodity and should be one of the Shore's best at 113 pounds. Veteran juniors Joe Butler (19-11) at 126 and Seth Rotondella (17-5, third at District 17) at 132 round out an impressive group of lightweight returners. Freshman Joe Giordano, a youth state medalist, looks to be at 106 along with fellow frosh Dan Herndon.
Junior Blake Clayton is SJV's major presence up top at 182 pounds after going 29-12, winning a District 17 title and reaching the third round of wrestlebacks at the state tournament.
WRESTLERS TO WATCH (in weight order)
Nico Diaz, So., 113, St. John Vianney: 29-10, 2nd D17, 3rd R5, NJ-WB4 
Nick Ammirati, Sr., 113, Holmdel: 27-13, 2nd D18
Shane Learn, Sr., 113, Monmouth: 27-6
Dean Peterson, Jr., 120, St. John Vianney: 35-0, 1st D17, 1st R5, STATE CHAMP
Joe Butler, Jr., 126, St. John Vianney: 19-11
Seth Rotondella, Jr., 132, St. John Vianney: 17-6, 3rd D17
Mike Lonnay, Sr., 138, Raritan: 21-11, 1st D21
Max Brignola, Jr., 145, Rumson-Fair Haven: 39-6, 1st D18, 3rd R5, NJ-WB4
Jaden Gallo, So., 145, Holmdel: 28-11, 2nd D18
Daniel Brewton, Jr., 145/152, Red Bank Catholic: 21-10
Kevin Cartagena-Walsh, Jr., 152, Monmouth: 17-9, 3rd D19
Vin Mangano, Sr., 152, Raritan: 19-16, 3rd D21
Tyler Brignola, Jr., 152, Rumson-Fair Haven: 22-14, 3rd D18
Mike Ponenti, Sr., 160, Rumson-Fair Haven: 23-9
Shay Addison, So., 160, Rumson-Fair haven: 27-8
Ryan Boyer, Fr., 160, Rumson-Fair Haven
Jack Kelly, Jr., Rumson-Fair Haven: 27-14, 1st D18
Anthony Bailey, Sr., 170, Raritan: 25-14, 2nd D21
Blake Clayton, Jr., 182, St. John Vianney: 29-12, 1st D17, 4th R5, NJ-WB3
Aidan Meyler-McAuliffe, Sr., 182/195, Red Bank Catholic: 26-12, 1st D22
Liam Horan, Sr., 195, Rumson-Fair Haven: 28-10, 2nd D18
Victor Wladika, Sr., 195, Holmdel: 28-10, 3rd D18
Mike Pavlinetz, Sr., 220, Holmdel: 28-14, 1st D18
KEY DATES
Holmdel, Monmouth, Raritan at TCNJ Pride Tournament (Middletown South HS)
Manasquan, RBC at Old Bridge Icebreaker
Rumson at Caldwell Tournament
St. John Vianney at Beast of the East
St. John Vianney at Beast of the East
Raritan at Walter Woods Tournament (Middletown South HS)
Holmdel, Manasquan, Monmouth, RBC, Rumson at Holmdel Christmas Tournament
St. John Vianney at Sam Cali Invitational (West Orange HS)
Raritan, Lacey at Holmdel
Holmdel at St. John Vianney
Raritan at Rumson-Fair Haven
St. John Vianney at Brick Memorial
Rumson at St. John Vianney
St. John Vianney at Raritan
Raritan at Middletown North
Shore Conference Tournament at Red Bank Regional HS
Raritan at Paul Finn Duals (Millburn HS)
NJSIAA sectional quarterfinals
NJSIAA sectional semifinals
NJSIAA state semifinals and finals at RWJ Barnabas Health Arena (Toms River North HS)
NJSIAA district tournaments
NJSIAA region tournaments
NJSIAA state tournament at Boardwalk Hall, Atlantic City
Managing editor Bob Badders can be reached at bob.badders@townsquaremedia.com. Follow him on Twitter @Bob_Badders. Like Shore Sports Network on Facebook and subscribe to our YouTube channel for all the latest video highlights.