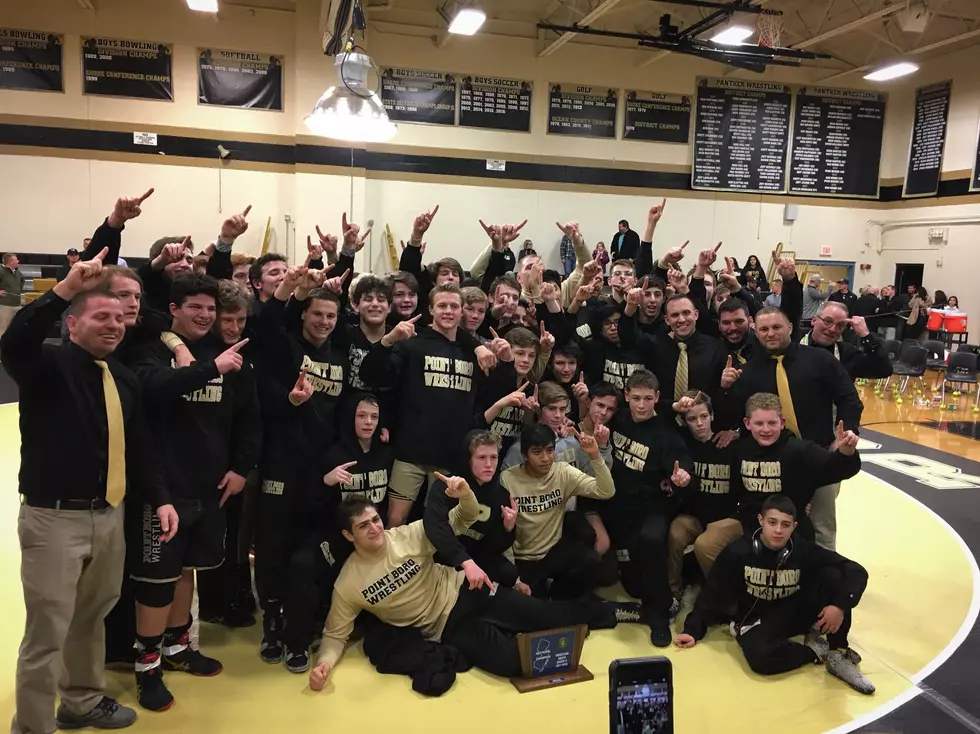 2018-2019 Shore Conference Wrestling Preview: Class B South
Point Boro defeated Haddonfield, 34-22, to win the South Jersey Group 2 sectional championship.
Barnegat – head coach: Ken MacIver, third season at Barnegat
Donovan Catholic – head coach: Steve Glawson, third season
Jackson Liberty – head coach: Mike Eddy, 14th season
Lacey – head coach: Justin Bonitatis, first season
Lakewood – head coach: Oscar Orellana, fourth season
Manchester – head coach: Bill Meaney, third season
Pinelands – head coach: Joe Adelizzi, second season
Point Boro – head coach: Pat Brady, 11th season
Point Boro lost seven starters to graduation after having the best season in program history, but the Panthers return three state qualifiers and a total of five district medalists as they look to win their third straight Class B South championship.
Last season was one to remember in Point Pleasant as the Panthers won the B South title, the Central Jersey Group 2 sectional title and the District 21 team championship before sending a program-record six wrestlers to the state tournament. Just five starters return plus another experienced wrestler, so the challenge will be getting the newcomers up to speed in order to keep the success going.
The bottom portion of the lineup from 106-152 is the strength for Point Boro with four of its returning starters, including state qualifiers Ty Bailey and Spencer Robinson. Baily, a junior 145-pounder, was 27-14, third in District 21 and fourth in Region 6 a season ago. Robinson will be at 152 pounds after going 30-11, winning a district title and placing fourth at regions. Right before them in the lineup at 138 pounds is sophomore Jack Bailey, who had a solid freshman season with a 23-12 mark and a third-place finish at districts.
Sophomore Nick Torre also had a nice debut season by going 18-10 and taking third at districts, and he holds down the lowerweights at 113 pounds. Junior James Latendorf (7-9) saw a good amount of action last season and looks to made an impact as a full-time starter at 120 pounds. Freshmen Lucas Torre and Charlie Latendorf will battle it out for the 106-pound spot while sophomore's Chandler Jamarino and Peter Karras will be at 126 and 132 pounds, respectively.
Senior Billy Borowsky (195) is the lone experienced wrestler from 160 up, but he's a really good one. Borowsky was 35-8, second at districts and third at regions last season and figures to be among the best upperweights in the Shore. Senior Paul Franceschini returns to the program after not wrestling since his freshman year and will be at 160 pounds. Newcomers Andrew   Witkowski (170), Nick Rebimbas (170), Scott Franceschini (182), Patrick Frawley (182), Josh Henderson (220) and Luke Wilson (285) round out the upperweights.
Lacey hasn't won a division title since 1999, but with eight starters back under first-year head coach Justin Bonitatis, the Lions should give Point Boro a run for their money in the title race.
Bonitatis, who was a two-time All-American at The College of New Jersey, takes over the Lions after Tom Pfister resigned following 13 seasons at the helm.
The Lions have one of the Shore's best wrestlers in their lineup in senior Hunter Gutierrez, who is a two-time region champ, three-time district champ and a state medalist in 2017. Last season, Gutierrez was 27-5, with Shore Conference, District 27 and Region 7 championships to his credit. He'll be at either 126 or 132 pounds this season and is a certified hammer in the lower half of the lineup.
Joining Gutierrez in the lower half as returning starters are junior Nick Terzo (11-11) at 113/120, sophomore Collin Rolak (15-5) at 120/126, junior Logan Carter (13-7) at 145/152 and senior Trevor Krinic (14-13) at 145/152. Lacey also has promising freshman Brady Carter, an intermediate state champion last season, at 106 pounds.
Lacey has three returning starters from 160 through 220 and all three won 20-plus matches and were district medalists last season. Junior Jackson Brandt will be at either 160 or 170 pounds after going 24-13 and placing third at districts last season. Senior Quint Kearns was 23-8 and a district runner-up and will be at 182/195 pounds. Underclassmen performing well at heavier weights will always turn heads, and such was the case with Vincent Ceglie. As a freshman, Ceglie went 21-12 and won a District 27 title at 195 pounds, so expectations are high for the Lions' sophomore 220-pounder. Sophomore Gerard O'Connor wrestled in just five bouts last season but has the potential to emerge as a standout heavyweight.
Ty Bailey, Jr., 145, Point Boro: 27-14, 3rd D21, 4th R6
Billy Borowsky, Sr., 195, Point Boro: 35-8, 2nd D21, 3rd R6
Evan Burton, Sr., 195, Pinelands: 5-4, 3rd D31
Vincent Ceglie, So., 220, Lacey: 21-12, 1st D27
Syrus Colon, Sr., 145, Manchester: 14-10
Charlie Cotton, Sr., 182/195, Barnegat: 35-6, 2nd D32
Hunter Gutierrez, Sr., 126/132, Lacey: 27-5, 1st SCT, 1st D27, 1st R7
Quint Kearns, Sr., 182/195, Lacey: 23-8, 2nd D27
Jaden Lowe, Jr., 195/220, Jackson Liberty: 17-9, 3rd 19 at St. John Vianney
Dante Morris, Sr., 220, Lakewood: 34-11, 1st D23, 4th R6
Cael Rankin, Jr., 120, Donovan Catholic: 31-12, 2nd D26, 4th R7
Spencer Robinson, Sr., 152, Point Boro: 20-11, 1st D21, 4th R6
Barnegat, Lacey, Point Boro, Pinelands at Garden State Classic (Barnegat)
Donovan Catholic at Colt Classic (CBA)
Jackson Liberty, Manchester at Nottingham Invitational
Donovan Catholic at Jackson Liberty
Point Boro vs. Colts Neck
Barnegat at Overbrook Tournament
Donovan Catholic at Holmdel Christmas Tournament
Jackson Liberty, Pinelands at Walter Woods Tournament (Middletown South)
Lacey at Collingswood Holiday Tournament
Lakewood at Rumble in the Pines Tournament (Lakewood)
Point Boro vs. Shore at Central Regional HS
Point Boro at Minutemen Classic (Elizabeth)
Jackson Liberty at Buc Classic (Red Bank)
Point Boro vs. Toms River North at Rutgers
Point Boro vs. Point Beach
Donovan Catholic at Central
Jackson Liberty vs. Jackson Memorial
Point Boro at Middletown North
Shore Conference Tournament at Red Bank Regional HS
Lakewood at Jackson Liberty
Donovan Catholic at Manchester
Point Boro at Jackson Memorial
NJSIAA sectional quarterfinals
NJSIAA sectional semifinals
NJSIAA state semifinals and finals at RWJ Barnabas Arena (Toms River North)
NJSIAA district tournaments
NJSIAA region tournaments
NJSIAA state tournament at Boardwalk Hall, Atlantic City
Managing editor Bob Badders can be reached at bob.badders@townsquaremedia.com. Follow him on Twitter @Bob_Badders. Like Shore Sports Network on Facebook and subscribe to our YouTube channel for all the latest video highlights.
More From Shore Sports Network