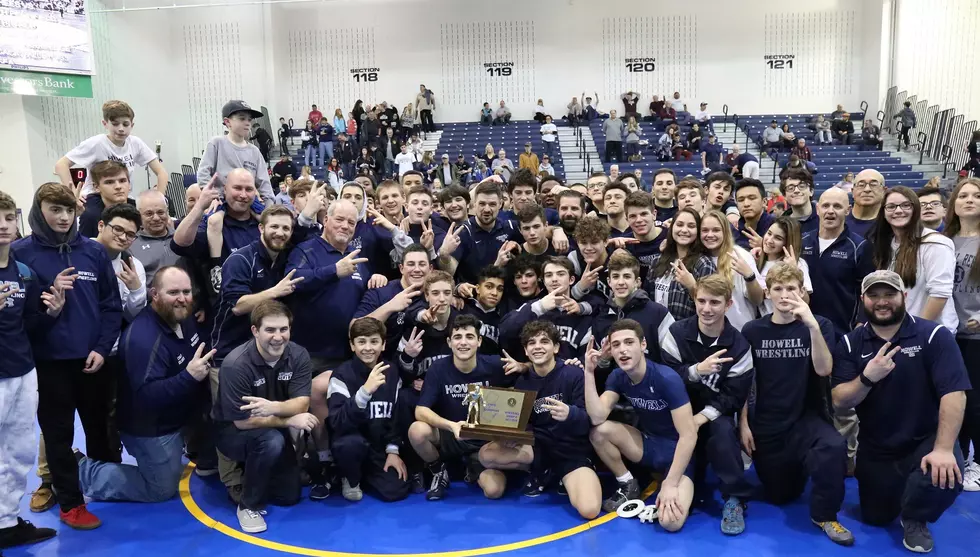 2018-2019 Shore Conference Wrestling Preview: Class A North
Howell defeated Southern, 33-15, to repeat as NJSIAA Group 5 champions. (Photo by Steve Meyer).
CBA - head coach: Billy Ashnault, first season
Freehold - head coach: Matt Shephard, 15th season
Freehold Township - head coach: Jesse Heubel, second season
Howell - head coach: John Gagliano, 22nd season
Long Branch - head coach: Dan George, 29th season
Manalapan - head coach: Scott Pressman, 12th season
Marlboro - head coach: Charlie Frankel, third season
Middletown South - head coach: Anton Atterbury, third season
The Rebels enter the 2018-2019 season as one of the best teams in all of New Jersey following back-to-back state titles, including going undefeated and claiming the NJSIAA Group 5 title last season.
The Rebels return six wrestlers who won at least 20 matches last season, including seven region qualifiers and five state qualifiers. Junior Shane Reitsma, a Rider recruit, leads the way after going 40-6 and placing sixth in New Jersey at 170 pounds. Senior Darby Diedrich, who is committed to Brown University, was 41-3 last year at 126 pounds with Shore Conference, District 22 and Region 6 individual titles to his credit. Seniors Xavier Kelly (31-8 at 152, 3rd Region 6) and Christian Murphy (39-4, Region 6 champ at 182) are also two hammers in the top half of the lineup. Sophomore Paul Jakub is coming off a tremendous freshman campaign where he went 34-7 at 145 pounds and finished second in Region 6.
Junior Ethan Liptzin could be primed for a big season and sophomore Kyle Nase should settle into a starting role and has the makings of another big-time wrestler down low.
Howell will begin the season ranked 40th in the nation by InterMat and will test themselves in several high-profile out-of-conference matches. The Rebels open the season at the John and Betty Vogeding Tournament, hosted by fellow public-school power Paulsboro, and will head to Canon-McMillan High School outside of Pittsburgh for the prestigious Powerade Tournament on Dec. 28-29. They'll also face 11-time state champions South Plainfield on Jan. 17 and wrestle in the Jack Welch Duals on Jan. 18-19 at Moorestown.
The Rebels are also chasing history this season as they try to join Long Branch as the only Shore Conference programs to win three straight state championships.
MAIN CONTENDER: Long Branch 
The Green Wave have been one of the most consistent programs in the Shore over the last decade and are coming off winning a sixth sectional title (Central Jersey Group 4) as well as claiming the District 23 team title.
Senior heavyweight Kevin Cerruti leads the way after going 39-6 with a Region 6 title and a seventh-place finish in the state tournament last season. Junior Ryan Zimmerman is another top returner at 132 pounds after a 38-7 season where he was second in Region 6. Senior Luke Arnold (182), senior Rey Guzman (120) and junior Ryan Carey (152) all won 20 matches last season with Carey winning a district title and Guzman placing third at districts. Seniors Stivini Silva (145) and La'Qym Morris (195) should also have solid seasons.
State qualifiers Alex Baran and Matt Benedetti anchor a Braves squad that returns five 20-match winners. Baran was 28-8 last season and second in Region 6, and will start the year at 138 pounds. Benedetti (182) had a very good sophomore season by going 35-10 with a District 21 title and third-place finishes in the SCT and Region 6. Senior Kareem Ghaida (132) was 24-13 and second in District 21 and senior Paul Santomarco (160) was a District 21 champion. Sophomore Calvin Burke was 21-12 as a freshman.
Alex Baran, Sr., 138, Manalapan: 28-8, 1st D21, 2nd R6
Matt Benedetti, Jr., 182, Manalapan: 35-10, 3rd SCT, 1st D21, 3rd R6
Evan Brown, Sr., 160, Marlboro: 19-12, 3rd D19
Kevin Cerruti, Sr., 285, Long Branch: 2nd D23, 1st R6, 7th NJ
Avery Clark, So., 126, Freehold Township: 25-13, 1st D24, 5th R6
Darby Diedrich, Sr., 132, Howell: 41-3, 1st SCT, 1st D22, 1st R6
Paul Jakub, So., 152, Howell: 34-7, 3rd SCT, 2nd D22, 2nd R6
Xavier Kelly, Sr., 160, Howell: 31-8, 2nd D22, 3rd R6
Sam LaCorte, Sr., 138, CBA: 25-11, 3rd D24
Nico Messina, Jr., 120, Freehold: 34-4, 1st D23, 1st R6
Christian Murphy, Sr., 182/195, Howell: 39-4, 2nd SCT, 1st D22, 1st R6
Shane Reitsma, Jr., 170/182, Howell: 40-6, 3rd SCT, 1st D22, 2nd R6, 6th NJ
Brady Smith, Sr., 220, Middletown South: 28-11, 2nd D17 
Howell at Powerade Tournament (Canon-McMillan HS, Pa.)
Howell at John and Betty Vogeding Tournament (Paulsboro)
CBA at Colt Classic Tournament (CBA)
Freehold at Garden State Classic (Barnegat)
Freehold Township, Marlboro at Old Bridge Icebreaker
Long Branch at Neptune Classic
Manalapan at Nottingham Invitational
Middletown South at TCNJ Pride Tournament
Howell at Jackson Memorial/Sparta
Middletown South at Walter Woods Tournament (Middletown South)
Freehold, Long Branch at Mustang Classic (Brick Memorial)
Howell at Middletown North
Middletown South at Rumson-Fair Haven
Howell at South Plainfield
Howell, CBA, Long Branch at Jack Welch Duals (Moorestown)
Middletown South at Holmdel
Shore Conference Tournament at Red Bank Regional HS
Freehold at Freehold Township
Middletown North at Middletown South
NJSIAA sectional quarterfinals
NJSIAA sectional semifinals
NJSIAA state semifinals and finals at RWJ Barnabas Arena (Toms River North)
NJSIAA district tournaments
NJSIAA region tournaments
NJSIAA state tournament at Boardwalk Hall, Atlantic City
Managing editor Bob Badders can be reached at bob.badders@townsquaremedia.com. Follow him on Twitter @Bob_Badders. Like Shore Sports Network on Facebook and subscribe to our YouTube channel for all the latest video highlights.
More From Shore Sports Network