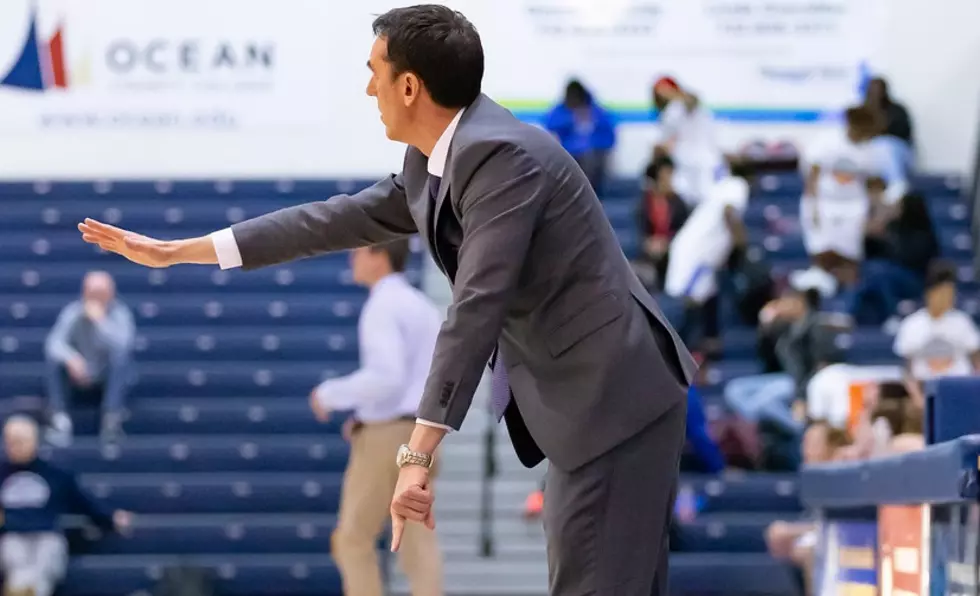 '18-'19 SSN Girls Basketball Coach of the Year: Brad Hagensen, Marlboro
Brad Hagensen of Marlboro (Photo by Paula Lopez)
For a coach with a basketball intellect so bright, Brad Hagensen was being perceived by everyone around Marlboro as a mad scientist who'd finally snapped and lost is mind.
What was this guy trying to sell? A brand new style of play for the Mustangs based on analytics only a mathematician could fully appreciate. The only thing more bountiful than the amount of shots he was suggesting to take were the skeptics who lined up to initially questioned such an unusual concept.
"He called me in the summer and said he was thinking about putting in The System," recalled Marlboro assistant coach Brian Nash. "I said we're either going to have success or they are going to run us out of town."
Dribble-drive motion. Flex. Triangle. All are familiar offensive sets to even the pedestrian basketball fan. But, The System? What in the world is that?
Such queries were thrown at Hagensen early on, and in his genuinely humble manner, one engrained by his two most loyal and ardent fans - father Brad and mother Patricia - he eased concerns by assuring it was the ideal scheme because of the perfect group to execute it.
Hagensen reached out to various disciples who'd installed and mastered the scheme, one based on a number of factors, most notably getting up 3-point shots at an infinite rate, trapping and pressing, hammering the offensive glass and, above all else, being committed to maximum exertion in rapid intervals with the understanding that five fresh legs would be waiting at the scorer's table to spell the exhausted.
To bestow praise on Hagensen, who steered Marlboro, arguably the biggest surprise of the season in the Shore Conference, to a 23-8 mark that included an A North title and runs to the final of the WOBM Christmas Classic, where it bowed to No. 1 Manchester, and the Central Jersey, Group 4 championship, losing to No. 5 Middletown South in an epic 80-77 overtime thriller, would be greeted with appreciation before immediately deflected toward others. To call Hagensen modest would qualify for the Understatement of the Year.
"His modesty comes from his background. It's part of his family values,," said Nash, a trusty assistant who Hagensen is quick to salute for his in-game handling of rotations that freed him up to concentrate solely on game situations. "Look at his mentors, Nick Russo and Bill Bulman. I've known him for 20 years and he's always been that way."
Hagensen honed his craft as an assistant at St. John Vianney in the '90s, absorbing the wisdom of Russo and Bulman, the architects of what grew into a dynasty that reaped countless titles, including an unprecedented seven Tournament of Champions trophies. He was responsible for one, guiding the Lady Lancers to the crown in 1999, the stamp on a 29-2 mark in the first of his two seasons at the helm.
For the last five years, Marlboro has been his place of operation. In that time, he built a level of respectability for his program but worried that stagnancy might be looming. Furthering his curiosity into The System was an allegiance to his players and their incomparable work ethic. Each fully invested and deserving of reward.
"Last summer. I was thinking about it," said Hagensen, who's fashioned a 139-58 career mark, including 91-49 at Marlboro. "It seemed like we had a group of kids that all worked so hard and had incredible attitudes. They all deserved to play and contribute. I was trying to figure a way to accomplish it. It's so hard to do that in conventional basketball. I certainly didn't do this alone. All the credit goes to the kids. They put in all the work and are out there playing. It takes a great deal of effort and they all bought into it wholeheartedly. They gave everything they had in games and in practice. It was a lot of fun watching it come together."
The Mustangs hit a mind-blowing 340 3-pointers this winter, the number only overshadowed by the amount of formidable resources responsible for it.
While other teams conducted the traditional layup lines in pre-game warmups, the Stangs set up three stations of shooters and honed their accuracy from beyond the arc. The fruit of their labor supported by the slew of contributors eager to fire at will.
Sophomore forward Jessica Riepe (61 3-pointers), sophomore guard Sammy Jay (48), sophomore forward Laura Morehead (48), freshman guard Dani Schlesinger (47), senior forward Theresa Besso (47), junior guard Sam Nocco (40) and Romeo (38) briskly shared the basketball to find the shooter with the cleanest look. And, the spacing they relied on opened lanes for the occasional penetration for Romeo or Jay as well as clearing out the blocks for junior Brianna Diaz and sophomore Samantha Slofkiss to work the interior.
The only misconception about The System is the myth it has little defensive attention. Hagensen refutes the claim. While his offense pumped in 67.7 points a game, opponents tagged the Stangs for 53.2. Yet, the legs that produced that scoring generally did the brunt of it before the money minutes, eventually succumbing to attrition in the fourth quarter, allowing Marlboro to seal their fate with zest still untapped.
"Everything is generated from the defense," said Hagensen. "A lot of times, people look at scoring and think it's everything. It's not. There has got to be a balance. Our kids dedicated themselves to the defense and so much of our offense stems from generating the pace of the game defensively.
"Everyone looks at this and thinks it's so easy. They are just running up and down the floor, and not playing any defense. That's the perception. People outside of it don't understand how much time and effort it takes to put that all together. Having a group of coaches doing the research and learning to teach it and the kids willing to do it…it's the perfect storm. The girls had to make sacrifices, but they didn't see giving up this or that or playing different position on the court as a sacrifice. They bought into a totally different way of looking at the game. They all came together and it was thrill."
More From Shore Sports Network